Bars In Marathon Guide. Find The Best Bars In The
Heart Of The Florida Keys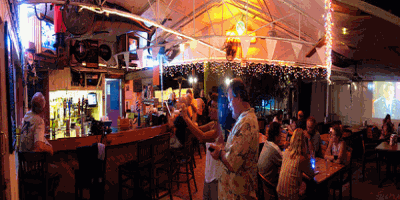 Bars in Marathon are highly recommended by many people on review sites around the web, but you have to go looking for them, and perhaps I would suggest not be too fussy by appearances.
What you will get is quite often simple down to earth drinking haunts that appeal very much to the locals.
Although Marathon is only about 45 minutes drive away from the drinking mecca of Key West, the difference is pronounced.
No flashing logos, electronic dance floors, and wall to wall tourists.
Instead what you will get are interesting conversations with a wide range of locals, and boating folk that moor their boats often just outside the bars in Marathon.
Good food, simple cooking, and a good night out.
The following list is by no means all the bars in Marathon, but it will certainly give you the best of what is available.
And remember if there is one that you feel is worth mentioning, then drop us a line and we will add it on for you. 
---
Brass Monkey

The Brass Monkey is not like most of the bars in Marathon, as it is actually linked to a shopping center. Yeah, lets get drunk...come on wheres the nearest Walmart??
But if you go down to Kmart Plaza, you will find this bar and liquor store that has been around for ages, and is a favourite of the locals.
You will find that bars in Marathon, although not looking like much from the outside provide a great service, and a menu that will satisfy most visitors, and this place does that. 
It also stays open very late indeed, so you will find it gets busier after the other bars in Marathon close up for the night, and subsequently you don't find too many tourists propping up the bars.
The Brass Monkey serves up lunch, dinner and also live music six days per week.
Address: MM 50 Oceanside, Kmart Plaza, Marathon
Phone: (305) 743 4028
---
Dockside Bar & Grill

If you ask anyone for directions to this place then ask for Roco's, and you will be pointed to one of the bars in Marathon that can only be described as "High Energy"
After years of decline, the new owners looked to bring back the fun, and they certainly have done that.
With $5 pitchers of beer, live entertainment and a dockside location, you can drink and be merry, whilst enjoy the Marathon evenings under the stars.
Because of its location on US1, you will find a lot of locals and boaters who have left their vessels down at Boot Key Harbor and wandered down, but this gives it a good vibe, as you wouldn't want just a bar full of tourists would you?
Address: 35 Sombrero Blvd, Marathon
Phone: (305) 743 0000
---
J J's Dog House Lounge

The sign asks "Do you have the dog in you? We Do!"
Well I don't really know what that statement means, but this bar is a nice detour from the dockside types of pubs you find in Marathon. It is just a friendly place hidden away behind a single door in the wall.
Open from 7:00am until 4:00am, the Dog House offers pool, darts, live music and as I say staff that seem happy to see new faces when you walk in. They certainly was nice to me.
If you want a taste of the real Marathon then give it ago. You might be pleasantly surprised.  

Address: 10700 Overseas Hwy, Marathon
Phone: (305) 743 5919 
---
Hideaway Cafe

This Hideaway Cafe is to be found at the Rainbow End Resort in Marathon, and it is tiny.
Although this wouldn't really fall within the category of "Bars in Marathon" they do have an extensive wine menu, so if you fancy a little vino then you can pop into the Hideaway Cafe.
You can sit inside or outside on an ocean facing decking, which is lovely in the evening, when the sun goes down, and the sea breezes keep you nice and cool.
The main thing about the Hideaway Cafe is the food, so feel free to take a closer look at what this tiny place in Marathon has on offer below.
Address: Rainbow Bend Resort, MM 58 Overseas Highway, Marathon
Phone: (305) 289 1554
---
---
Florida Keys > Florida Keys Bars > Bars In Marathon
Return To Top Of Bars In Marathon
Home | Site Map | Contact Us | Privacy Policy
By David Ralph
Copyright © 2010-2017 whats-at-florida-keys.com