Is Going Clothing Optional In The Keys....Possible?? You betcha!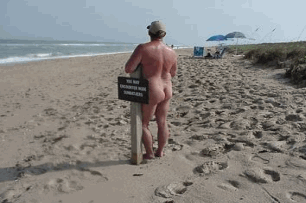 Looking for clothing optional locations in the Florida keys is really not too hard to do, especially in Key West where they love to get their kit off.
Yeah, if there is anywhere on earth that wants a competition in the practice of going clothing optional, then Key West will probably beat them.
Imagine going into any town in America, and having a drink in the evening, with not a stitch on.
Could you do it?
Well I absolutely have no idea, but I know you can in Key West.
And you can also ensure that you get an all over tan every day of the week, because clothing optional hotels are quite common too.
In fact its actually something that is listed and publicized  so you might be pleasantly delighted when you check into your hotel, or indeed you might find your eyes popping out of your head with surprise.
So with our guide to the best clothing optional Key West locations, you can plan your day and night activities in Key West with ease, and to make it even better you wont have to pack a suitcase full of clothes even.
Easy travelling at its best.
However, the rest of the Florida Keys are nowhere near as open minded, so you will certainly need our help to find the best beaches, hotels etc.
But let's start with Key West.....
---
Clothing Optional Hotels
Finding a naturist hotel in Key West is reasonably easy.
Many of them are found around the Duval Street area, although you will need to investigate them closely.
Due to Key Wests liberal attitude, it is an absolute mecca to gay and lesbian travelers so quite a few of the clothing optional Key West hotels do focus on purely male or female clientele.
So if you are straight, gay, lesbian or just very open minded (and good on you if you are) then we have the hotel for you.
Click through on the link below for over ten of the best naturist hotels in Key West.
---
Clothing Optional Beaches
As said previously Key West is extremely open minded.
Many a day especially around the festivals that bring the crowds in such as Fantasy Fest , you will barely be able to walk around without a considerable amount of nudity being on display.
However when it comes to beaches then the chance to take it all off is extremely hard to find, actually it is impossible.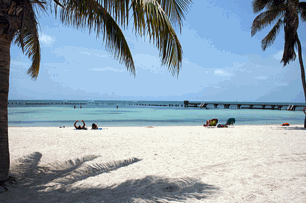 There is a topless area down at Higgs Beach in Key West, which allows a certain amount of flesh baring freedom.
But please be aware that the rules do change quickly in Key West, so take your lead from other people in the area when you visit.
Don't just whip it all off, and find that you are grabbed by the police to spend a night in a Key West cell.
You definitely wont get your all over tan in there.
However if you don't mind a bit of a drive we have all the information for the best naturist beaches in the rest of the Florida Keys and the mainland of Florida too.
Guide To The Best Florida Keys Naturist Beaches
---
Clothing Optional Charters
There are a few different companies operating in the Florida Keys that are more than happy to hire out their services for the day.
With your own private boat taking you around the Florida Keys waters, you will have plenty of opportunity to strip down naked away from prying eyes.
Wild Dolphin Adventures are about the most famous of the charters for hire in the area, and of course with a name like that you not only will be getting your all over tan, but get up close and personal to the Florida Keys favourite water.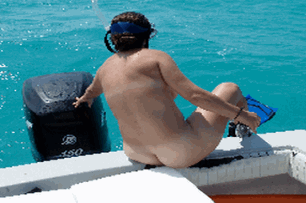 Go on the waters not that cold!
Photo courtesy of wilddolphin adventures
The link below will take you to the best that we can find of the Nude Boat Charters, but as we always say if you can find any others that are doing days like this then please drop us a line.
Nude Boat Charters For Key Largo To Key West
---
Clothing Optional Bars And Restaurants 
I salute you if you have got down this far on the page, by the time you are still looking for places that are clothing free, you must be a hard core naturist.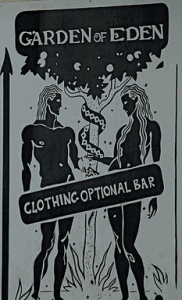 So you have spent your time at the nude beach, spent time walking around your naturist hotel, lazed by the naked pool, and now you want to go out in the evening and find a place to......well go naked.
At the moment the only place I can find is down in Key West, at the Garden of Eden Key West. 
This is an absolute must to complete your naked jaunt around the Florida Keys, so make sure you read all the information on this iconic nudist location down on Duval Street.
But please if you can find anywhere else that falls into the category of Clothing free, wherever it is in the Florida Keys, then please drop us a line and we will add it on.
However, enjoy yourself whatever you get up to, and make sure your bits dont get burnt!
---
---
Florida Keys > Clothing Optional
Return To Top Of Clothing Optional
Home | Site Map | Contact Us | Privacy Policy
By David Ralph
Copyright © 2010-2017 whats-at-florida-keys.com