Nude Florida Keys
Shouldn't Mean You Are Left
Out In The Cold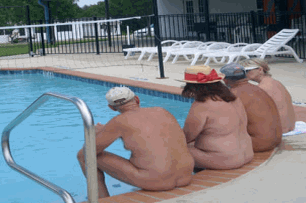 If you are wondering if there is a "Nude Florida Keys", an open public space set aside to be a nudist or to experience the freedom of being "Clothing Optional" then you have come to right place to find out.
We have the best information on the web as to where to go and stay whilst in the Florida Keys if you like to go "au natural".
On this page we will give what our friendly neighbourhood naturists have advised to be the best places to gain that all over tan in the Keys.
And please please leave any comments you can as to the suitability, freedom and friendliness of any Free Beaches, Guest Houses or simply any place that you have found where you could be yourself and enjoy the perfect "Nudist" friendly weather that nude Florida Keys lovers want to see all year around.
So lets start with the clothing optional hotels that will provide you the most option of being nude on the Florida Keys and then feel free to read on with the beaches information.
---
The Best & Most Affordable Nude Florida Keys Hotels To Check Out

There are many hotels in the Florida Keys that allow you to get your clothes off whilst in Key West and the whole of the Keys.
But many hotel companies do not like to promote the fact.
Particularly away from Key West, where the word liberal should be used whenever the place is talked about.
So check out our amazing list of the very best in Naturist Hotels here, and you will save yourself a huge amount of time and money looking for places to stay.
Have a great stay and let us know how you found the recommended resorts.
The Very Best Of Naturist Hotels And Guesthouses In The Keys

---
Nude Florida Keys Clothing Free Beaches
The only beach that you can get the "Full Freedom" of escaping from your clothing is at Boca Chica.
This is not a legal nudist beach and it doesn't state anywhere that nudity is allowed, but certainly many of the locals have been using it freely, if not a little secretly for years.
Boca Chica does have some sandy areas, but to be honest it's a collection of secluded areas more than a wide sandy expanse.
This is really a "Pure Nature" type of beach and doesn't have any facilities available, but for many nudists wanting the perfect piece of nude Florida Keys then this often is like having your own beach.
If you make your way down pass the barricade so you are closer to the waters edge, then you will find that most people will keep out of your way.
Drive along US1 until you get to MM 10, and just by the shop Circle K you will see a turning that heads onto SR 941.
You will have to drive about another 5 miles until you get to the end (this is about 5 miles give or take), but once there you will then find a place to park you car.
Leave the car and look for the barricades made of concrete and there you have what you are looking for.
A stretch of sand totaling about 4 miles in length, and most of the time you will have it to yourself, or the worst case scenarios a few other naturist's.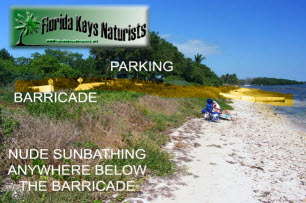 ---
Is There Any Other Nude Florida Keys Beaches Than The Ones You Mentioned?
If you want any other "Clothing Optional" beaches you will need to drive back to the mainland as there is much more of a choice available, than you will get trying to find the "Nude Florida Keys" that you are searching for.
The following information is what has been described as the best on offer in the way of free beaches, but rest assured nude Florida keys and the mainland of Florida is not just about beaches as many of the guest houses and even bars have clothing optional areas available.
---
Haulover Park
10800 Collins Ave, Miami Beach, FL 33154
(305) 947-3525
Halouver Park is a regional park owned and operated by Miami-Dade County, Florida.
You can find the park between the Atlantic Ocean and Biscayne Bay on a barrier island.
The park has quite a lot of things going, not least the "Clothing Optional" part such as tennis courts, a golf course and several picnic and barbecue areas.
Unfortunately it is not free to park at Haulover Park, and if you go west of the A1A highway you will find the parking to be charged at $5.00 on weekdays and $6.00 on weekends.
I suppose that isn't too bad, although I do love a free parking spot !!
So for all you nudists where should you head for?
Inside the park is a 1.5-mile (2.4 km) long beach, with the northern bit (about 0.6km ) being the nude "Free Beach."
It opens from about 7:00 am and stays open until dusk, and quite unusually for a Clothing optional area it has its own lifeguards and a food and umbrella rental concession.
Estimates put the number of visitors each day, on a busy weekend, to be between 7,000 and 8,500.
View Larger Map
---
Navarre Island Beach
8579 Gulf Blvd, Florida
Not far from Pensacola in Northwest Florida is a barrier island that spreads for twenty miles or so.
The island is connected at both ends by a bridge, with the west end having the most popular and commercial beaches.
In the middle is the Gulf Islands National Seashore and for one reason or another its not used half as much as the beaches down the West End.
But for your purposes give these beaches a wide birth and head down to the east side at Navarre Beach.
This is the part of the beach that is designated clothing optional and is at the far east side.
Follow the shore road, or zip over the east toll bridge on Route 87, and drive for another half a mile past Route 87.
If you go straight to the ocean from route 87, you will be at the pier.
Now you have to show some commitment to take your clothes off down here, as you still need to walk about another 100 yards to the shore, before turning east and traipsing another 200 yards, which means give or take you've gone past the pier by about 1/2 a mile.
When you pass a fence, you are technically outside the park and in the property of Eglin Airforce Base, which funnily enough is the place where the most sunbathers searching for the all over tan seem to congregate.
But if being so close to the authorities doesn't appeal, then other people wander a further 200 yards west of the fence, until they are just about at the end of the road and do it there.
---
---
Florida Keys > Clothing Optional > Nude Florida Keys
Return To Top Of Nude Florida Keys
Home | Site Map | Contact Us | Privacy Policy
By David Ralph
Copyright © 2010-2017 whats-at-florida-keys.com