Twelve Months Of Florida Keys Special Events
Man You Will Be Exhausted !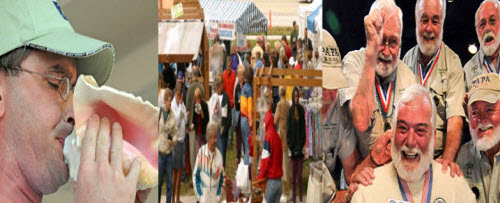 Do you know the problem with the Florida Keys Special Events?
Quite simply the biggest drag is that they only occur once a year.
No one knows how to throw a party better than the residents of the Florida Keys, and once you experience one you will be counting the days more avidly than a prisoner on death row.
OK, not quite the same thing, but certainly you will want to go to another of the annual events as soon as possible.
Fortunately, they occur often....yayyy !!!!!
So if you want to run across the US1 Highway looking at miles of sea on either side, or want to dress up and turn back the time to relive the Keys past, then we have something for you.
The list below and the links to other pages are in no way all the Florida Keys Special Events that occur in the Keys each year, but will give an overview as to what might tickle your fancy as you are planing your trip.
For more up to the date information then it might be an idea to phone the local chambers of commerce, who will be more than happy to bring you right up to date with opening times and admission fees for example.
---
Islands Chamber of Commerce Contact Details
Key Largo Chamber Of Commerce
Mile Marker 106, Bayside
(305) 451-1414 or (800) 822-1088
Islamorada Chamber Of Commerce
Mile Marker 82.5, Bayside
(305) 664-4503 or (800) 322-5397
Marathon Chamber Of Commerce
Mile Marker 53.5, Bayside
(305) 743-5417 or (800)262-7284
Lower Keys Chamber Of Commerce
Mile Marker 31 Oceanside
(305) 872-2411 or (800) 872-3722
Greene Street, Key West
(305) 294-2587 or (800) 527-8539.
All the chambers will have copies of the annual events guide ("Attractions and Events")
---
Florida Keys Special Events By Month
January

Art under the Oaks
This has been running for nearly twenty years.
Started in 1982 in the Grounds of San Pedro Church, this has always been one of the most popular of the January Florida Keys Events.
The whole community get involved, gathering in mass under the beautiful canopy of the oak trees to experience homemade crafts, paintings and works of fine art made by local artists to the area.Read More.....

Key West Literary Seminar
Did you know that since the 1920's when Ernest first set foot on the island, this small group of Islands at the tip of mainland USA, namely the Florida Keys has been somewhat of a mecca to writers and those folks that can turn a good phrase or two.Read More.....
Cheecha Lodge Presidential Sailfish Tournament
Key West Historic House And Garden Tours
Annual New Years Day Celebrations
Sculpture Key West
Key West Craft Show
Old Island Days House & Garden Tour #1
Annual Tennessee in Key West Seminar
---
February
Gigantic Nautical Flea Market
Pigeon Key Art Festival
The Winter Star Party
Civil War Heritage Days
Old Island Days Art Festival
Old Island Days House & Garden Tour #2
---
March

Key West Garden Club Flower Show
The West Martello Tower is actually part of the Key West Garden Club and Joe Allen Garden Center.
This is a historic place, and an obvious Key West highlight.
In fact on June 24th 1976, it was added to the U.S. National Register of Historic Places, and added to the beautiful gardens that surround it is certainly one of the really pleasant Key West Attractions and a particularly popular addition to the Florida Keys Special Events .Read More.....

Conch Shell Blowing Contest
If you are thinking of entering the Conch Shell Blowing contest then you are certainly going to need a lot of puff.
Otherwise known as the "Conch Honk" this is on of the hugely enjoyable Florida Keys special events that occurs in March each year.
So what do you need to do, you may be thinking? Read More.....

Sombrero Beach Run
I suppose this should be classed as one the Annual Florida Keys Special Events, as the Southernmost Runners Club arrange the Sombrero Beach Run each year.
Attempt either a 15K Challenge, 10K Run, or a relaxed 5K Walk/Run.
After the energy sapping effort of the race, what could be better than having lunch prepared for you?
So settle down with either a hot dog or a sausages in a roll, and wash it down with either soft drinks or a cool beer.
All the while relaxing with the wonderful Sombrero Beach as your backdrop Read More.....
---
Islamorada All-Tackle Bonefish Tournament
Marathon Seafood Festival
---
April
Art Festival Weekend
Annual Ladies Tarpon Tournament
Conch Republic Independence Celebration
Robert Frost Poetry Festival
---
May
Taste of Islamorada
McDonald's Tarpon Tournament
Barley Bay Festival
---
June
Cuban American Heritage Festival
Dick Fuhr Memorial Fishing Tournament
PrideFest Key West
Marathon Super Boat Grand Prix
---
July

4th July Fireworks
It is not hard to see Fireworks throughout the 106 miles of the Florida Keys on Independence Day.
From Key Largo down to Key West , each of the very different groups of islands celebrates America's history with a spectacular fireworks display that is a sight to behold.
Now as you can imagine these pyrotechnic extravaganzas are extremely popular with both Conch families and tourists who flock down to the Florida Keys all year round, but especially on this historic national holiday, so a little insider information would be useful so you get the best seat in the house. Read More.....

Hemingway Days are a sight to behold.
From the bizarre and sometimes ludicrously bad Hemingway lookalike competition, to the Running of the Bulls weirdness, you really have to take a look at the going on's in Sloppy Joes that make this one of the most famous of the Florida Keys Special Events.
Each year on the legendary author's birthday gangs of bearded men converge from across the globe to this famous Key West bar Read More.....
---
August
Key West Summer Food & Wine Festival
Key Largo Offshore Classic
Mercury Little Palm Island Grand Slam
---
September

Womenfest
Womenfest moto is simply "Free To be You and Me In Key West."
And what better place is there to do just that than Key West each September.
For over twenty years the week after labor day, thousands of women from all other country gather in Key West for a bit of female bonding.
At the last count it was over 3,000 visitors, and still it keeps growing year after year.Read More.....
Key West Poker Run
Marathon International Bonefish Tournament
---
October


Fantasy Fest
Many Years ago October in Key West was a bit of a slump time. It was slightly out of season and the hotels were half empty.
"What could be done?" cried the local tourist industry.
And that was when Tony Falcone and the late Bill Conkle came up with the idea of Fantasy Fest to give the community a bit of boost.
Man, they have done well, and now you better plan ahead if you want to get a room around this time Read More.....
Florida Keys Birding & Wildlife Festival
Fright Night at Holiday Isle
---
November
Parrot Heads in Paradise Convention
Pirates in Paradise Festival
Annual Corvettes in Paradise
---
December

Christmas Boat Parade
Deck the boats will boughs of holly………
Come and watch a festive boat parade of between 30 and 50 lighted boats as they glow their way through the Backwater sound.
Jimmy Buffett actually sings a song about Christmas, where Santa delivers your presents in a canoe, and yes that's the way Santa does it down here in paradise.Read More.....
Key West Holiday Parade
Annual Island Art Fair

---
---
Florida Keys > Florida Keys Special Events
Return To Top Of Florida Keys Special Events
Home | Site Map | Contact Us | Privacy Policy
By David Ralph
Copyright © 2010-2017 whats-at-florida-keys.com