Gay Is The Way In The Keys!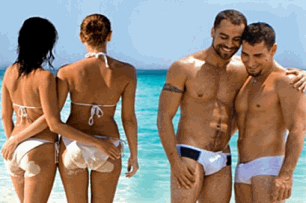 Gay Bars and hotels in the Florida Keys are not hard to find.
And why should they be?
With a mentality that says "Hey, you're in the Keys, have fun and enjoy yourself" it's not surprising to find that whatever your sexual preference, you will be more than catered for throughout the Florida Keys.
And best of all in many of the places mentioned in our guide, all orientations mix easily with the straights of this world.
And this easy going mixture makes the Florida Keys a cosmopolitan bohemian cocktail that never fails to delight
So where should you start and enjoy yourself?
Two words - Key West 

I don't know if the Southernmost part of America can truly be classed as the gay mecca, but certainly I cannot think of one where the weather is as good day after day.
San Francisco?
I went there and spent four days in fog.
No, Key West is Pink and proud of it, and that is just the message that floats across the world and which attracts gays and lesbians in their thousands year after year.
What with the sun, nightlife, coffee houses, theatre the list goes on and on.
There is literally something and someone for everyone.
Ever since the "gay revolution" in the 60's, Key West has been a home for Trans genders, drag queens, and an unlimited variety of other characters.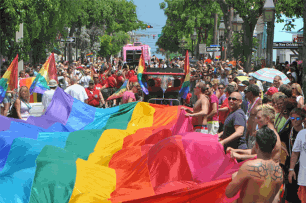 Gay bartenders, artists, designers, authors, actors, lawyers, architects, hairdressers, waiters, doctors, and everyone else clamber across each other to get down to this tiny island down at the end of the Florida Keys.
Today, Key West boasts one of the most diverse populations anywhere in the world, a special place where closets have no doors.
Isn't that how life should be?
But what about the rest of the Florida Keys?
Is there anything in Key Largo, Marathon or Islamorada that is as gay as Key West.
Well don't worry, we will try our best to give you the best tips and insiders information we can on enjoying the gay life in paradise.
And you find some hidden treasure that you just have to tell the world about, please leave a review for all our readers.
Ready?

---
Gay and Lesbian Guesthouses In Key West 

Key West accommodation ranges from exclusively same sex guesthouses, to gay-friendly hotels, inns, and bed&breakfasts.
You can also and rent villas and apartments.
Many of Key West's guesthouses have clothing optional pools and decks, and include breakfast and 'happy hours' in their rates.
The majority of the accommodation are to be found on Fleming Street, such as the imtimate Alexander's guest house, that has been established for year and Oasis, and on the wild and club filled Duvel Street you will be able to stay at famous gay hotels and inns such as Big Ruby's and Tropical Inn 
Pearl's Rainbow used to be the exclusively lesbian guesthouse on United Street.
But since the market has changed and difficult times were experienced, it has now been opened up to everyone.
Rates and differing amenities will vary of course from the budget, and we mean budget, to the extravagant and luxurious so there is more than enough options for whatever you require.
---
Gay and Lesbian Bars In Key West
The nightlife in Key West is legendery.
And that has as much to do with the Gay and Lesbian clubs that have flourished for decades in Key Wests easy going and liberally minded streets.
During the day, many of the visitors to Key West, throw caution and clothes to the wind and make the most of the island's clothing optional (or nudist to you and me) men and women only pool bars.
Every night, a tourists and residents combine and converge on the hot and happening spots throughout Key West, but mainly down on Duval Street.
And it shows no sign of slowing down as now Key West has more night-life options for same sex couples and individuals than ever before.
Whatever tickles your fancy can be found in the streets around Duval Street.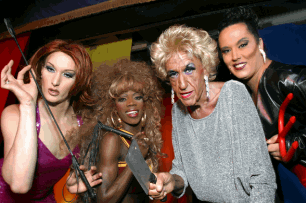 Whether its a gay-friendly country bar, dance clubs, cabarets,piano bars, drag shows, a leather/levi bar, and neighborhood bars you will find it and enjoy it all.
Ok, your head maybe thumping the next day, but you will still go out again.
Its intoxicating.
The tea dance that occurs ever Sunday at La Te Da continues to grow after decades.
So do you fancy it?
If so check out our guide to the best of Key West Bars and Pubs 

---
---
Florida Keys > Gay
Return To Top Of Gay
Home | Site Map | Contact Us | Privacy Policy
By David Ralph
Copyright © 2010-2017 whats-at-florida-keys.com