Alexanders Guesthouse In
Fleming Street
Key West Florida Keys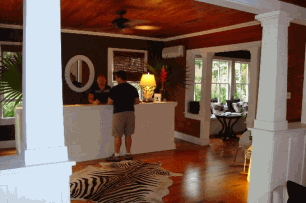 Alexanders Guesthouse in Key West is one of the premier gay friendly locations to stay at whilst in Key West, and it isn't really a surprise.
The place is decorated to a high standard, as you can see from the image above, is classy with a nice relaxed theme that works well for a Key West hotel. 
Alexanders is based in quite an old building, built in conch style around the turn of the last century, but it has definitely been brought up to date, whilst still keeping the old touches that link it to its historic past. 
But don't think that everything is old as it has recently been renovated, with an additional two story house built, so the guesthouse can now cater for 17 couples in 17 guest rooms.
The place is gay owned and operated, which is why this is high on the list of places to stay in Key West for both gay men and women.
---
What Type Of Rooms Does Alexander Offer? 
The rooms here are quite basic in comparison to some of the hotels in Key West, but they are clean and functional.
I actually like the clean and quite simple style that they have been decorated.
All rooms have private baths, queen sized beds and shower facilities big enough for two to share.
If you do want to spend a bit more money for a deluxe room then you can expect to find a king size bed waiting for you.
If you are planning to visit Alexander's with more than just a special partner, then make sure that you ask for one of the larger accommodations that are available.
This will make your stay much more comfortable as they are more luxurious for a start, and come with not just a king size bed, but also a queen size sofa bed too.
The three rooms listed below give you just a selection of the decor, and style that will greet you if you decide to book a room or two at Alexanders.
---
A Selection Of The Rooms At Alexanders Guesthouse In Key West
Guest Room One

This room is found on the second floor of the Main House, and has a private bath, wet bar with mini-fridge, Microwave, TV Player, Flat screen TV and King Size bed.

Guest Room Two

Located in the main house on the second floor, the room has a King Size bed, Private bath, Flat screen TV, DVD player and mini fridge.

Guest Room FIfteen

This room is on the second floor of the cottage house poolside, and has a four poster King size bed, Queen Size sleeper sofa, Private Bath, Flat screen TV, DVD Player, Private balcony with garden view, and can sleep up to four guests.
---
---
What About Outside, Is It Secluded From Bustling Key West?
Stepping outside of the room, you can lounge around the lush tropical pool.
Perfect for a quick dip after doing the tourist stuff that Key West is known for.
If you are braver than I am, then you can take everything off for an all over tan on one of the two second and third level tanning decks.
It really is a relaxed place with super attentive staff and well worth a visit.
And one thing for sure when you step within its confines you can certainly separate yourself from the hustle and bustle that occurs around you day and night in Key West.
Although Alexander's is gay owned, you will still find a lot of straight couples here who come back year after year for the happy and relaxed atmosphere.
Oh and the popular happy hour.
It is Key West after all.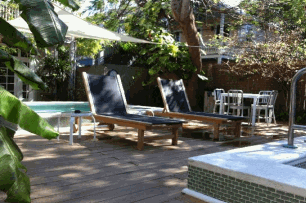 With Tanning Decks Available There
Is No Excuse To Not Get The All Over Tan
---
What Is On Our Doorsteps If We Decide To Venture Out Of Alexanders?
The guesthouse is slightly away from all the main things in Key West, so you will be expecting a walk of around a mile to most things.
However you can easily get one of the Key West taxis, that we list here    who can take you wherever you want.
Although if you are like me, when the sun drops and the temperature is cooler there isn't anything better than a stroll through the tropical themed streets.
So I would get a taxi there, and walk back.
The following list of things to visit are in no way the highlight of Key West, but are the closest things to Alexanders guesthouse, and gives you a good idea of what you might be doing if you fancy booking a room. 
And of course you are just a short walk to potentially the most famous of all the streets in Key West - Duval Street.
So if you are the kind of night owl that fancies participating in the world famous Duval Crawl, and experience as many of the local beverages as you can, then Alexanders Key West Guesthouse is a perfect location.
You can hit Duval, experience the fun and jovial atmosphere and then crawl back to a much quieter part of town to get some shut eye.
Which believe me is always a welcome relief as the bars and clubs only shut for a few hours each day. 
We never said that Key West was a place that didn't party hard and long. 
If you do want to check out more about the central thoroughfare of Duval Street then click here, however if you just want to know more about the bars and clubs that make up the Duval Crawl, then click this link instead.
---
Rates and Additional Information
The cost to reserve a room in Alexanders is around $120 to $410 a night for your stay at this amazing gay-friendly establishment.
All rooms are non-smoking.
All rates are worked out on either a single room or a double room occupancy.
If additional guests are required to stay then an extra $30 per night in rooms 17, 16 and 12. (No more than 4 persons per room.)
Pets and animals should not be brought into the place at all.
There will be minimum stay terms and conditions applied for general reservations.
Throughout the times of the year classed as Special Events or holidays minimum stay terms will be applied, such as Memorial Day, Labor Day, Gay Pride, July 4th,the amazingly popular Womenfest, Thanksgiving, Fantasy Fest, Christmas and New Years.
Generally they require a deposit equivalent to two nights accommodation paid.
View Larger Map
Address: 118 Fleming Street, Key West, FL, United States
Phone: (305) 294-9919

Check Rates And Availability Now
Florida Keys > Florida Keys Hotels > Alexanders
Return To Top Of Alexanders
Home | Site Map | Contact Us | Privacy Policy
By David Ralph
Copyright © 2010-2017 whats-at-florida-keys.com