It Would Be A Grave Mistake To Miss The Key West Cemetery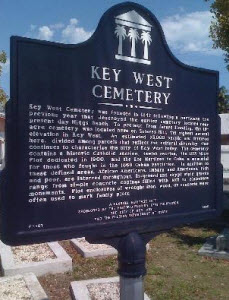 Key West Cemetery Is The Dead Centre Of Town!
The Key West Cemetery might sound like a strange place to add as attraction but it certainly would be wrong us not to bring it to your attention.
Built in 1847 the year after the famous and disastrous hurricane tore into town, the city cemetery bring into focus that the history of the Florida Keys is built around two key elements "Water" and "Humans".
The marble monuments demonstrate the wealth that has been shared by the few in the Florida Keys, as these huge graves had to be shipped in especially, so the recently departed rick folk could have a place to be laid in that reflected their status in the living world.
When you think that most people had a headstone carved from brick or cement it really shows you the prohibitive cost of displaying ones wealth in this way.
But that is what makes the Key West Cemetery fascinating too.
Many of the words on the headstones have a kind of macabre sense humour, such as "I told you I was sick" or "Devoted Fan of Julio Iglesias"
The headstones really give an idea of the kind of person, and their loves and interests that lay below the ground.
As you walk around you may find many graves built upon each other.
These are graves that are said to be "bunked", due to the fact that digging in this area is quite hard to do, such is the difficulties in digging in Coral Rock and the saltwater that is just below the surface.
In 2006 the Key West City Cemetery was recognised as a Florida Heritage Site.
The Historic Florida Keys Foundation do a lot of work to make it easy to visit and navigate the cemetery , and can provide a tour pamphlet which lists the graves of 42 of Key West most prominent or notorious deceased citizens.
To get one of these just pop into the Florida Room at the Monroe County Public Library, 700 Fleming Street or at the Key West Chamber of Commerce, Mallory Square.
If you are unsure where the Key West Chamber Of Commerce is then simply click through to our page on the place which will point you in the right direction.
But perhaps you would like a tour guide to show you around?
And for many this is the way forward, as it really does set the place up as a genuine Key West location to make sure you visit, instead of just a place to wander through.
The hour long guided tour which leaves at 9:30am on Tuesday and Thursday from the Cemetery's main gate.
This isn't quite free as a $10 donation is requested, but is still not much to pay for a really informative guide.
To arrange this tour, then just make a reservation on (305) 292-6718
Bordered by Angela, Frances and Olivia Streets and Windsor Lane (305) 292-8177
Admission: Free
View Larger Map
Florida Keys > Key West > Key West Cemetery
Return To Top Of Key West Cemetery
Home | Site Map | Contact Us | Privacy Policy
By David Ralph
Copyright © 2010-2017 whats-at-florida-keys.com