Key West Chamber Of Commerce Tourist Information Center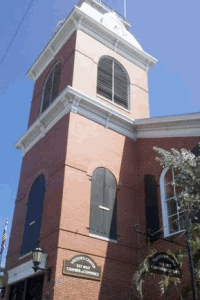 What is the Key West Chamber Of Commerce All About?

This is an easy one to answer, they are all about Key West.

If it is happening within the confines of the Southernmost Island then the Chamber of Commerce will have something do with it.
Building upon the infrastructure and network support for the community, whilst still focusing in on the needs of the thousands of tourists that flock down here each year, it really is a balancing act to ensure that all parties are catered for.

But balance it they do and whether it is information about Key West vacations, or the best attractions the island has to offer, or simply a great place to propose to your special partner then the key West Chamber Of Commerce can point you in the right direction.
And that is mainly for the tourists, but imagine you come to visit and decide you never want to live anywhere else again, and need information to relocate?
Then yep, the Key West Chamber Of Commerce have that covered too.
Of course, although its our job to tell you about everything in the Florida Keys, and so would be amiss for us not to mention Key West Chamber of Commerce, you can get all that information from us anyway.........sorry chamber members, hope you don't take offence.
But what you can't get is the pleasant and eager to help staff, who man the place seven days per week.
There…have I made it up to you Key West Chamber Of Commerce??
Still friends?
---
The Key West Chamber Of Commerce Members

Although Key West as a whole is a very relaxed at times, the chamber of commerce were one of the first organisations to get into action and promote what there is to enjoy.

Opening their doors many years ago, they have been hard working to promote business, and a wide range of activities and now have over six hundred members on their books.
From Captains who are available to be hired for the day to painters and decorators with over six hundred members on their books the Key West Chamber Of Commerce can provide you with trusted reliable contact details that can make your fishing, painting experience perfect.
But don't think it is just them two professions that are on their books.
You can literally ask for anything and anyone.
Go on…give them a try.
---
Where Can I Find The Key West Chamber Of Commerce?
The commerce is to be found down at 510 Greene Street, right on the corner Greene Street and Anne Street, and being an organisation open seven days per week will always be available to answer your questions.

At first glance you can almost mistake the place for a church or courthouse.

If you are unsure where Greene Street is then click through to this downloadable map of Key West and you will find them up near the famous Sloppy Joes legendary drinking establishment loved by Ernest Hemingway and his mates.
But if you do get lost then ask anyone, and I'm sure that they will be able to tell you the way to go.
---
Key West Attractions
Throughout Key West you will find attractions, interesting places to visit or just those things that are a little bit mad.
And the Key West Chamber Of Commerce will have leaflets, or advice on them all.

So if you fancy taking a look at the weird six foot toed cats that hang around Ernest Hemingway's home, then that can advise what is the best time to visit.
If you dont fancy standing in a huge queue, whilst you are waiting to get into the Little White House, the Key West residence of choice of President Truman, then once again, they can advise you of the best time to visit.
If you want to go down to Ripley's Believe it Or Not Emporium and don't fancy paying full price then once again he Key West Chamber Of Commerce will have the deal.
Or if you fancy grabbing a copy of the Pelican Path and wander around the island at your own pace then yep……this is the place to go.
Of course as I mentioned earlier, this site will have all the same information, but it will make a nice change to speak to someone face to face.
Check Out Our Full Guide On The Best Key West Attractions.
---
Key West Hotels
Hotels to relax in.
Hotels to crash in.
Or hotels that make proposing to your partner a formality, then Key West has them all.
The main thing to decide when thinking about a hotel is do you want peaceful nights, crazy nights, or days that you can enjoy the best of Key Wests attractions and beaches, and then retire to a peaceful haven later on.
Many of the hotels come with their own private beaches which is great to watch the sunset occur from (whilst a cold cocktail sits in your hand), or just to take a dip knowing that your valuables are safe not far from you.
So take a look at the map.
Decide what you fancy doing and then let the Key West Chamber Of Commerce do the rest.
Check Out Our Full Guide On The Best Key West Hotels.
---
Key West Restaurants
From pure conch restaurants serving up delights such as the honestly gorgeous conch fritters, or Key Lime pie, to franchised American burger type joints, you will be provided with a huge list of where to go.
The choices of places that serve in Key West are almost unlimited.
And the prices can vary greatly from Garbos Grill beachside vendor who sells tacos to die for, to prices that you would expect to pay in Manhattan New York.
The choice is yours, and if you are feeling generous why not take some back to the Key West Chamber Of Commerce once you are full.
They did point you in the right direction after all!
Check Out Our Full Guide On The Best Places To Eat In Key West
---
How Do I Contact Them If I Need To?
The Key West Chamber Of Commerce can be contacted on either phone, email or face to face.
If you want to phone then use the following:
305-294-2587
If email if your communication method of choice then:
And if you want to pop in then the address is:
Key West Chamber of Commerce, 510 Greene Street, First Floor, Key West, FL 33040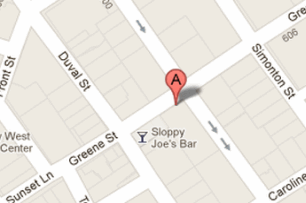 Click On The Above Image To Go To Google Maps
---
---
Florida Keys > Key West > Chamber Of Commerce
Return To Top Of Key West Chamber Of Commerce
Home | Site Map | Contact Us | Privacy Policy
By David Ralph
Copyright © 2010-2017 whats-at-florida-keys.com