Florida Keys Recipes To Get Your Taste Buds Going....Big Time!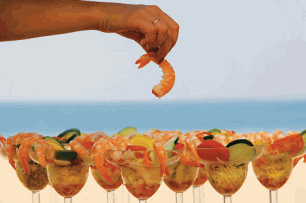 Florida Keys Recipes aren't just about those food recipes that are fishy based.
Yeah, we all know that the Florida Keys has the greatest fishing in the world, but have you stopped to think of anything else that has become famous but started on these islands. Let's start with the pirates that patrolled these waters hundreds of years ago.
Think "Pirates" and it won't be long before an image of rum swilling comes into your mind.
Have a guess where the first place to ever throw all the ingredients into one glass and claim the "Original" Rum Runner Recipe?? 

This was the Holiday Isle Beach Resort and Marina in Islamorada, and they knew they were onto a good thing.
Fortunately for us they let us in on the secret.
Bear in mind its close proximity to Cuba and the Bahamas, it is not a stretch to see why the local food recipes are based predominately around fresh seafood and tropical fruits.
Many of the Florida Keys recipes have Bahamian and Caribbean roots with spicey tropical flavors you have come to enjoy.
So get a selection of Key Limes, Conch Meat, and other ingredients and together we will create a dinner party that you and your guests will savour for many years to come.
Here are some of our favourite recipes, and rest assured we will continue to add to the list as often as we can.
---
Rum Runner Recipe
This is one of the drinks that you will find almost everywhere in the Florida Keys and thank god for that!
I remember the first time that I went to the Florida Keys and was encouraged to have one of these, but to be honest I don't remember much more of the evening.
They are quite strong.
With such an intoxicating mixture of rums and fruits juices, this is one of those Florida Keys recipes that really should be common place throughout the world. Read More.....
Conch fritter
Conch fritters are a staple diet of the Florida Keys, but they are not the easiest to make, because of the laws involved with harvesting the conch, and the difficulty of getting them out of the shell.
But don't worry as you can use the same recipe but use calamari instead.
I love a plate of them, and will always ask for one as I pull up at Alabama Jacks in Key Largo who serve up the best fritters I have tasted anywhere  Read More..... 

Authentic Florida Key Lime Pie
The Florida Keys is about many things, nature, lifestyle, water-sports the list can go on and on.
But you wont find anything more "Florida Keys" than this pie
It is simply brilliant.
It's the kind of pie that you have one portion and love it.
So order another portion, and then feel kind of sick at the end of it.
Stick to one portion and enjoy a slice of Florida Keys heaven that you can take home with you, thanks to our authentic Florida Key Lime Pie recipe.

Hurricane drink
This is one drink that has quite a tale to tell.
You can trace its origins back to New Orleans in the war, and since then it has become another one of the true "Florida Keys delights"
Made from a mixture of alcoholic beverages, this is a juicy, sweet drink that completes the perfect Keys evening.
Sit and watch the sun go down, as the Hurricane Drink goes down even better in your hands. Read More..... 
---
---
Florida Keys > Florida Keys Recipes
Return To Top Of Florida Keys Recipes
Home | Site Map | Contact Us | Privacy Policy
By David Ralph
Copyright © 2010-2017 whats-at-florida-keys.com