Florida Keys Camping & RV Sites Provide Magic Under
The Florida Keys Stars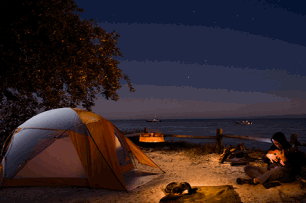 Florida Keys Camping means an escape from lifes hassles and temptations.
As you sit in your office looking at the secretary from the floor upstairs walk past, you can think two things.
One……what would a night under the Florida stars feel like?
Or Two.....no better not think that about the secretary!!
Ok, ok, the second choice may not readily jump out at you, but after reading about what the Florida Keys camping world has to offer then you may change your mind.
Just imagine the worlds most beautiful sunrises, being played out in front of you, as you pitch you tent under a swaying palm tree, feet from the crystal blue Florida Keys Water.
Camping on the beach Florida Keys style is about as good a camping experience as you can get. 
But rest assured Florida Keys camping can be as basic or as luxury filled as you would like it to be.
You can camp under the stars, or in your own home from home rv vehicle.
The choice is yours.
But let's point you in the direction of some of the best Florida Keys Camping sites........it'll make your choice easier!
---

Key West Camp Sites
Key West is known for many things, but you don't generally think of camping when you consider the Southernmost point of America.
But just because you dont think of a night under canvas dont think that you cant do it.
Key West camping js scattered from outside the city limits down to the ancient sea fort of Dry Tortugas which sits over 70 miles off the shore of Key West proper.
But right smack bang in the middle of things, I admit, there isn't a lot of choices.
So take a look at our Florida Key Camping guide to the best that Key West has to offer, and you could well be having an experience that is memorable for all the right reasons.
Not least the freedom and reduced abuse of your wallet.
The Best Guide To Key West Camping On The Web
---
Key Largo Camping Sites

One thing for sure the self confessed "Diving Capital of the World" Key Largo doesn't go mad for camp sites. 
But that doesn't mean that you can't find some nice ones to stay at.
Especially the type of old style, back to basics camping that your grandad would have done....yep no WIFI and cool ice chillers at these places.
So starting right at the very top of Key Largo, nearer the mainland we present you the Elliott Key Camping experience, and then take you all the way down.
We will cover eight of the best Florida Keys camping sites, allowing both tents and RVs to stay over in Key Largo. 
The Best Guide To Key Largo Camping On The Web
---
RV Sites And Camping Sites Throughout Florida

Many of the sites that we have mentioned as being available for your Florida Keys Camping experience have been those that predominately cater for the low key camper. Yes the man or woman, who with just a rucksack and a good pair of walking boots will walk into the site and ask where they can pitch their tent at night.
Honest to god, back to basics, as camping was designed campers.
But then ther are others that like to camp with all the mod cons that they will experience at home.
Infact they like to camp by bringing most of their home with them, and who is right or wrong is not open to discussion, however we can cater for them too.
As the following link will list everybody RV camp site that we could find, not just in the Florida Keys camping sites, but throughout the whole of Florida.
Top to bottom.
So brush down the wheels of your 50 footer shiny home from home RV and set off down to the greatest place on earth.
Yep, the Florida Keys are beckoning.
The Best Guide To RV Camping Throughout Florida
---

Whats At Florida Keys Camping Recommendations

John Pennekamp Coral Reef State Park
This is a site that will delight both the lovers of sleeping under canvas, and the RV campers too.
This site can cater for 47 campsites, and to add that little bit of luxury to your Florida Keys Camping experience the site has water and electricity available.
Make sure you look at what amp is being provided as you can get 30 amp, 50 amp and even 110 volt.
You won't want your mini fridge and satellite TV to blow up will you!
The site also has really high standard showers and toilets which of course makes things even more comfortable. Read More.....

Key Largo Kampground
This is a really nice camp-ground in Key Largo.
With the foliage and hedges being used to great effect as dividers to the separate sites, the whole place has the feel of a village more than a camp-site.
Add to it a few palm trees, and you are really set for a tropical Florida keys camping experience.
There is a main canal that runs through the site and links the marina to the shallow flats beyond.
Make sure, if you fancy bringing your own vessel with you, that you ask for one of the sites that sit facing the canal. Read More.....

Calusa Campground Resort and Marina
Calusa is a location not a million miles away from John Pennekamp Coral Reef State Park
Positioned at the gateway to the Florida Keys. this Florida Keys Camping site is right near Key Largo.
The whole family will love this place.
It has great facilities, and even better you can get straight onto the Florida Bay or even the Atlantic Ocean by using the waterways of Tavernier Creek. Read More.....

Bluefin Rock Harbor Marina and RV Resort
Like Calusa Campground mentioned above, Bluefin Rock Harbor is just a skip and a jump from the Atlantic Ocean
The site has been here for years and the owners know exactly what you need to make your Camping experience even better than you might have planned it to be.
If you fancy a bit of fishing then rental boats can be hired for the day. Read More.....

Long Key State Park
There are very few sites that I have ever been to that can offer you a view of the Ocean wherever you set up your tent.
But that is what happens at Long Key State Park.
So imagine laying in your sleeping bag looking out over the darkening skies, watching the stars grow brighter and brighter.
You wouldn't get that at the Holiday Inn!
Certainly not for the reasonable cost that Long Key State Park charges.

Bahia Honda State Park
Bahia Honda is the gem of all Keys Camping sites.
It is actually the gem of all the beaches too.
So get your sleeping bag out of the garage.
Grab you tent.
And go and experience a truly delightful and natural camping experience that you won't find anywhere else on earth.
Nuff said !!! Read More.....


Big Pine Key Fishing Lodge
Big Pine Key give you the lot when it comes to camping.
Either truly basic rough and ready grass or dirt sites, with no water or electricity, right through to the dockside sites with electrical hookups.
This is one of my favourite of all the sites, as you can sometimes feel that you are simply replacing a hotel with a cheaper one.
But at of course due to the natural beauty of the whole of Big Pine Key you are really camping
So leave all your mod cons behind and experience something quite different.
Isn't that why you are on vacation anyway? Read More.....
Sunshine Key RV Resort and Marina
This is one massive camp-site.
And this often puts people off when they are trying to do a "Back to Nature" type of trip.
With over 400 site taking up almost all of Ohio Key, this is one Florida Key Camping trip that you won't have to think "Man...we didn't bring so and so."
With the shops and facilities spread out across the site you have everything you need.Read More.....


Sea Camp (or SEACAMP)
This is really a wonder.
Based at Newfound Harbor in Big Pine Key, kids have been coming here for years to undertake underwater adventures.
They will snorkel, dive and learn all about the fragile eco-system that is what the Florida Keys are all about.
Well worth checking out for a trip that your child will never forget. Read More.....
---
---
Florida Keys > Florida Keys Camping
Return To Top Of Florida Keys Camping
Home | Site Map | Contact Us | Privacy Policy
By David Ralph
Copyright © 2010-2017 whats-at-florida-keys.com