Elliott Key At
Biscayne National Park
Where Is Elliott Key?
Elliott Key is up in the most northerly part of the Florida Keys, above Key Largo.
If you look at the map of Florida and follow it down from the mainland, you will see it right by the top next to Homestead.
Or being even more precise then measure down about twenty miles southwest of Miami and that is where you'll find it.
It is actually totally contained by the Biscayne National Park, and even though you may think that a long strip of land, only eight miles long and one and half miles wide can't have offered much to the history of the Florida Keys you would be wrong.
The place is both historic and beautiful.
On this page, and subsequent linking pages we will do our best to bring Elliott Key to life, and who knows, you may feel inspire to make a little visit with your sleeping bag to experience it yourself.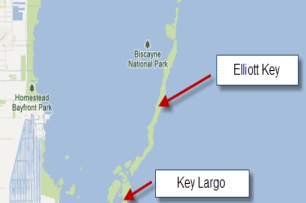 ---
The History Of Elliott Key
The earliest Indians and settlers to the Florida Keys use to use the area to hunt and fish in, and pirates even patrolled the waters, using it as a convenient harbour and base for their illegal activities.
And they all wanted to call the place their home.
And that wasn't a surprise as the ground was fertile enough to farm on, and this encouraged the early pioneers to locate to the place.
And for many people they did very well here, particularly the Sweeting family who grew pineapples for over twenty five years, until a terrible hurricane blew through and destroyed everything that they had worked on.
This didn't deter them however, and they continued to work and re grow everything they had lost for the next twenty five years.
You maybe thinking why would they do this?
Why would they go the effort, and not just up sticks and go elsewhere.
Well, back in the eighteen hundreds a law passed that said that anyone who lived and worked and improved 160 acres of land for five years, could have it.
And because of the climate and the soil a thriving and profitable pineapple business flourished on Elliott Key.
For more detailed information on the early settlers that worked the land and made Elliott Key such an integral part of Florida Keys history then read here.
But for the rest of you that just fancy knowing if there is anything worth visiting the island nowadays then read on.
---
What Is At Elliott Key?
Well I suppose the thing that attracts most people is the campsite, which is maintained by the wardens at Biscayne National Park, and is a magnet for both campers and picnickers.
You can also do some swimming or just wander around with your binoculars and spot the animals that live in the area.
Lets break them down into each attraction starting with Camping.
---
Camping on Elliott Key
If you want to spend a night under canvas then you will have to realise that a little bit of planning will be required.
Camping is strictly first come first served.
Which is a bit of a pain if you are an individual camper, as you cannot make a reservation. You just have to turn up and hope for the best.
However, I have better news if you are a group of campers, as then you can phone up on (305) 230 1148 and get it all sorted before you set off.
Once you get on the island you will have a bit of a walk, as the campsite is about 1/3 mile away from the harbour. So I can only suggest that if you are thinking of making your camping experience on Elliott Key as comfortable as possible, by bringing everything you can from home, then think again.
It will be you that has to carry it there and back again.
Whilst you should expect a little discomfort, you can still remain nice and lean, and the campsite does offer restrooms although they are coldwater showers.
Which I think I would rather be a little scummy, than showering under cold water, but that's my choice.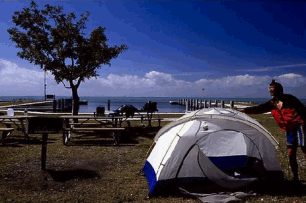 Right Then Tent Is Up, Where Is That Can Of Beer I Was Saving?
---
Swimming And Wading
Bring your trucks when you visit the Key, as it does have a designated swimming area on the bay side of the island, which is just to the north of the harbour.
One word of warning, that although the water will be nice the shoreline, like many of the ones around the Florida Keys are rocky, and therefore not nice on your feet.
So bring some shoes with you that you can wear whilst you are having a dip.
Walking And Hiking
There is a loop that winds around the island, and is just about a mile in length.
Certain parts of it are closed due to the hurricane that hit back in 2005, but the wardens and part staff will be able to give directions to alternative routes, such as the Spite Highway.
This is a strip that runs down the centre of the island for about six miles, and affords a good opportunity to see a variety of habitats in the martime forest.
---
Fishing
If you want to go fishing then you can do so over at the south of the harbour or from the shoreline, although you may need to have a fishing licence to do so.
For more information on fishing Florida keys waters and what type of regulation licence you need read more here.
But many people swear that although the fishing here doesn't have the excitement of perhaps gamefishing down in Islamorada, it is truly peaceful and relaxing, and has a good range of possible catches to be made.
---
All in all you will be getting a great day and night (if you fancy camping) at this wonderful and often forgotten part of the Florida Keys. 
So although I can understand that the thought of stopping here, when your urge to get down the Overseas Highway and really into the Florida Keys maybe something that you can't be bothered with. 
But coming back from vacation, why not make the effort to finish off your trip as the Florida Keys would want you to do.
Enjoying the simple, beauty and "Get Away From It All" that the islands are all about.
And Elliott Key provides better than most.
---
Directions To The Park
Getting There & Access Points
The park's mainland entrance, is 9 miles east of Homestead.
To reach the park from Miami, take the Florida Turnpike to the Tallahassee Road (SW 137th Ave.) exit.
Turn left, then left again at North Canal Drive (SW 328th St.), and follow signs to the park.
Another option is to rent a speedboat in Miami and cruise south for about 1 1/2 hours.
If you're coming from U.S. 1, whether you're heading north or south, turn east at North Canal Drive (SW 328th St.).
The entrance is approximately 9 miles away.
The rest of the park is accessible only by boat.

---
---
Florida Keys > Elliott Key
Return To Top Of Elliott Key
Home | Site Map | Contact Us | Privacy Policy
By David Ralph
Copyright © 2010-2017 whats-at-florida-keys.com