Biscayne National Park
Is An Adventure
From Start To Bottom
Biscayne National Park in the Florida Keys is really where paradise starts.
So eager are visitors to hit the overseas highway and make their way down to the hustle and bustle of Key West, that a whole heap of great places can be missed.
And certainly from my point of view this place, is one of those places that comes into that category.
Being the most northerly of all the Keys, even further up the map than Key Largo which is recognised as the most northerly island amongst the Florida Keys, this national park can quite often be missed.
And of course being up in Key Largo it would need to have some reference to either scuba or diving.
You can't be near the Diving Capital of the World without adding something to that grand title.
And add to it, it certainly does, with a superb scuba diving area, which is recognized as one of the best in the whole of America.
In fact over 95% of the national park is made up of water.
But perhaps diving is not your thing.
"So what else does Biscayne National Park offer vistors?" you might be asking.
Trips around the islands on glass bottom boats, ranger talks, camping sites, canoeing the list goes on.
It really has a lot to fill your time, so lets start breaking this list down to give you a bit more infromation on each.
And we'll try to keep you reading to the bottom of the page....we ain't wikipedia after all!
---
How To Get There
If you are planning to travel you can get to the Biscayne National Park in your car, but to cross over to the island of Elliot Key will require a boat or shuttle service.
But let's start with getting you down to the area by car.
If you are travelling from up north, then you will ultimately be aiming for a place called Convoy Point.
You have two choices on what road to take as either the Overseas Highway (US-1) or the Florida Turnpike will do fine.
Map To Biscayne National Park
Turnpike Directions (From the North)
If you want to take the turnpike then travel south until you see the sign for Speedway Boulevard (Exit 6).
From the exit ramp you then need to turn left and travel in a southerly direction to North Canal Drive (328th Street).
Make a left turn and then keep going until you get to the very end of the road.
This bit of the journey is about five miles and you may start to wonder if you have gone wrong, but I can assure you haven't.
At the very end of the road turn left into the entrance.
Overseas Highway Directions (US-1) (From The North)
From US-1: Drive south to Homestead. Turn left on SW 328th Street (North Canal Drive), and continue to the end of the road.
It is approximately nine miles, and the entrance is on the left.
Overseas Highway Directions (US1) From The South
You only have one way to Biscayne National Park from the south and that is by using US1.
Drive all the way up the highway until you hit Homestead.
Make a right turn on SW 328th Street (North Canal Drive) and then keep going to the end of the road.
It's much easier from the south to get there.
---
You'll never get "two tents" in Biscayne...sit back and relax...get it??
Camping on Elliot Key
Elliot Key is the largest island within the confines of Biscayne National Park.
Stretching for just under eight miles in length, and being no more than 2500 meters at its widest point, you might ask "Well there doesn't seem to be much point in going there!"
Added to the fact that the only way to get to the key is by boat, it can seem a little bit of a hassle I suppose.
But that is the beauty of it all.
So many people can't be bothered, that you can often be one of the only people, other than the park wardens who maintain Biscayne National Park, that the key sits within, to be there.
To be able to camp on the island you have to be there early, as there are no reservations taken at all for anyone camping on their own.
It's a strictly first come, first served arrangement.
However, if you want to arrange group camping, for say a school trip, then you can reserve your pitches by telephoning (305) 230-1148.
Certainly this makes it easier to bring your groups down for some quite wonderful Florida keys camping.
At the campsite used for group bookings, make sure you bring some barbecue food too, as there are grills to throw your sausages, burgers, and other meats that you want to burn to a crisp on.
Or maybe you're more successful with your outdoor cooking than I have ever been!
Just so there are no shocks and a long line of grumbling kids moaning about the walk, the camping area is a bit of a hike from where the boats come in down at the harbour.
About a third of a mile or so, so not a killer, but best to be aware that if you are planning to bring everything and the kitchen sink, you might regret it.
Costs for camping at Elliot Key
There is a cost of $15 to camp on the island, and $30 for group camping per night.
The $15 covers up to six campers and two tents, whilst with the group arrangement, you can have six tents and 25 people staying over.
---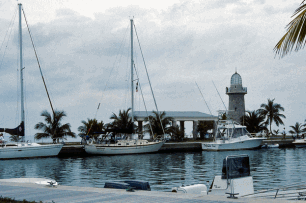 The Harbour At Boca Chita At Biscayne National Park
Moring and Cruising Your Boat
If you want to moor your boat on Elliott Key, then you need to head off to a great little beach a little bit north to Coon Point.
Reached by using the intercoastal highway, this anchorage provides good protection from the strong winds that come off the ocean around this area.
At a cost of $20 for the night you can leave your boat safely in the harbour, and enjoy a night of camping for two tents and up to six people, which I'm sure you will agree is great value for money.
If however, the thought of travelling in on your own boat gives you an impression of clear seas, and an easy and empty route into Elliot Key, then think again.
Boat traffic can be especially heavy at the weekends, when small boats manoeuvre through the strong currents that rush between Sands Key and Elliot Key.
Traffic gets us everywhere I'm afraid!
If you don't have your own boat to use, there is a really good shuttle service that runs daily out to the Key, but it isn't cheap as you will have to charter for the whole boat even for one person.
If you want more information regarding Elliott Key itself then simply read more here
---
---
Florida Keys > Key Largo > Biscayne National Park
Return To Top Of Biscayne National Park
Home | Site Map | Contact Us | Privacy Policy
By David Ralph
Copyright © 2010-2017 whats-at-florida-keys.com