Marathon
The Heart Of The Florida Keys
As with most areas of the Florida Keys Marathon is not big.
Stretching about 10 miles in length this island paradise sits nicely in the center of the huge expanse of sandy beaches and crystal clear water at Vaca Key.
To be precise it is made up of several Keys, Knight Key, Boot Key, Stirrup Key, Crawl and Little Crawl Key, Hog Key, Deer Key and Fat Deer Key, Vaca Key, Long Pine Key, East and West Sister's Island, and Grassy Key.
The island itself is joined by the amazing seven mile bridge which flows the traffic effortlessly down to the Lower Keys.
This is a WOW of architectural design and is not only a big plus for the islands, but also for Hollywood, as it has been seen in several films such as James Bond's "Licence To Kill" or Arnies "True Lies."
Each year in April over 1500 runners can be seen pounding the bridge as they compete in the Seven Mile Bridge Run.
As you pant and wheeze your way across the divide, I would find it hard to believe that you could find a run with a better view anywhere in the world.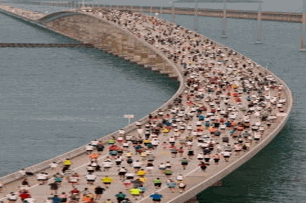 ---
Hotels and Motels In Marathon
One thing for sure is the prices of hotels generally in Marathon are lower than you will find towards the southernmost point in Key West.
This fact alone makes it a great spot to stop and use as a base, as its central location means that its only 48 miles drive into Key West, and 41 miles back up to Key Largo.
So what many people do is find a reasonable  beach-fronted cottage or suite for a few days, and then blow the cash down at Key West.
This seems sensible to me, so take a look at the guide to the best, cheapest and most convenient hotels and motels in Marathon, and then you can really explore this wonderful part of the Florida Keys.
#1 Guide To The Hotels And Motels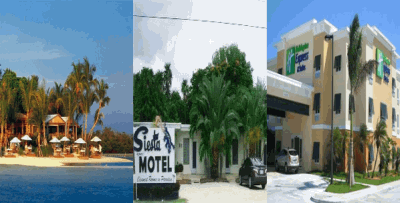 ---
Flying To Marathon
With seasonal, scheduled flight service from South Florida cities into Marathon Airport, the secret has now begun to get out.
Visitors to the Florida Keys have just started to understand why
The airport has been loved by private plane owners and corporate executives for years.
It's not a hard thing to get your head around either.
The fact that the island is bang in the middle of everything means that the airport is always about 1 1/2 hours drive from anywhere you fancy in the Keys.
The airport has improved over the years, and at a cost of $9 million now has a terminal complete with loads of available parking, car rental agencies, a passenger lounge, taxi stands and shuttle buses.Read More.....
---
Marathon Restaurants
There are quite a few restaurants on this small part of the Florida Keys, and literally all of them are worth a visit.
With food from the huge plate type, to the exquisite  and ambiance from romantic to noisy and boisterous you will find something for every occasion.
We are trying to get through all the restaurants (if our waste bands will allow) to give you a great idea and an insiders idea of what each offers.
Until we have finished our review, rest assured the following list read through the link below will have you jumping into your cars, with taste buds exploding, dreaming of the largest buffalo wings you will ever see.
Click Here For The #1 Island Restaurants Guide
---
History Of Marathon
The history of the island is like most of the Florida Keys rich and diverse and linked with the teeming natural wonders of the sea – i.e. Fishing
Before Henry Flagler set to work building his railroad, the islands were home to farmers, wreckers and fishermen.
The natural world was bountiful in supplying a living to these hard working settlers, so it was a perfect place to call home.
And it is very nice to look at too!
In fact the 19th Century fisherman feel of the place is still quite vivid.
With a quaintness that I would hate for it to lose.
However with time comes progress and development, and certainly you couldn't say that the place is stuck in a time-warp as it also has all the modern day amenities that you could hope for.
Even to this day the island is recognised as providing some of the best fishing in the world.
Did you know that the name Marathon actually came from a throwaway comment by one of the workers building the railroad.
According to the history book, the railroad was a hell of a job to build, and the project ran day and night to link the mainland of Florida with the Keys therefore boosting trade routes which had been limited to using the sea to transport their cargo.
Many a time it was exclaimed by a weary worker "This is getting to be a real Marathon" and so the name was born.
Good job, they were polite in those days as god knows what the island could have been called.
---
Marathon Beaches

Marathon Beaches are a bit scarce to be honest, although the island does have one of the greatest beaches on earth only about 12 miles away in Bahia Honda State Park.
This is definitely worth a trip whenever you are travelling up or down the Overseas Highway or US1
However, it does have a rather pleasant Coco Plum Beach, and the larger Sombrero Beach which is great for the runners of the world, as it has its own running club and yearly running event.
For the best of the beaches then read more here.....
---
Marathon Attractions
When you visit the island it's not all about sitting around with a fishing rod in your hand (unless of course you love doing this, or have a very considerate wife.)
These are just some of our favourite attractions to spend a few hours at whilst on the island.
You must realise though that attractions in the Florida Keys usually mean a half day or a few hours, and not the full day energy sapping events that occur on the mainland.

Turtle Hospital
The Turtle Hospital is more than just an attraction, and a special attraction at that.
You see, the hospital is a live working animal hospital, which means at anyone time you may see a life and death situation occurring as they aim to nurse back one of these fantastic creatures to health. Read More.....

Museums of Crane Point 
If you fancy making friends with an iguana or stroking a shark, then the two Museums found at Crane Point in Marathon, will be the place to go.
Spread over an area of 63 acres, you can entertain yourself with viewing the Natural History museum or Kids museum  before walking around the exotic and overgrown trails. Read More.....

Sombrero Beach
This is about the best beach in Marathon and has quite a lot going on to make you feel like paying it a visit.
With volley ball courts, playgrounds, showers all on site, the beach is  a haven for sun worshippers, and also those interested in running or turtles. 
Loggerhead turtles have been using this beach in Marathon for generations to lay their eggs, which makes it a quite important location for naturalists from across the globe. Read More.....
Florida Keys > Guide To The Islands > Marathon
Return To Top Of Marathon
Home | Site Map | Contact Us | Privacy Policy
By David Ralph
Copyright © 2010-2017 whats-at-florida-keys.com