Sombrero Beach In
Marathon Is A Gem
Sombrero Beach in Marathon compared to many of the beaches in the Florida Keys you will find as you make your way around the keys is quite spacious.
Not by Miami's standards of course, but hey does Miami have turtles that come up onto the beaches at night to lay their eggs!
I actually don't know the answer to that question, but we do…so there!!!
It really is a lovely beach, made up of white imported sand.
But the fact that it isn't truly natural shouldn't put you off, as the Marathon Chamber of Commerce and volunteer organisations work to keep this gem of a beach in pristine condition.
They shouldn't really need to if we all took personal care of what we do and leave behind when we visit though guys.
Wouldn't you agree?
Anyway, let's take a look at what is here to make your day a roaring success.
Well to start with there is a really nice picnic area, so bring your sandwiches and drinks to save having to go back to your accommodation and break up the day.
Just remember to clean up after you all…..ok, ok, ok… I won't mention it again.
Promise.
Also if you have kids with you it makes a nice change to spend a little time on some swings and playground equipment, which it has too.
With its impressive list of showers and bathrooms (which every time we have visited have been fantastically clean), volley ball courts and playgrounds, Sombrero Beach really is in our view the best of the Marathon Beaches
Fancy getting out in the water and doing some snorkeling?
Well, if you go over the left side of the beach, there is a rocky shelf which is great for putting the snorkel and flippers on, and spending a while floating on the surface as sea urchins, sponges and tropical fish swim around below you.
My kids have loved doing this, and as it is quite shallow it is really safe, although I wouldn't have let them do it on their own.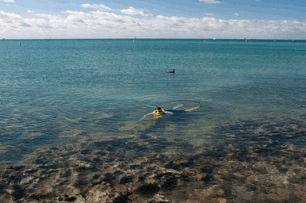 So what about our turtle boast you might be asking?
From April all the way through to October, the beach is a an officially designated turtle nesting beach.
During this period, the Loggerhead turtles drag themselves up onto the beach at night to deliver a bunch of eggs as they lay them in the sand.
To make it safe for the turtles during these months all the tables and benches are removed to ensure that the turtles are not distracted.
I suppose the last thing that separates this beach from many of the others found in the Keys, is that it is doggy friendly.
As long as you………..
Dam, I said I wouldn't mention it again!!!!
Open from 7:30 in the morning right through to sunset, simply turn south on Sombrero Beach Road and then drive about two miles.
Its not hard to find Sombrero Beach Road, but to make it even easier just look for the K-Mart parking lot where it runs next to the Overseas Highway near Mile Marker 50.
Parking is plentiful and there is no admission charge either.
---
The Beach Run
If you are a bit of runner, or just fancy getting involved in a organised walk then the Southernmost runners arrange a great event each March at this beach.
You can try either a 15K Challenge, 10K Run, or a nice 5K Walk/Run.
The good thing is that after the race you can jump in and have a swim to cool off. Read More.....
Address: 521 23rd Street, Marathon, Florida 33050
Phone: 305-292-4560
Mile Marker: 50 (ocean side.)
---
View Larger Map
---
---
Florida Keys > Florida Keys Beaches > Sombrero Beach
Return To Top Of Sombrero Beach
Home | Site Map | Contact Us | Privacy Policy
By David Ralph
Copyright © 2010-2017 whats-at-florida-keys.com