Shopping In Key Largo Is An Adventure From
Start To Finish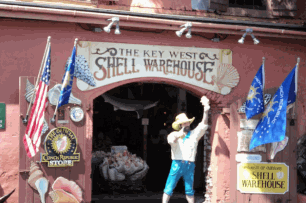 Shopping in Key Largo and I guess the whole of the Florida keys is all about choices.
Whether to shop or not should be the first consideration.
As I know my wife would be in retail paradise, whilst the thought of traipsing around the eclectic mix of malls, boutiques, art galleries and simply weird and wonderful little stores leaves me cold.
So how can you best make use of your time, but still purchase the essentials that most visitors need when entering the islands that make up the Florida Keys?
I suppose the answer is on this page, as it won't matter if you are a diving expert, angler aficionado, clothing guru, or just someone that likes to kill a few hours window shopping we will try to give you the lowdown on the best that the Florida Keys has to offer.
Starting in Key Largo we run down the 100 miles of Overseas Highway listing the outlets and our favourite shops by their mile marker locations, stopping as you would expect in Key West.
This is where it gets a little bit more complicated due to the choice that is on offer at the Southernmost Island of the keys.
We start in Duval Street and cover the best that this hive of activity can offer, and then list the off Duval Street, Way Off Duval Street and then the New Town.
So make sure you look closely at the headings on each page to ensure that you aren't heading of in the direction to return with a diving helmet when you actually wanted a hat for some well needed shade.
One last word of warning, although most of the shops that we list are open daily due to the season they can change their opening hours.
So give them a quick call on the numbers provided before starting out on the shopping adventure that is pure Florida Keys!
---
Key Largo Shopping Outlets
Shell World does exactly what you expect with a name like that. The store holds I imagine every shell that has come out of the oceans of the world. The stock is amazing.
Also its not just shells that you can get in their natural state but also wind chimes, jewellery and flowers made from....yep you guess it shells.
Address: MM106 Bayside, Key Largo
Phone:(305) 451-9797 or (888) 398-6233


The Island Smoke Shop has everything you would want to enjoy tobacco at its best.
Covering over 3,000 feet, you will find everything from pipes, to cigars, cigarettes and all the accessories you would expect such as lighters for example.
It even has a 1,000 foot humidor within its confines.
On Saturdays the shop has cigar rolling demonstrations, with the rollers coming down from their base in Miami to educate the best way to roll your own cigars.
Address: MM 103.5 Bayside, Pink Plaza, Key Largo
Phone: (305) 453-4014 or (800)680-9701


Largo Cargo is a great shop to find those little souvenirs to send home to love ones unfortunate to not be with you in Key Largo.
But they have a lot more than that to attract you with anything from pirate flags, key lime products such as juice, oils, chutney through to jewellery and clothing.
If you want something there is a good chance that Cargo Largo will have it.
Address: MM 103.1 Oceanside, Key Largo
Phone: (305) 451-4242


Florida Keys Gift Company is loaded to the roof with gifts that are pure Florida Keys.
So if you want clothing, jewellery, hats, postcodes and even t-shirts that the kids can colour themselves then this is one experience in Key largo for all the family.
Added to that a store run by lovely, happy and helpful staff then your visit to this Key Largo store should be a good one.
Address: MM 103 Oceanside Key Largo
Phone: (305) 453-9229



Sandal factory Outlet has two stores in Key Largo to visit.
There are literally hundreds of shoes to choose from from sandals to boots, sneakers to professional work type shoes.
A great range for ladies, men and kids too.
Address: MM 102.4 Oceanside Key largo
Phone: (305) 453-9644 or (800)736-5397



Captains Imports in Key Largo cannot be missed. Just look for the 24 foot colourful palm trees dancing outside and you have come to the right place.
Once inside the store you will find some lovely products to buy. Ranging from wall art through to wonderful pottery.
This is not a souvenir shop in anyway, but a place to find that special piece that will sit proudly in your home and remind you of your time in the Florida Keys.
Address: MM 99 Bayside Key Largo
Phone: (305)453-1800


Pink Junktique is a strange looking building. Bright pink with giant flamingos looking down upon travellers on US1.
The place is filled with vintage and unusual clothes, housewares, bedding and jewellery.
So if you are an old hippy at heart, or just someone who is interested in how things were in the old days then this place is worth a drop in.
Address: MM 98 Oceanside, Key Largo
Phone: (305)853-2620


Key Lime Products and Tropical Gifts is not a place that only offers baking stuff to make the world famous Florida Key Lime Pie
So don't be confused by the name.
Key Lime Products supply anything from edibles to bath products.
Really you should focus on the tropical gifts part of the name as you will most certainly find something to take back with you as a gift.
They are in two locations in the Upper Keys, so you wont be far from a great shopping experience.
Address: MM 95 Oceanside Key Largo
Phone: (305) 853-0378 or (800) 870-1780
---
---
Florida Keys > Shopping
Return To Top Of Shopping In Key largo
Home | Site Map | Contact Us | Privacy Policy
By David Ralph
Copyright © 2010-2017 whats-at-florida-keys.com