Don't Miss Out On Big Pine Key And The Lower Keys
Big Pine Key may not roll of the tongue when asked to name what makes up the Florida Keys, as easily as the southernmost point in Key West or the diving capital of the world in Key Largo, but that is good news for us.
You see the lower Keys have an appeal which is pure and natural.
You will not see hundreds of tourists like you do in Key West.
You won't see shopping malls, or fast food restaurants.
You won't see a lot of anything really, but then your breath catches in your throat when you see what is on offer.
Let's start with the Beaches
Big Pine Key has what many think of the greatest of the beaches found in the Keys , and it often gets rated at number in all of America too, down at Bahia Honda.

Hell I would go further and say it's the best beach in the world.
It's a white sand, tropical masterpiece.
And best of all not only can you visit it for the day, but with the RV sites, and camping areas being right at your feet, after a day running around and splashing in the ocean simply slide your way into your own canvas mansion and watch the skies darken and the stars twinkle above you like nowhere else on earth.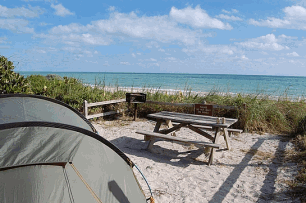 It will be one of the nights that you will remember for the rest of your life.
When we were there my daughter loved it when one of the local animals paid us a visit.
The small and pretty Key Deer are lovely little deer, looking like Bambi, and about the size of a dog that roam freely across the Key.
These lovely animals are protected and they do everything they can to make sure that these things are as safe as possible as they wander around eating the local foliage.
They have their own refuge, that has been in operation since 1957, and has to be said done a fantastic job and from a position of near extinction there are now close to 800 trotting around.
One thing to remember as you drive around is to keep your eyes fixed firmly on your speed (and of course the road) as due to the deer being more active at night they do keep the speed limit at a slow 35 miles per hour.
It can seem a bit of drag crawling along US1 at such a speed, but then the thought of hitting one of these brilliant Deer is equally horrible.
If you look close you'll notice that two miles of U.S. 1 are fenced off on the eastern side of the island and elevated so the key deer can go under the highway and not have to cross the highway.
Now if you fancy using the lower Keys as a kind of half way house down to Key West, which many do as the price of accommodation is much cheaper here, then lets give you the low-down of what to do and see in Big Pine Key.
---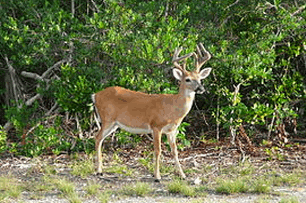 One of the things that you should look out for when you are in Big Pine Key is the strangely named drinking establishment "The No Name Pub".
Its been in the area since 1931, and although it hasn't been a pub for all of its life, it does have an interesting history which is worth checking out.
It also has an unusual tradition of the clientèle leaving behind a dollar bill each time they visit.
The walls and ceilings are covered with them.
So pop into the No Name Pub, which you will find if your driving south on U.S. 1 and then cross No Name Bridge.
And once you find it you'll be glad you did because they have some of the best food on Big Pine Key.
Well worth visiting!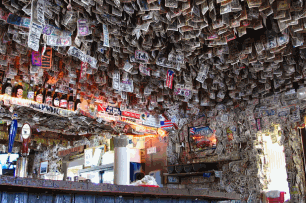 ---
Living In Big Pine Key
So what should you do if the thought of living here excites you, and you sell up and move down to the natural Key?
Well the few facts below will give you an insight into what living in Big Pine Key is all about.
Climate: Tropical
Population: 5,000
Percentage "expats": 60%
Population of main town: No main town.
House starting price: Mid-$150s
Travel from U.S. mainland: Fly to Miami International Airport , then drive less than three hours to Big Pine; smaller airports are on the island of Marathon and of course down in Key West.

Closest ­hospital: Stock Island, Marathon
Price of local beer: $2.75 for No Name Pub Amber
Language ­spoken: English
Ease of immigration: Easy
Ease of buying a home: Easy
---


Key Deer
One of the great things that occur on Big Pine Key, is the unexpected visits of the beautiful little Key Deer.
These Bambi lookalike deer have been protected in the area since 1957, when the Key Deer refuge started taking an interest in preserving them for future generations. Read More.....

The Blue Hole
The Blue Hole is the home of two freshwater alligators, and of course lots of other Florida Keys animals.
The Blue Hole is not far from the Key Deer refuge, so you can combine a visit to both, as this is a lovely place to trek the Nature trails that criss-cross the area and also best of all escape into the secret Florida Keys countryside. Read More.....
Perkys Bat Tower
Richter Clyde Perky was a fish lodge owner who was very keen on starting a resort in the Florida Keys.
He had one problem though and that was the amount of mosquitoes that came out at night, stopping the thought of any luxury tourist attracting resort in its tracks.
So he came up with a cunning idea, which proved to be one huge mistake Read More.....


Bahia Honda State Park
Bahia Honda is absolutely one place that you must visit.
Whether you want to camp over night, or just fancy a trip to the number one rated beach in not just the Florida Keys, but the whole of America then this is the place to go. Read More.....
Florida Keys > Guide To The Islands > Big Pine Key
Return To Top Of Big Pine
---
---
Home | Site Map | Contact Us | Privacy Policy
By David Ralph
Copyright © 2010-2017 whats-at-florida-keys.com