Why To Use Miami Airport When Travelling To The Florida Keys
Miami airport is without a doubt an INTERNATIONAL airport, and therefore for many people planning to fly into the Florida Keys, this is the airport of choice.
And definitely for those flying even further down to Latin America, you will most certainly find this is where you will pass through, being as it is the largest gateway between the states and Latin America.  
But I suppose the main thing is if you do use the airport for your Florida Keys adventure, what is the best way to get to the Keys after arriving at Miami Airport?
Should you grab a hire car and then head off down the US1, or is it better to jump on another plane and then shoot through the skies until touching down right at the southernmost point in Key West itself.
Perhaps you are simply looking to see if you should book into a Miami Airport Hotel, or get a room a few miles outside and save yourself some cash?
So many questions….so little time.
So let's start with giving you an idea where Miami airport is, with a breakdown of the Miami airport map, and then move on from there.
---
So Where Is Miami Airport in relation to Miami and the Florida Keys?
The airport is to be found in the area of Miami-Dade County in Florida, which is about 13 kilometres northwest of Downtown Miami, so is a reasonably cheap taxi ride or shuttle if you want to head straight in to the city upon arriving.
You can get to the airport from either I-95 or Florida Turnpike via Highway 836 and LeJeune Road, which makes it hugely convenient as a cheaper alternative to Orlando International if you are planning to make a small detour to the home of the patron saint of Florida: St Mickey Mouse
Bu hey, why would want to go and see him when you are so close to the Florida Keys?
Driving Distances from the airport
To Key Largo is approximately 60 miles.
To Islamorada 80 miles.
To Marathon 115 Miles
To Big Pine Key 130 Miles
And lastly, Miami to Key West 160 miles.
Please note that driving in the keys will take you a lot longer than normal as 45mph is quite often as fast as the law will allow you to go.
View Larger Map
Click Image Above To Go Straight To Google Maps
---
Miami Airport Map
There are a three main terminals operating within the airport to cater for the thousands of passengers that use the airport on a daily basis.
North, South and Central Terminals
These can be looked at in greater detail by either viewing the image below for Miami Airport Map or by clicking here for more information on how the airport is set up here.
All the air operators listed are correct as of time of writing, but please make sure that you review your booking information before heading out to make sure that nothing has changed.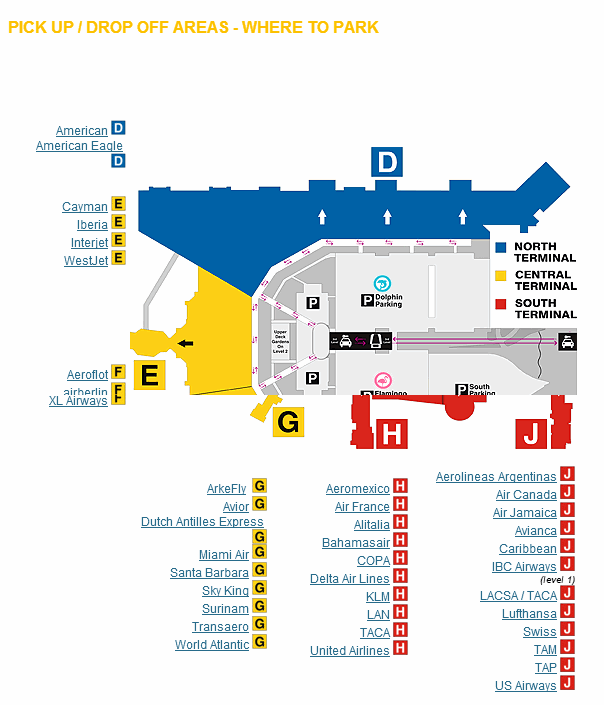 Florida Keys > Getting To The Florida Keys > Miami Airport
Return To Top Of Miami Airport
Home | Site Map | Contact Us | Privacy Policy
By David Ralph
Copyright © 2010-2017 whats-at-florida-keys.com