Bars, Pubs, Clubs and Booze. With Our Guide You Just Can't Lose!

We all have our favourite bars that we like to go to regularly.
The kind of places that like that old TV programme Cheers, states that "everybody knows your name"
You feel comfortable.
You feel warm
And most importantly you know the prices of the drinks and so won't get ripped off by the heavily tattooed barman with the handle bar moustache, standing in front of a signed photo of themselves and David Hasselhoff proudly displayed behind the bar.
Has the Hoff visited every bar in America???
But how do you know what you are going to get when you're on vacation?
How do you know that the ones just down the road from where you are staying are any good?
Well to be honest, it's all subjective as what one person wants from a place to drink, another person might not.
So what we have done, is like the other areas that we review on this site, such as hotels, restaurants and attractions simply grouped them by Island, starting with the highest percentage of drinking establishments found on any of the islands that make up the Florida Keys.
Key West.
Due to the amount of drinking places to be found within the Keys, many of the pages dedicated to the islands bars and pubs will spread over several pages.
So follow the links and find the drinks (see what we did there!!!!)
And of course have the greatest vacation you could possibly hope for (if you can remember it again afterwards.)
---
Guide To Drinking In Key West Florida
Key West, as we have mentioned previously is THE place to go if you fancy drinking, high jinks and a little bit of "Oh My God, What did I do last night?"
At the last count there are more bars in this small area of America, than in any other capita in the United States.
But it's not just the normal drinking places that you will be able to knock back a couple, as in Key West you can get really creative in order to have a drink or two.
| | | | |
| --- | --- | --- | --- |
| Sloppy Joes | Hogs Breath | Bull & Whistle | Green Parrot Bar |
With over 360 alcohol licences granted for the island, whether it is in a hotel, tourist attraction, beach, restaurant or even a boat there is a good chance that you have get drunk beware!
However, you will need a lot of cash as the prices are really expensive in the area, which is where we come in.....Oh yeah!
We have worked with fifteen of the top bars and pubs along Duval Street and other areas of the old town, to bring a brilliant and much needed 2 for 1 drink deal.
Just click on the image below, and you'll be given all the information to ensure for just a few dollars, that your time at the Southernmost point is a cheap, and..........ok cheap as it can be.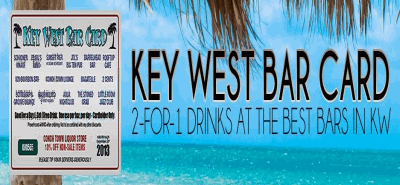 The Best Guide To Drinking And Fun In Key West
---
Guide To Drinking In Key Largo Florida
One thing for sure you will not be spending as much time drinking in Key Largo as you will down at the bottom of the Keys in Key West.
There are nowhere near as many drinking places as the Southernmost point.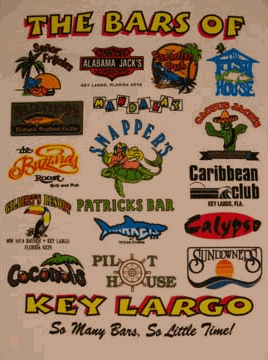 But that doesn't mean that after a great day out diving and exploring the reefs, and wrecks that Key Largo has built its "Diving Capital Of the World" name around you can't find a nice place or two to relax with a cold beer.
What you will notice with our guide, that quite a few of the bars are linked to Hotels and restaurants in Key Largo.
Do not think for a moment if one of the locations that we recommend is in a hotel that you can only use the facilities if you are actually staying at the resort.
This isn't the case in Key Largo, or really the rest of the Keys.
You can drop in for a refreshing cocktail or two whenever you want, and the restaurants won't make you order a table and eat if you just fancy a quick drink either.
The Best Guide To Drinking And Fun In Key Largo
---
Guide To Bars In Marathon
The Heart of the Florida Keys is many things, but when it comes to bars and clubs, this is not really what Marathon does well.
If you want to pop into a low cost, back to basics, bar with a few locals, a pool table and dart board we can tell you where to go.
However if you fancy a flash, expensive, night-out then you might be disappointed with what we can offer you.
But rest assured we will be adding details to more and more places that can offer a beer, cocktail or nice glass of wine as fast as we can.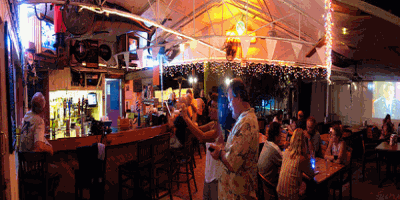 So click through to the best that is on offer in Marathon, the heart of the Florida Keys, and if you find somewhere that we haven't mentioned then drop us a line, and we will then have the perfect excuse to go down and sink a couple.
The Best Guide To Drinking And Fun In Marathon
Florida Keys > Florida Keys Bars
Return To Top Of Florida Keys Bars
Home | Site Map | Contact Us | Privacy Policy
By David Ralph
Copyright © 2010-2017 whats-at-florida-keys.com