Duval Street Nightlife Is Simply Cool, So Don't Be A Fool And Skip the"Crawl"
Ok, so you want some Duval Street nightlife, and quick I imagine.
The sun is going down, you've been relaxing all day, and now the urge to sink a cool beer or two has taken hold.
Let's set you off on a night that you won't forget in a hurry.
And don't forget if you see it through to morning then make sure you catch the sunrise.
Spectacular.
Especially with another cool drink in your hand!
So follow along for our own personal "Duval Crawl" recommendations or make sure you check our own readers Duval Street Reviews where they share their own wild times and favourite haunts.
Don't forget to put you own evening stories and anecdotes on there.
See if you can have the GREATEST night ever !!!
But if you are new to the idea of checking out Key West and the Southernmost Point of America, then feel free to browse our guide on Duval Street Hotels, Attractions and other interesting stuff, which makes an evening or day on Duval Street so utterly amazing.
---
Bar Number One
LA-TE-DA
1125 Duval Street
(305) 296-6706 

www.lateda.com 

The La-Te-Da is a strange mix of things.
Part hotel,part cabaret,part restaurant and lastly part Bar.
It has been a focal point of the Duval Street nightlife since 1978, and it's a great place to start your crawl.
They not only offer a bar that faces the street, which is always great to watch as the masses wander by on their own "Duval Crawl", but also live entertainment.
There is also a Terrace bar overlooking the beautiful tropical pool, which is always appealing for a quick evening dip, but hey....why stop here when you have just started to discover Duval.
You may have trouble dragging yourself away though.
---
Bar Number Two
The Keys Key West Piano bar
1114 Duval Street
(305) 294-8859 


This is one lively place to hang out.
A touch of New York deep within the Florida Keys......amazing.
In this joint the whole place gets rocking as Pianists hammer down upon the ivories and the staff, waiting and serving behind the bar break into spontaneous vocal accompaniment.
On any night of the week, you might just find a star straight from Broadway, hitting the high notes, and tickling the ivories on the open mic nights, which makes the Duval Street nightlife a constant surprise.
You might just have the urge to prove to your friends that you have what it takes to be the "Next big thing"!
However, after several of Florida Keys unique cocktails, I imagine we would all think we are the next big thing too.
Oh, the shame!!!
---
Bar Number Three
801 Bourbon Bar And Cabaret
801 Duval Street
(305) 294-9354 

The majority of the clientele that frequent the 801, are gay revellers and tourists, which gives it a lively and happy atmosphere.
On the first floor you will find a billiards table, to set your beer down and shoot some pool.
Perhaps even taking on one of the regulars who are always obliging to some friendly competition.
Then moving upwards, the second floor provides live entertainment, with the and only Bingo the drag queen appearing early evening….around 17:00pm on a Sunday.
If you have never seen a drag show then you will surely be surprised.
Leave behind any reservations that you might have that the 801 won't be your thing, and enter into the spirit of it all.
We are sure you will have a great time.
---
Bar Number Four
Aqua Nightclub
711 Duval Street
(305) 294-0555 

This is the place to get Live entertainment at the mainly Gay nightclub.
The entertainment is most certainly lively and like a lot of the bars you can find on Duval Street, it will be an eclectic mix of drag shows, karaoke, and talent competions such as "Aqua Idol" in homage to American Idol, and the United Kingdoms version "X Factor."
I can't honestly imagine seeing Simon Cowell, knocking back a few in here however!
On Saturday and Sunday Poker games can be found for anyone who likes their fun to have a competitive edge.
With DJ's pounding out Dance Club Classics every weekend, you can truly be guaranteed something fabulous going on when you visit.
---
Bar Number Five
Cowboy Bill's Honky Tonk Saloon
618 Duval Street
(305) 295-8219 

You might think that this is a made up bar, with a made up cowboy name to match.
You would be wrong.
The owner of this bar was actually a real-life cowboy who lived the cowboy life on the rodeo circuit, until he rode into Key West.
Now with a bar that boasts a mechanical bucking bull, visitors to this great and unusual bar will be in for a wild ride.
Its certainly one of the bars that Duval Street nightlife was created for.
The bar is open seven days a week, opening at 11.00am and not shutting its doors until 4.00am.
Happy hour daily, a full menu of food, a games room with darts, pool and video games.
And if that isn't enough you won't find yourself far from 24 TV's blaring non-stop music videos and concerts, whilst live music pounds out too.
Hold onto your hats.......it's one hell of a ride!!!
Press Play For A View Of A Typical Night At Cowboy Bills
---
Bar Number Six
The Green Parrot Bar
601 Whitehead Street
(305) 294-6133
www.greenparrot.com 

Ok guys, you spotted it.
This one isn't actually on Duval Street, but if it's "Duval Street Nightlife" you want trust us.....make a little detour to this one.
It's close enough to still fit into the Duval Crawl and it really is one not to miss.
The Parrot as the locals like to call it, is a locals bar, but don't let that put you off.
You will be afforded the warmest of Key West welcomes, and very soon you will feel like you have lived in Key West all your life.
It's housed in a 1890's building half a block off Duval Street, down Southard Street.
Throughout the joint, walls are covered with quite strange over-sized portraits and wall mural of the Garden of Eden.
At weekends you will find local and often national bands playing blues and zydeco, and because of this the dance floor is often heaving.
I love the "Parrot" and always drop into have a beer.
---
Bar Number Seven
Virgilio's
524 Duval Street
(305) 296-8118 

The address is Duval Street, but actually this classy little New York-style bar isn't actually on Duval.
Instead this is to be found just round the corner on Applerouth Lane.
If you struggle to find it on the map, just look for La Trattoria, which is one the finest Italian restaurants in Key West, if not the world.
The mood in Virgilio's is pure New York, as you find yourself a seat, order a cocktail and then sip away whilst listening to great Jazz from one of the fine musicians that perform in the bar.
If it's a wild pub crawl you are looking for this place may not fit the bill.
However if you wish to have a quality evening in a top notch bar then you couldn't choose better.
---
Bar Number Eight
Jimmy Buffett's Margaritaville cafe
500 Duval Street
(305) 292-1435 

If you sunk a couple of drinks in each of the bars listed on the Duval Crawl then you might actually think that you are seeing Elvis by the time that you get here.
But maybe not Elvis, but certainly Jimmy Buffet himself does sometimes drop in a play a few tunes once in a while.
Props from past concerts decorate the walls, ceiling and even the tables, which gives it a nice feel.
Starting at 10:00am until well late, bands and solo artists get up and do their stuff.
They will knock out anything from rock and roll to reggae to rhythm and blues.
You can even slip them a few bucks and hear that favourite song that made you and your partner first fall in love....however sadly I don't think I have heard them do a Rick Astley song in my case.
Maybe next time!!!
Everything you would expect from a place like this is evident with a good selection of food, beer and drinks.
Make sure you try the margarita whilst you here.
You wouldn't want to annoy Jimmy now, would you?
---
Bar Number Nine
The Top
430 Duval Street 

If you want to look down on the Duval Street nightlife, then this is the place to go.
If however you don't like heights then stay away.....but you would be mad to miss it.
From high above the city of Key West you can see not just Duval Street but all of the Key West harbour too.
The Crowne Plaza Key West La Concha was the first upscale lodging facility in the area, and because it then become the place for the rich and famous, a bar that matched their status in the world was required.
And this was it.
There are stories that Ernest Hemingway tried to seduce both Ava Gardner and Marlene Dietrich here.
And on many nights our "Romeo" Ernest, gave it his best shot with the ladies whilst the Duval Street nightlife went on far below.
If you do want to visit, it's probably best to give a call first as it does, as you can imagine,get very busy.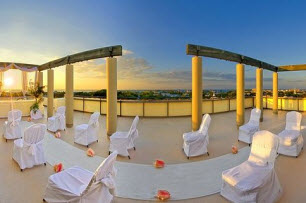 ---
Bar Number Ten
Hard Rock Cafe
(305) 293-0230 

Although the Hard Rock Cafe franchise has covered the globe since the 1960's,it was not until 1996 that one was opened in the Florida Keys.
You can find it in a renovated, three story house on Duval Street.
Unlike many of the places that you might have been in, Key West's Hard Rock Cafe is not just about Rock and Roll.
Throughout you will see a celebration of the history of Key West, and the many ways that go into preserving it.
The Hard Rock Cafe, fits Duval Street nightlife perfectly as it is open seven days a week, serves exactly what you would expect in burgers, fries etc and can seat up to 235 diners.
Great for lining the stomach as you continue on the "Duval Crawl"
Well, are we feeling a little worse for wear yet?
Has the vibrant energy of the Duval Street nightlife taken its toll?
Ok, as long as you can promise me that you aren't now wearing a bra and lipstick we will carry on.
That statement above of course doesn't go to any women reading this...of course I would expect you to be very well behaved throughout the Duval Crawl.
---
Bar Number Eleven
Fat Tuesday
305 Duval Street
(305) 296-9373 

If you decide to stop in at Fat Tuesday, then you have a bit of a choice to make.
You could have one of 26 flavours of frozen drinks, which of course includes the Key West favourite Margarita, Pina Coladas, and 190 octane Rum Runners. 

Many people who stop in at Fat Tuesday will buy a t-shirt with the joints moto on "one daiquiri, two daiquiri, three daiquiri floor."
And that really says it all!!
The truly amazing Duval Street Nightlife at its best. 
---
Bar Number Twelve
Bull & Whistle
224 Duval Street
(305) 296-4545 

This local Duval Street favourite is actually three bars in one.
The Bull is downstairs and features music in an open-air setting.
The Whistle is upstairs amd offers pool and video games along with a great view of Duval Street nightlife from the balcony.
The Garden of Eden, on the very top goes even further and has amazing views of Key West and more.
It's the only clothing-optional (yep, you can stand there as nude as you like) roof garden in town.
If you want to go to the Bull & Whistle then you will find it situated on the corner of Duval and Caroline Streets.
---
Bar Number Thirteen
Rick's Key West
202-208 Duval Street
(305) 296-5513 

Rick's Key West offers eight nightspots in one complex including a wine and martini bar, a dance club, a VIP bar and a daquiri bar.
In addition, Rick's downstairs bar offers live professional entertainment from 4:00pm until midnight.
It's great stuff and the musicianship is amazing to watch.
These guys can really play!
However, after midnight, when the beers have been flowing for quite a few hours, the Karaoke starts.
This is not quite as amazing to watch, but it cannot be denied it is horribly addictive.
The enthusiasm of the amateurs is contagious, and you might well find yourself belting out "I Will Survive" with a couple of strangers or too.
The Tree Bar allows you sit and watch Duval Street nightlife as it happens.
In Durty Harry's the band start playing at 8:00pm and if it is Rock and Roll you are after you won't be disappointed.
Even if you turn up at midnight you will still have four hours worth of Elvis, Buddy Holly and of course Chuck Berry songs to keep you entertained as it keeps going until 4:00am.
Add in a television wall showing all the major sporting events and Rick's Key West has everything that Duval Street nightlife can offer.
---
Bar Number Fourteen
Captain Tony's Saloon
428 Green Street
(305) 294-1838 

This one isn't an official Duval Crawl bar, but it's a good un, so we thought we would add it to your Duval Street nightlife experience.
It's just half a block off Duval, and within its confines is the site of Hemingway's original barstool and Key West's first hanging tree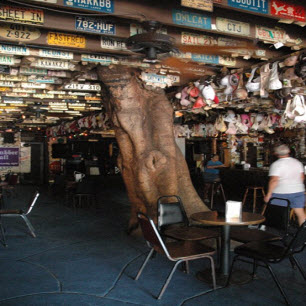 Captain Tony's is part of Key West's history as it is the original location of Sloppy Joe's.
This bar was once owned by Captain Tony Tarracino, a friend of Jimmy Buffet and a former Key West mayor, the saloon features walls covered with bras and business cards.
Live entertainment is offered nightly.
---
Bar Number Fifteen
Sloppy Joe's Bar
201 Duval Street
(305) 294-5717 

To be honest you could have started your Duval Street Nightlife extravaganza here and been more than happy with staying put for the night.
It's no wonder that this was Hemingway's favourite watering hole.
The upbeat atmosphere of Sloppy Joes's is contagious.
The bar opened in 1933 on the site which is now Captain Tony's saloon (see above - Bar Number Fourteen on the Duval Crawl).
In 1937 it moved to its current location, and it is said that our mate Ernest actually wrote some of his stuff in one of the back rooms.
And I wouldn't be surprised if he did do a little writing, as it certainly fills the walls with pictures of the great man.
If it is live entertainment you seek then Sloppy Joes does it as good as any of the bars on Duval Street, and fills the hours between 12:00pm and 2:00am with great artists, singers and bands.
Some famous artists have been known to get up and croon a tune or two to the excitement of our Duval Street nightlife revellers, such as most recently Country artist Kenny Chesney.
So although these big names normally jump onto the stage as a surprise, it is good practice to take a close look who is playing in the live band.
Sloppy Joes actually has its own beer so it would be criminal not to at least try one.
It's made by Coors and is a welcome treat after a typical Florida Keys warm day.
If you get time make sure that you pop into the gift shop in order to get your very own Sloppy Joe's memory to take home.
Then even if you Duval Street Nightlife memories get a bit fuzzy you can say that you was there.
---
Bar Number Sixteen
Joe's Tap Bar
201 Duval Street
(305) 294-5717 

This bar is found right behind the more famous (Big Brother if you like) Sloppy Joe's Bar.
Although it has a different name Joe's Tap Room is just another venue in this world famous and extremely popular drinking establishment.
It seems to have been made for the more discerning beer drinker as they really have a wide selection of drinks.
There is a sign that says "Featuring a variety of crafted beers on tap".
And boy do they mean varied as they do really have some unusual ones such as: Rogue Dead Guy Ale; Left Hand Milk Stout; Stone Arrogant Bastard; Abita Amber Ale; Victory Prima Pils; Dogfish Head 60 MIPA; and two smooth tasting Samuel Adams beers.
I love a glass or two of Samuel Adams.
I's not too heavy and goes down a treat.
The prices are quite good as every beer is $5.50 for a plastic pint cup (which has the "Sloppy Joes" logo printed on it, so it doesn't seem quite so cheap).
You can also mix and match and opt for a 5-beer, 3oz sampler for $5.50
Although we have been talking about beer, they do have a wide range of liquor if that is what you fancy.
I really like the Tap Room as it is much quieter than Sloppy Joe's main bar, and you can still order from their menu and then eat your food away from the masses.
Joe's is not the first bar that I would go to, but certainly after you have been through the majority of ones that come alive once Duval Street nightlife really kicks in, it's a respite serving good food and beer without the hectic atmosphere of most of the Duval Street bars.
---
Bar Number Seventeen
Chart Room Bar
Pier House Resort
1 Duval Street
(305) 296-4600 

If you want to experience a slice of Key West history then where should you go?
Well, this is the perfect place.
The Chart Room Bar is a tiny bar located in the Pier House Resort, and this place hasn't changed in years.
It's not quite a Michael J Fox experience, but you certainly will feel that you are stepping back in time once you walk through the door.
Tom Corcoran (the author of the Alex Rutledge Key West mystery series) used to tend bar here.
Jimmy Buffett played for tips only.....how things have changed since these days eh??
Although it does get very busy in here, and some of the reviews that you read maybe a little so-so, it's alright.
Good food, nice beer and fantastic views.
And if they have time the bartender can tell you many a story about the things that Messrs Buffet and Corcoran got up to as they serviced the Duval Street nightlife. 
---
---
Florida Keys > Florida Keys Bars > Duval Street Nightlife
Return To Top Of Duval Street Nightlife
Home | Site Map | Contact Us | Privacy Policy
By David Ralph
Copyright © 2010-2017 whats-at-florida-keys.com