Garden Of Eden Key West
A Bar With More
Than One View!!
The Garden Of Eden Key West is the place to go if you fancy stripping down to......well nothing for the evening, and drinking whilst you do it.
There are not many places you can go to and do this in your town or neighbourhood I'm sure, but Key West is not your normal place.
Liberal minded are just two of the words that can be used to describe this exciting, intoxicating and creative hotpot of bars, resorts, and places where the word naked is not used as much.

Although many of the hotels and resorts will have clothing optional areas somewhere on their properties, Garden Of Eden Key West is the only bar in the whole of Key West where going Au natural is accepted.
Therefore with this being the only place to go and strip down it can get quite busy to say the least.

So on this page I will try to give you the best advice to make sure your visit to Key West Garden Of Eden is as memorable as it could possibly be.

And if you aren't used to standing having a pint next to a large naked middle aged man, then I'm sure it will be memorable with a capital "M".
---
Where Is The Garden Of Eden Key West?
The bar can be found up on the third floor of the Bull and Whistle Bar in Duval Street, not too far from Sloppy Joes and Mallory Square.

If you are on your way down to the bar, then the road is of great historical importance and has a great deal to see in regards to architecture, old inns, famous houses and other interesting Key West stuff.

I would recommend starting at one end and strolling along about 8:00pm at night (or around the time the sunset celebration kicks off) to really enjoy the ambiance of this great road.

However if all you want to is get your kit off and get a few down you, then feel free to make your way straight there.

---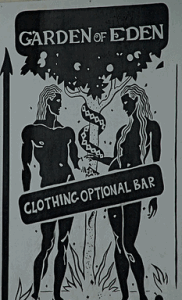 What Do I Do With My Clothes When I Get To The Garden Of Eden Key West?

Even though I have said that Key West is liberal minded, I don't think you are going to get away with walking to the bar without any clothes at all.
So you will have the slight issue about what to do with them when you take them off.
Well there are no lockers at all...at least not that I saw.

Most people either leave their clothes with friends and colleagues, or they bung them into bags and pile them up in the corners.

I'm not sure how safe this is, but I imagine its no worse than leaving your coat in a pub or bar, whilst you pop out for a quick cigarette or two.

But one thing for sure the security in Key West Garden of Eden is red hot, so don't think of waving your phone around.
They will be onto you like a shot.

People seem to take offence at having their bits and pieces photographed, but don't care at all showing them to people in the flesh...strange really when you think about it.
---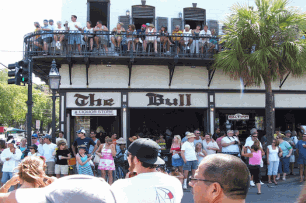 What Type Of Drinks And Refreshments Do They Provide At The Garden Of Eden Key West?

The Key West Garden Of Eden have all the normal types of drinks that you would expect to find in a Key West Bar.

Cocktails, Wine, Beers, Spirits are all in plentiful supply which is what you want from a night out in Key West.

The prices are about normal for the area, but you can keep an eye out for happy hours, vouchers and promotional nights, that make your dollars stretch a bit further.

They don't sell food, but do have a list of all the local Key West restaurants and places that are happy to deliver.

The bartenders are fun and attentive, and really focused and professional in the evenings when it is all going on.

As we said before they will jump on you if you get your phone out at the Key West Garden of Eden, and are also focused on making the naked folk use a towel when sitting down on the seats.

And that my friend is not too much to ask, after they have worked up a bum crack sweat fest after jigging up and down for a couple of hours.

Do beware that if you pop into the place in the afternoon you will probably get served twice as fast, but find yourself all alone next two old naked blokes sitting having an afternoon drink.

If you want the drinks to be flowing and the fun to be at its best then go there after 11:00pm and keep closer to the weekends as you would expect.
---
Do They Play Music At The Garden Of Eden Key West?

The music at the bar is quite eclectic but stays closer to the dance vibe.

It doesn't matter if it is Old Skool, Latino, Hip Hop, if it has a thumping baseline and crashing drums then it will appear.

The music can be a bit samey after a few hours, but really if you are planning on visiting the Key West Garden Of Eden to hear a few tunes, then you really have gone to the wrong place.

Buy a drink, get your clothes off, and even enjoy a piece of body painting that is available on site, but don't go just for the music.

Or I suppose you could look over Key West, as it has a great view in more ways than one.
---
Contact Details For Garden Of Eden Key West

Address: 224 Duval Street, Key West, FL 33040, United States

Phone: (305) 296-4565

Hours: The music generally starts at 17:00pm, then you can dance the night away under the stars as DJ Louie spins your favourite tunes from 9 pm to 2:30am.

The bar opens its doors at 10:0am in the morning.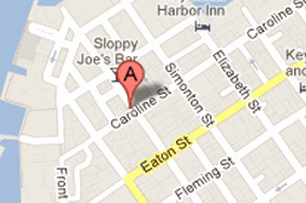 Click The Above Image For Links To Google Maps
Directions To Garden Of Eden Key West
---
---
Florida Keys > Florida Keys Bars > Garden Of Eden Key West
Return To Top Of Garden Of Eden Key West
Home | Site Map | Contact Us | Privacy Policy
By David Ralph
Copyright © 2010-2017 whats-at-florida-keys.com