Rum Runner Recipe.......Any One Got A Headache Tablet?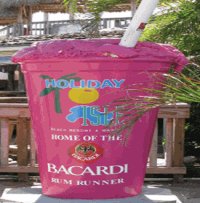 Rum Runner Recipe like our one is quite simply a wow.
The moment you put your lips to the glass and taste the sweet and fruity taste, your life will be changed forever.
I kid you not.
Most bars in the Florida Keys, such as Sloppy Joes on Duval Street to name just one pride themselves on the quality of their Rum drinks, especially these little beauties.
And it's not surprising as the Rum Runner Recipe easy peasy approach makes it one of the most simple cocktails to make.
But before we get to the "How To" let's go back in time and find out how these gorgeous rum drinks first came about.
---
Where did the name Rum Runners come from?
Back in the mid 30's when the american government decided that the morals of the time were at an all time low, they brought in the very unpopular Prohibition.
The idea of prohibition was by stopping the flow of alcohol crime would be a thing of the past and most people would live a peaceful and hangover free life.
However, it didn't quite go to plan, as such was the desire to have a little tipple every now and then, the majority of the population were only two eager to turn a blind eye to the laws and get their booze anyway that they could.
And this looseness of seeing good from bad led Captain Bill McCoy into the lucrative business of carrying rum from Bimini and all over the Bahamas into south Florida.
Smack bang into the Florida Keys.
This worked well at first and there were loads of eager drinkers ready to purchase his illegal stock, and he made huge profits very quickly.
However the US Coast Guard that were patrolling the waters all around the Florida Keys, knew what he was up to and decided to stop him.
That would be easy, they thought.
---
Check Out Our Other Great Drinks Recipes Too 

---
But our boy Bill McCoy who was making more than a good living at this time, didn't want to stop, and knew he had to do something.
He came up with a plan that was both clever (and very simple)
He stopped bringing the illegal booze across to the Florida Keys and instead dropped anchor just outside of the U.S. territorial waters, about 3 miles or so, and instead would sit there happily, untouchable to the authorities.
All the while much smaller vessels would come back and forth to the shore, paying him good money, and moving the risk of being arrested firmly in their direction.
If they wanted to take the risk then Captain Bill McCoy was more than happy to let them do just that, and the US coast guards couldn't do a thing to him.
He was floating just inches away from them and couldn't be touched.
The rum-running business was brilliant, if you had a fast boat that could carry a large cargo, then the cash that could be made was more than most people could dream off.
It was easy money, and cash based money too, which allowed McCoy to invest some of his profits into purchasing a schooner at auction which he named Tomoka.
He had the world at his mercy, and they loved him for it.
To stop him and other Rum Runners in their tracks the government knew they had to do something so they changed the law to mean that the US could patrol up to 12 miles away from the shoreline, which made it much more difficult for the little boats that Bill sold to, to get their illegal property.
And that simple and naughty practice of smuggling contraband gave a headache to the authorities, and a headache to the many drinkers who fell in love with the Rum Runner recipe of total yumminess!!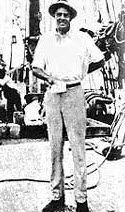 ---
Where were they first made?
The first place to ever throw all the ingredients into one glass and claim the "Orginal" Rum Runner Recipe was the Holiday Isle Beach Resort and Marina in Islamorada
This is the home of the Tiki Bar.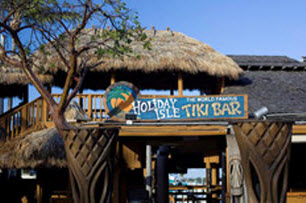 In 1972, John Ebert first walked through the door of the Tiki Bar, and I'm not sure if he had an interview or not ended up as the manager.
The first thing he did was quite obviously have a look around, and much to his delight and a little dismay found that he had pile after pile of Rum, Banana Liqueur and Blackberry Brandy sitting around.
And thank god he decided to go through all the stock he thought he wasn't going to get rid off.
For if he hadn't he wouldn't have wondered what he could do to use the excess supply of liquor he found and the Rum Runner recipe would still have been a distant dream.
But fortunately for us John Ebert starting mixing, and decided that the best idea would be to create a new drink using these ingredients.
After a few trials, he came up with the Rumrunner, but although what he came up with tasted delicious it looked anything but.
So after consulting with some knowledgeable so and so, he threw in a splash of grenadine and in an instant the drink looked like one you would want to order.
So delighted was John to start selling his new drink, he promoted the Rum Runner rather well, and it soon became a firm favourite.
So much so that he couldn't keep up with the demand, and he went through countless blenders as the motors would burn out due to the heat caused by the mixing of the alcohol.
So being agile of mind he thought about what he could use to "cool down" the mixture whilst he blended, and in a moment of inspiration he came up with the answer.
By using Taylor Frozen Custard machines, he could keep it cool whilst he mixed the ingredients, and as every story has to finish
"And everybody lived happily ever after in Rum Runner Land" although they were a bit drunk too!
The rum runner recipe is now recognised worldwide from London to Key West.
Other bars may lay claim to the Rum Runner recipe, but Holiday Isle is the true home of the famous drink.
---
What Is The Perfect Rum Runner Recipe?
Normally we don't like to make drinks that require a lot of ingredients.
Why?
The answer is the potential for multiple points of failure.
But sometimes a drink like this one is just so good; you have to make it – even if it has a lot of ingredients.
Ingredients:
Let's start simply with the ice.
You need quite a bit of ice so I would suggest two cups worth.
Don't over do it, so all you are tasting is cold water.
Then this is where you can get creative as you make your Rum Runner, but certainly the one that we like best is using the list below.
But if you look down and think...."I haven't got that, but I do have so and so", then throw it in and name your self the creator of the newest Rum Runner recipe on earth.
How often do you get a chance to change the world I ask you??
Take one fluid Ounce of Pineapple Juice, then the same amount for Orange Juice, blackberry liqueur, banana liqueur, Light rum and dark rum (or aged rum).
So now you have one fluid ounce of each of these drinks, you need to find yourself a tiny bit of Grenadine.
Don't get heavy handed with this.
Just a splash will do
And then you might want to dress the glass up a bit with an Orange slice.
This is totally up to you, as I always just take this off and leave it by the side anyway, but it does make a nice touch.
To Mix:
Blended:
The easy way to mix everything up is of course using a blender.
If you haven't got one then don't worry,you can bash the ice to pieces and do things manually.
But I like to do things the easy way so I will take my easy rum runner recipe and throw it all in, and blend like a maniac until the contents are all lovely and smooth.
Pour it all in the Hurricane glass or any long glass if you havent got one, stick the orange on the side, pop in a straw and enjoy.
Ps Don't blame us if you start to feel a bit strange...That's just Rum Runner love your feeling :)
---
---
Florida Keys > Florida Keys Recipes > Rum Runner Recipe
Return To Top Of Rum Runner Recipe
Home | Site Map | Contact Us | Privacy Policy
By David Ralph
Copyright © 2010-2017 whats-at-florida-keys.com