The Number One Guide To Restaurants In
Marathon Florida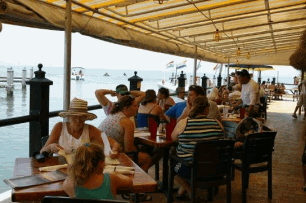 If you are looking for the guide to the best restaurants in Marathon Florida Keys, then look no further.
Within the following listed establishments you can really eat your way through an amazing twenty four hours…or longer if you can stand it.
Start the day with a huge and heart breakfast at one of the restaurants in Marathon such as "The Wooden Spoon" or the aptly names "Stuffed Pig."
Then move onto "Annette's Lobster and Steak House" for lunch, and if you can drag yourself finish off at the "Tiki Bar and Grille."
A real man versus food adventure if you like.
But let's start with giving you a bit of a lowdown on where Marathon is, if you are travelling through the keys and are planning on finding restaurants in Marathon suitable to stop at and rest a while.
And on that quest you will be spoiled with choice. 
Make sure you check out second great page of Marathon restaurants to try out by clicking here or at the bottom of the page.
---
Where Is Marathon In The Florida Keys?
Marathon is known as the heart of the Florida Keys, not because of the cholesterol busting restaurants and diners that you are searching for, but its central location in the Keys.
If you set off from up the top in Key Largo, or down at the bottom in Key West it will take you about one hour, if the traffic isn't too bad. And to make it easier for you, and in the case you rarely really need to use satellite navigation we will list our restaurants in Marathon guide by mile marker.
This are the little signs that you will find at the side of the roads, as you drive down the Overseas Highway or US1.
So if the number is higher you will be travelling up the key towards the mainland of Florida, and if the numbers are going down then it's towards Key West and Mile Marker 0.
Let's get down to business and start listing the best of the restaurants in Marathon.
And we will throw in some around the rest of the Middle Keys.
We wouldn't want you missing out on them when you are so close.
---
The Wreck & Galley Grill And Sports Bar

With a sign inviting you to "Eat All You Can Snow Crabs" you know that you aren't going to go hungry at the Wreck And Galley Grill And Sports Bar.
This is a very relaxed place, and is a particular favourite with families who want to bring their kids to a place, where they are worried about them moving around a bit.
This is not one of the restaurants in Marathon as its just down the road at Grassy Key, but if you fancy huge Buffalo wings, burgers,  fried fish and other Florida Keys favorites its certainly worth a little drive.
Address: MM 59 Bayside, Grassy Key
Phone Number: (305) 743-8282
---
Hideaway Cafe

Hideaway Cafe is a double whammy for the foodies out there. Not only are the views out across the ocean a delight, but the portions are huge.
The Rib Steak is really a meal for not just you, but all the family  and the other diners too.
Just get everyone to tuck in as you wont finish it yourself.
But its not just steak, as the seafood wellington, lobster, crepes are all highly recommended.
Address:  MM 57.5 Oceanside, Grassy Key
---
The Island Fish Company Tiki Bar & Restaurant 

I am racking my brains to think of restaurants in Marathon, or in fact the rest of the Florida Keys that have a better location than this place.
Nah..cant think of any.
Built on a spit of land that sticks out in to the sea, like a finger testing the water, the Island Fish Company can be reached by either land or sea.
And being this close to he water you can be sure that the fish is fresh as anything.
But like most restaurants in the Florida Keys, although they specialise in fish, there is so much conch fare to try you can literally have a different meal each time you visit.
Address: MM 54.5 Bayside, Marathon
Phone Number: (305) 743-4191
---
Cabana Breezes

This is another restaurant whilst not officially in Marathon is a cost effective and popular place to drop in and have some food.
Back in the 1950's the place was owned by the famous bandleader Guy Lombardo, and really the service (which he was very proud off) and the quality of food hasn't changed much since then.
You can try Key West pink shrimp, pieces of tender conch, to beer battered fish.
Look out for the daily happy hour and the nightly entertainment that runs through Thursday to Sunday, and ensure that the weekend starts early and runs for several days.
Address: MM 54.5 Oceanside, Key Colony Beach
Phone Number: (305) 743-4849
---
Key Colony Inn

The Key Colony Inn is a noisy place, and I mean really noisy.
I'm not sure what it is about the ceiling acoustics, but if you want to whisper romantic things in your special persons ears then definitely ask for a corner table or sit outside.
But away from that the food is great, which I suppose is why you come looking for restaurants in Marathon, and they are also huge portions which makes it popular for the big eaters.
So whether you want a few drinks, or a good selection of food for the evening the Key Colony Inn could be the place to choose.
If you want to start your romantic adventures off in the right style, then probably give this place a miss.
You must make reservations as it is always packed.
Address: MM 53.5 Oceanside, 700 West Ocean Drive, Keys Colony Beach
Phone: (305) 743-0100
---
Frank's Grill

Have to be honest with you, this place is not the easiest of restaurants in Marathon to find.
At least we didn't find it to be.
However you will know, unlike us that you need to turn at 113th Street and then drive on until you find the sign.
This place is highly favoured with people who go on TripAdvisor and locals, so you will definitely need to make a reservation.
Franks provides both lunch and dinner Monday to Friday, Dinner on Saturday and he closes on Sunday.
You've got to allow Frank a bit of a rest after all.
Address: MM 52 Bayside Marathon
Phone: (305) 289-7772
---
Leigh Ann's Coffee House

The sign says "More than just a Coffee House" and yeah , it might have coffee in the title but don't just think Starbucks and drive past, as the food is really quite good too.
First founded on the Overseas Highway in Marathon, the place has developed over the years from a simple coffee house, to the new relocated property at Key Colony Beach, that does pizzas, sandwiches, bagels, salads.......well lets say a lot more than just Coffee.
It's open for breakfast and lunch, but closes at 8:00am Monday to Saturday and lunchtime on Sunday.
Address: 301 Sadowski Causeway, Key colony Beach
Phone:(305) 743-2001
---
Herbies

Right then, lets cut to the chase.
If you want honest to god, authentic, old style Florida Keys dining then ignore all the other restaurants in Marathon that we have told you about.......Herbies is the place to go.
This road-house, with a porch, two rooms, no air conditioning, no reservations  and credit card facilities has them flocking in for conch cooking at its best.
The plates are generous, the cuisine ranges from simple to quite sophisticated. 
Give Herbies a go......I love it !
Address: MM 50.5 Bayside, Marathon
Phone: (305) 743-6373
---
The Wooden Spoon

If you are looking for somewhere to go in the evening for a bite to eat, then you won't be coming to this restaurant.
The Wooden Spoon open really early in the morning, at 5:00am and close at lunchtime.
But man the breakfasts that it serves up, are to die for.
Also a nice touch if you are passing, is they will knock up a quick pack lunch, so you don't have to go looking for somewhere to eat later in the day.
Address: MM 50.5 Oceanside Marathon
Phone: (305) 743-8383
---
Check out more great Marathon Restaurants in the second part of our guide by clicking here 
Florida Keys > Florida Keys Restaurant > Restaurants In Marathon
Return To Top Of Restaurants In Marathon
Home | Site Map | Contact Us | Privacy Policy
By David Ralph
Copyright © 2010-2017 whats-at-florida-keys.com