The Best
Marathon Restaurant Guide
Page 2
If the best Marathon Restaurant is what you are looking for, for a night out, a bit of lunch, or even the heartiest breakfasts that you will find this side of a New York diner, then you have come to the right place.
The list detailing the Marathon Restaurant that you seek, has been set up in strict location order.
So from northern Marathon, down to the nearest towards Key West, they are listed in Mile Marker sequence.
So make sure you don't get lost as you head out (which to be honest is quite hard to do in the Florida Keys anyway) down the Overseas Highway.
Make sure you check out our connecting page listing the Marathon Restaurant range from Mile Marker 59 down to Mile Marker 50.5.
All the rest are on the page you are reading now.
Enjoy and bon appetite. 
---
Panda House
The Panda House as you well imagine is a Chinese restaurant  and not a seafood restaurant like so many in Marathon.
And it really does make a nice change once in awhile.
The Panda House has been in operation since 1997, and is open everyday of the week.
The lunchtime eat all you can buffet is absolutely enormous, and is a great way to feed a whole family, in quite a cost effective way.
Address: MM 50 Bayside, Marathon
Phone: (305) 743-3417
---
Barracuda Grill

The Barracuda Grill is one Marathon restaurant that really does like to keep things fresh and interesting.
The menu is half established favourite such as roasted lack of lamb, mangrove snapper, and rib eye steak, whilst the other half is whatever the chef has created that day in the kitchen.
It really caters for the whole family with exotic and well thought-out dishes for the parents, whilst the kids can chomp down on a kids menu with such things as fish fingers and burgers in evidence.
This is a nice Marathon Restaurant that should appeal to everyone.
Address: 49.5 Bayside, Marathon
Phone: (305) 743-3314
---
The Stuffed Pig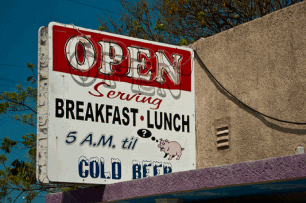 As we said at the top of the page, if you are looking for a Marathon Restaurant that specialises in the biggest breakfasts you could hope for, then the Stuffed Pig should be the place to head towards.
Although the Pig does do lunch, its really the breakfast menu, that drags them in.
In fact many times you will see people queuing outside to get in for their pancakes, and cooked breakfasts.
It is open seven days a week, but does not stay open all day but will close around 14:00pm.
And who can blame them, when they open their doors for the first customers at 5:00am.
Do note that this is a cash only, no reservation joint.
Address: MM49 Bayside Marathon
Phone: (305) 743-4059
---
Keys Fisheries Market And Marina

This is so much more than a simple Marathon Restaurant.
The Keys fisheries has for over 30 years, been a personal favourite, as being a working fish market, you can guarantee that the fish has only just been taken from the water, before it ends up on your plate.
And you don't get any fresher than that!
Its very informal, with help yourself soft drinks that you then take to picnic tables right by the harbors edge.
Oh did I tell you you carry your own food too?
But don't let that put you off, this is honest to god Florida Keys cooking as it should be.
Address: MM 49 Bayside at the end of 35th Street, Marathon
Phone: (305) 743-4353 or (866) 743-4353
---
Annettes Lobster And Steak House
Annettes as you can imagine by the name do a great selection of both steak and seafood.
Once you step inside of this Marathon Restaurant, you will find yourself surrounded by the nautical decor and bit if bobs straight out of the water from around the Florida Keys.
Unusually for a Marathon Restaurant, and I suppose any restaurant if the truth be known, Annette knows exactly how the majority of her patrons think.
All the desserts are listed right on the front of her menu, which gives you a hard time deciding which of the main courses you can eat, whilst still saving room for them.
It's not a bad problem to have though.
Address: MM 49 Bayside Marathon
Phone: (305) 743-5516
---
Butterfly Cafe
This Marathon Restaurant unusually sits not on its own, but within the confines of the Tranquility Bay Hotel And Resort.
But don't let that stop you trying it out, as it is a lovely, light and airy restaurant which serves fine "Conch" cuisine  whilst still being able to handle the casual less adventurous diner.
If you fancy bringing the kids the restaurant does have a kids menu available.
The Butterfly Cafe is open seven days per week, but a reservation is required whenever visiting.
Address: MM 48.5 Bayside, Tranquility Bay Hotel, Marathon
Phone: (305) 289-0888
---
Burdines Waterfront And Chiki Tiki Bar & Grille
This place down in Boot Key Harbor, is the kind of Florida Keys eatery, where the views equal the food. 
It really does set out a vibe of "Hey, were on Vacation"
Sitting two inches away from the waters edge, watching the boats go by, you can order from a great selection of food, or instead just order up a cool beer, and enjoy the relaxed ambiance of it all.
The bar / Grille is open for lunch and dinner daily, although it closes at 18:30pm.
Address: MM 47.5 Oceanside, Marathon
Phone: (305) 743-5317
---
Porkys Bayside

Like all things in life, beauty is in the eye of the beholder, and that is certainly the case with this Marathon Restaurant.
Porky's though serves up a "Beauty"  of a Bar-B-Q, which has to be tried once at least.
So the best thing that I can say, is don't be put off by the look of the place, as this makes a great quick stop over for some tasty food surrounded by lobster traps and commercial fishing boats.
Unusual, but recommended.
Address: MM 47.5 Bayside, Marathon
Phone: (305) 289-2065
Florida Keys > Florida Keys Restaurants > Marathon Restaurant
Return To Top Of Marathon Restaurant
Home | Site Map | Contact Us | Privacy Policy
By David Ralph
Copyright © 2010-2017 whats-at-florida-keys.com