Henry Flagler 
The Railroad Visionary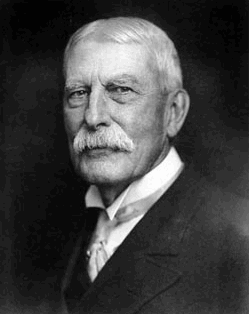 Henry Flagler has been as much to do with the increase of interest, commerce and infrastructure throughout the Florida Keys as anyone in history.
If you are sitting in your home and wondering if you should go on vacation to the keys, then without a doubt that thought wouldn't even be in your mind without this mans drive, intervention and commitment to whatever he turned his hand to, and the way he brought the Florida Keys to the fore.
But let's go back to the very beginning and give you a brief overview of where it all began. 
Our Henry, was born to Reverend and Mrs. Isaac Flagler in Hopewell, New York on the 2nd January 1830, and really had quite a life and a desire to prove himself from a very early age.

For example, he was only 14 when he first left and started on the journey that would take up his whole business life, and take him across America leaving his mark on history.

I'm sure that I wouldn't have been ready at an age like that to start grafting.

But he was different, and just after completing his eighth grade education, he left home and travelled across America to join his cousins in Bellevue Ohio, to work in their grain store. 

He was paid the princely sum of $5 per month salary, although he did get room and board thrown in.

But still from humble beginning and all that......... 

He worked hard in Ohio and in 1852, he became partners in the business with his half-brother Dan Harkness. 

Times were good for Henry Flagler and it would seem that things could only get better.

That was what he hoped for of course, but with all stories of perceived success, there has to be moments of doubt and despair and that would be the case for Henry Flagler, both in his professional and personal life.

In 1853, whilst still on the up professionally, he met and married Mary Harkness, who was to be the first of three wives that were to support and love him throughout his life.

Mary gave Henry three gorgeous children: two girls and a boy, although it was with great sadness that both of the girls would later pass away, leaving only his son Henry to carry on the family name.

It was in the early 1850's when Henry started to look further a field at business opportunities, he felt would return a high dividend, and he noticed a need in the market leading to a high demand for salt.

He had read that during the civil war, the Union Army were using salt heavily as a preservative, which seemed too good an opportunity to miss out on. 

So Henry Flagler and his brother in law Barney York, set up a salt mining business in Saginaw, Michigan to fill that demand, and make as much money as they could. 

However the good times only lasted as long as the war continued, and once peace returned to America the demand for salt declined dramatically.

And it was purely down to the sudden loss of orders, that the whole business felt a catastrophic downturn.

They struggled on, but at last the effect on the financial bottom line could not be ignored anymore, and the Flagler and York Salt Company collapsed with massive debts. 

The business had been heavily financed, with money that Henry and Barney had borrowed from his father in law and his half brother: Dan Harkness.

All in all, Henry Flagler lost $50,000 of his own money, and $50,000 of his family's money, and so reluctantly in order to work on a new plan, he went back to Bellevue Ohio, with the debts and the spectre of failure hanging over him.

But with one important lesson that he kept to until his death.

Henry Flagler vowed that he would never, ever enter into a business on a whim again. 

Only if it was fully investigated and the full picture could be seen would he enter into the game from that period onwards.

Good advice for all of us really.

So Henry Flager acted like all successful entrepreneurs do.

He didn't let the despair of what had happened in Michigan bring him down, instead he returned to what he knew best, and re-entered the grain business. 

It was a shrewd move, and it wasn't long before he was able to pay back all the cash that he had borrowed for the ill fated salt business.

He totally believed in doing things the right way, and there was no way that he would just walk away from the debts he had built up. 

Henry Flagler was nothing but honourable. 

Whilst he was getting himself back together, Flagler came in contact with a John D Rockefeller who although only working as a commission agent for a business with close links to Flagers Harkness Grain Company, had eyes on bigger things.

It was Cleveland in Ohio, that had got Mr Rockefeller thinking, as during the 1860s, the city has quickly developed a focus on the Oil Industry.

And of course where oil was to be found, and awful lot of money would be found too. 

So Rockefeller sensing a massive opportunity, persuaded Henry Flagler to invest in a oil refining company, which Henry did after once again borrowing the money from a relative.

He must have had some very optimistic or forgiving relatives, as even after losing (and regaining) $50,000 of his families money during the salt difficulties, he secured another $100,000, although this time it had some conditions applied to its release.

His wealthy and optimistic relative stated that he would only lend Henry Flagler the money if he be made a partner owning 25% of the shares in the new company of Rockefeller, Andrews & Flagler.

This was a great decision, and a huge piece of luck on the side of Henry Flagler. 

The meeting of John D Rockefeller really took Flagler's career into the bigtime, as on the 10th January 1870, the new company known as Standard Oil started refining oil and making money.

Within just two years, the company had flourished, and had grown at an incredible rate leading to it producing 100,000 barrels of oil per day and sitting proudly as the number one company in America refining oil.

It was an astonishing turnaround, for Henry Flagler, and his $100,000 investment (gamble?) made him a very rich man indeed. 

---
How Did Henry Flager Get Involved In Florida And The Florida Keys?
Henry Flaglers business world was booming.

Things couldn't be better.

But down the line tragedy was starting to get into position to deliver a terrible blow to him personally.

Flagler's first wife, had never been what you would say healthy.

For years, she had fought against a series of illnesses and health problems, until in 1878 it became a real problem and she really became ill.

The Flagers were living at this time on 5th Avenue in New York, which as you can imagine is not the best place to live during the winter if you are not feeling well, so under the advice of Flaglers physician the couple decided to move to sunnier climes, and travelled down to Florida for the winter months.

It was felt that the change in temperature, the increased daily sunlight, and the relaxed way of life that was evident in Florida would help her recover and gain full health again.

However, unfortunately that wasn't to be the case and three years later on the 18th May 1881, Mary Flagler passed away at the age of 47, leaving a distraught Henry to look after his only remaining child.

However once again, wrapped up in his own personal tragedy was an opportunity that would set him to really leave a huge statement on Americas History.

And no more so than down in the Florida Keys.
---
The Begining Of Henry Flaglers Railroad Building Adventure
It was whilst he was with his wife in Florida that he really started to see the potential of the state.
You see although the state had the weather, beaches, and all the things that we now love Florida for having, it had no hotels, poor road links, and no main transport links to the mainland of America.
It was this issue that meant, although he liked the place he would have an awful lot of work to do to make his next investment a success.
But hard work had never stopped Henry Flagler, so he set about purchasing and re-building his first Florida hotel.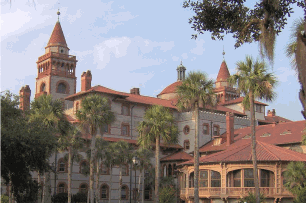 Hotel Ponce de Leon now Flagers College Florida
Photo Courtesy of www.wikipedia.org
The Hotel Ponce de Leon opened the doors to its 540 rooms on the 10th January 1888, and as Henry Flagler believed was just the ticket, soon filling up with eager customers who had travelled across America to enjoy its opulence.

His mood buoyant from his new ventures instants success, Henry Flagler looked around for more opportunities, but being the wise businessman that he was he knew that to make things easier for him, he would need to step into the unknown and enter into the railroad business

As we said previously he had burnt his fingers years previously, with the failure of his salt business and had vowed from the point onwards to only enter businesses that he had investigated fully.

He was happy with what he saw, and knew that the purchase of the Jacksonville, St. Augustine & Halifax Railroad, the first railroad in what would eventually become the Florida East Coast Railway system was not just a nice to have, but an absolute necessity.
---
---
Florida Keys > Guide To The Islands > Henry Flagler
Return To Top Of Henry Flagler
Home | Site Map | Contact Us | Privacy Policy
By David Ralph
Copyright © 2010-2017 whats-at-florida-keys.com