Blue Fin Rock Harbor
Marina & RV Resort Key Largo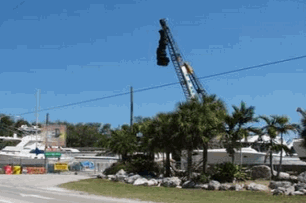 The Blue Fin Rock Harbor Marina and RV Resort is one of the first camp sites that you will come to as you start your Florida Keys adventure.
Being at the northernmost part of the Florida Keys in Key Largo, the site is not only convenient for jumping back to the Everglades and Miami to mention just two places, but also to set up base in for the world class diving that Key Largo is known for.
And believe me with John Pennekamp State Park, a stone's throw away, and also the brilliant dive site at Molasses Reef then you will have everything exactly where you want it to be…..close, but not too close.
So let's start first of all with some information regarding driving distances, so you can plan your trip through the Keys to get here nice and relaxed.  
And of course if you want to use Blue Fin Rock Harbor as the first part of a whole driving trip through the keys, then make sure you read our driving guide to the Florida Keys.
It will point out the  best things to see in each of the islands.
---
How Long Does It Take To Get There?
Of course you will be coming from all over the states, and even the world to explore the Florida Keys, so we cannot tell you exactly how long it will take.
But the following locations will give you an indication of how much time to give yourself.
Orlando to Blue Fin Rock = 298 miles ( Approx. driving time 4 hours 31 mins)
Miami to Blue Fin Rock = 65.7 miles (Approx. Driving time 1 hour 16 mins)
Key West to Blue Fin Rock = 96.3 miles (Approx. driving time 2 hours 6 mins)
---
What Does The Site Have That Would Make Me Want To Visit?
Now you know how long it's going to take to get here, let's  give you the details of the site, its amenities and also what is on its doorstep, to delight you whilst on vacation. 
This is a very well run and established marina and RV resort, and has most things that you would require to make your vacation go just the way that you planned it.
Make sure that you book in advance though, as the site only has 18 pitches for RV vehicles, and will generally hold back four only for overnighters.
The other fourteen pitches are booked for the long term seasonal visitor, who visit the island to dive and make use of the natural glory that is what the Florida Keys is all about.
But getting back to what's actually at Blue Fin Rock Harbor......
For a start the campsite will allow you to relax just a stones throw away from the Atlantic Ocean, which makes it an absolute magnet for fisherman and sailors.
And when we say stones throw, you don't have to be a very good thrower either, as you could basically sit in your RV and dangle a rod out of the window.
The Florida Keys has Fishing that will delight any angler, and you are in a prime location to make the best of what is on offer here.
Don't worry if you fancy doing a bit of fishing but you don't have your own vessel, as a boat ramp and rental boats are all available or can be catered for for a small charge.
---
I Hate Fishing So What Else Does The Camp Site Offer Visitors?
Well if fishing isn't your thing you can spend time playing shuffleboard which is a great sunny outside pastime, or take a dip in the on-site swimming pool.
And for those nights that you want to let someone else do the cooking, then just stroll over to the Mandalay Restaurant and Tiki Bar.
A laundry is open 24 hours a day, which is always useful if you have little ones travelling in your party.
You know how many changes of clothes those guys need!
There are also 50-amp service and cable TV at Blue Fin Rock Harbor, whilst the showers and phone connections are for long-term visitors only.
Lastly to make you feel super safe when you are tucked up in your beds, the site has 24 hour security. 
---
Can I Use A Tent At The Camp?
No, Im afraid this is a marina and RV Site only so camping will not be allowed at Blue Fin Rock Harbor.
But feel free to browse the other campsite in Key largo that we have reviewed and Im sure you will find one that covers your sleeping under canvas requirements.
---
Is the Marina Big Enough For My Boat?
The marina is quite substantial, and with 25 available slips that can cater for boats up to a maximum length of 50 feet, then I'm sure you will have no problem at all.
Please note that some of the slips do require a water taxi to take you there and back, which at the time of writing is $10.00
All in all the Blue Fin Rock Harbor is exactly what you would expect from a marina in Key Largo, but if you want more information then feel free to contact them on the details provided below.
They will be more than happy to answer any questions you have to  make your time in Key Largo a pleasant and safe experience.   
---
Address Details
MM 97 Oceanside, Key Largo
(305) 852-2025 or (800) 350-6572
---
---
Florida Keys > Camping In The Florida Keys > Blue Fin Rock Harbor
Return To Top Of Blue Fin Rock Harbor
Home | Site Map | Contact Us | Privacy Policy
By David Ralph
Copyright © 2010-2017 whats-at-florida-keys.com