Alabama Jacks In Key Largo.
A True Florida Keys
Restaurant Legend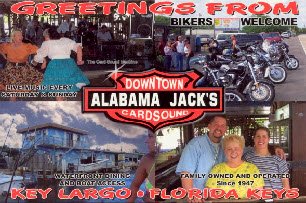 Alabama Jacks in Key Largo is a bit of a Florida Keys restaurant with a difference.
Found on Card Sound Road, north of the island of Key Largo, it has been an outpost for more than 50 years.
And it's not a surprise that it has been around so long because it really is quirky, appeals to both locals and tourists and serves great food.
But the question is would you only visit if you are around the area in Key Largo or perhaps just happening to be passing?
As believe me you have to make an effort to find the place, as it is really off the beaten track?
Well, starting away from Alabama Jacks itself, let's give a bit of great Florida Keys advice and lead you into the decision that "Yeah, it's worth going at least once."
---
Why you should hunt this little place out?
The drive itself is just one of the reasons that makes Alabama Jacks one of the great list of Key Largo restaurants, that are such a pull to the tourists.
There are a couple of ways that you can make your way down through the Keys, eating up the miles in a car or on a bike, and most people make the mistake of jumping on the interstate and simply putting their foot down.
And that is a huge shame, as when you are on the interstate you get...well, a typical driving experience.
Yes, great views over the sea on both sides for a lot of the time, but that is about it.
Now if you went the alternative way and slowed down, as you are on vacation after all, then the old Card Sound Road is a brilliant route to take.

It makes a refreshing change to disappear of US1 down to Alabama Jacks and take the scenic route once in a while.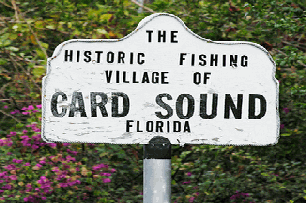 For a start travelling down Card Sound the traffic is lighter, and the wildlife really come out to play.
Dodging crabs, crocodiles and low swooping birds in your vehicle is great fun, and I guess you could almost grab your own lunch if your aim is good enough.
It's great to feel that you are seeing the real Florida Keys, which as I say on the interstate you just don't get the same feeling.
So jump on Card Sound Road and just outside the toll both you will find this great little Key largo Restaurant.
---
What Can I expect To Find When I Get Here?
The main thing about Alabama Jacks is don't be turned off by the outside of the place.
It is truly rustic and a little bit....well rough looking.
Its position just outside the toll both means that it is a great stopping point for travellers.
The first time that we drove past here, we were put off by the motor bikes that were lined up outside, so we gave it a miss.
The thought of Easy Rider came to mind, and safe in our air-conditioned Chevy we made the mistake of looking for a sterile franchise kind of eating place instead.
A huge golden M sitting by the side of the road seemed a safer option, so we barely gave it a second glance.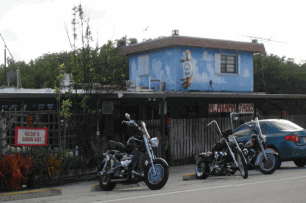 These Bikers Know Why A Stop At Alabama Jacks Is A Must!
However, honestly don't make the same mistake as we did, because it's what's inside that makes this a true keys treasure.
Its laid back, plastic chairs, paper cups, attentive staff, Florida Keys relaxed vibe at its best.
But the food is really what you get attracted to.
The place is rated to have the best Florida Keys Favorite Recipe - Conch fritters and Key lime pie by everyone who manages to find the place, and for a little shack like this it really has a good range on its menu.
---
What Type Of Menu Does Alabama Jacks Offer ?
My wife and I went for the Mai Mai sandwich, which was a bit of a surprise as she doesn't really go a bundle on fish.
It must have been the vibe of adventure which saw us enter in the first place, but she loved it.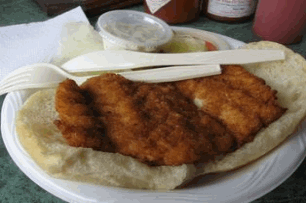 Delicious Mai Mai Sandwich Caught Fresh That Day!
After ordering another couple of soft drinks, we asked the owner (I assumed he was the owner) if we could just sit and chat, before ordering the next course, and he was more than accommodating as we were in no hurry to leave.
The other customers sitting around us (and there wasn't many when we were there) were noshing into a huge kebab with an even larger salad, whilst their companion seemed to be eating something resembling hummus.
So it's not a case of getting burgers, hotdogs and fries here, there is quite a range to get your taste buds drooling in anticipation.
Check out the following link to the up to date menu and prices that are on offer as we speak at the bottom of the page.
---
Is there anything else to do than just eating in Alabama Jacks Key Largo?
One of the nice things about Alabama Jacks is you have an excellent view of the boats passing by, as the restaurant sits right on the water on stilts, so quite often you can see the water through the gaps in the flooring as you are eating.
As we sat there I couldn't stop my eyes from trying to a spot the alligators that I had heard were in the area, but after the excitement of spotting a branch we never did.
Beware though, if you are planning to come out in the evening you will be disappointed as it closes early due I believe to the mosquitoes that come out in this evening for their own dinner.
Added to the fact that it has no air conditioning, although it has fans in plentiful supply, I would imagine that it is the only bad thing that I can say about this lovely authentic Florida Keys restaurant, and this is something that they can't really do anything about either.
Many people have pondered how to get rid of the mosquitoes, but as we are getting down towards the tropics this is a problem wherever you go.
Check out our page on the weird Perkys Bat Tower in Big Pine Key to see how one man battled to overcome this problem.
Its certainly a nice little drive that will get you a chance to see the best of Big Pine Key
It's certainly an amusing tale too!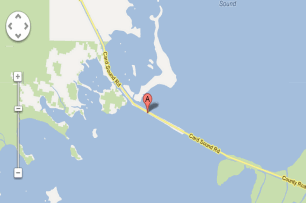 Click Image Above For Alabama Jacks Google Maps Directions
---
Alabama Jacks Opening Hours
The restaurant closes early, usually by 19:00pm or 19:30pm, which as I said might be to do with the mosquitoes and even earlier on a Saturday for some reason when the doors close at 17:00pm.
On a Saturday they have a good band playing I've been told, which once again unusally for the Florida Keys, when things go on until the early hours of the morning, they start at 14:00pm and finish around 17:00pm too.
To summarize our experience at Jacks, this is road side, quirky, sweaty, eating at its best.
We loved it.
---
Contact Information
Address: 1500 Card Sound Rd, Key Largo, FL, 33037
Phone: 305/248-8741
Restaurant Details:
Delivery = No
Credit cards = Yes
Good For Group = Yes
Good For Kids = Yes
Parking= On street
Attire = Casual
Take Away= Yes
---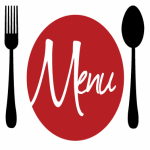 Click Image For Alabama Jacks Menu And Prices
---
---
Florida Keys > Florida Keys Restaurants > Alabama Jacks
Return To Top Of Alabama Jacks
Home | Site Map | Contact Us | Privacy Policy
By David Ralph
Copyright © 2010-2017 whats-at-florida-keys.com