Pier House Key West Is A Lovely Resort To See The Sunset From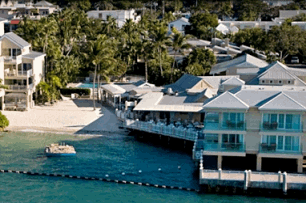 Pier House is one of those hotels on the island that if you get a chance you should stay at.
It has been inviting customers into its paradise retreat for over 40 years, and certainly from my point of view Pier House Key West have cracked it.
They know what we want from a luxury stay and they deliver!
When you visit Key West, you have three decisions to make really in regards to accommodation.
Do you want to be secluded, within your own private paradise retreat?
Do you want to be close to all the goings on which are the main reasons that people visit Key West for?
And can you afford it?
And certainly for the first two decisions Pier House Key West cater for both.
Being on the corner of the Gulf of Mexico and Duval Street, you are  close to the Duval bars, restaurants and clubs as you would hope to be, which makes it a delight to slip on your sandals and take a leisurely stroll into town each night.
But for anyone that has been to Duval Street, you will know that it is a place that does not seek a lot of shut eye.
It pretty much goes on all day every day, so many of the hotels and motels based in the area can well provide a few noisy nights, as the revellers make their way back to their own sleeping quarters.
There can't be much worse than trying to sleep with your head under your pillow as Key West nightlife remains in full flow just outside your window.
But that shouldn't be a problem really, as down at the Pier House Key West, I have never known this to be a problem, although I'm sure if you read the hundreds and hundreds of reviews on tripadvisor for example someone would put me right on this.
With the majority of the rooms facing the water, you can lay on your bed and instead of joining the masses down at Mallory Square, watch the sunset without even raising your head from your pillow.
And of course I would recommend a trip down to the sunset celebration at Mallory Square, as it is right on your doorstep and is a bit of Key West happening, but still it also makes a lovely change to lay on your bed and have the sunset come to you.
But what else can Pier House Key West offer to you, and of course what kind of money will you need to cough up to stay here.
Well for a start, like a few of the resorts in Key West, it have its own private beach.
And if you have read our page on the beaches in Key West, you will know that they are quite hard to come by, and also be not very sandy.
The Private Beach At Pier House....Relax and drift away!
Photo courtesy of tripadvisor
This can't be said at Pier House Key West, as the beach is definitely sandy which is nice on your feet, but it is not very big.he
It's not a naturally sandy beach however, as like most of the beaches that are found in the Florida Keys, the sand is shipped in every couple of years or so.
But what can you expect really when space on the island is at a premium??
But you can enjoy the beach, and the bar (which serves a good range of alcoholic and nonalcoholic drinks - Rum Runner anyone?)
But many people don't really like beaches anyway, and prefer the cleaner, and less.......well sandy swimming pools.
And I must admit I lean towards this camp if I have a choice.Pier House Key West have this too, and most pleasingly its heated.
Even though the weather in Key West is lovely most days, I don't know about you, but I always find swimming pools that are supposed to be warm due to the sun, closer to arctic survival training.
You stick a toe in to check the temperature when you first get there, and then decide after the shock has worn off to leave it for a couple of days to see if they get a bit warmer.
Yes, I know they should get warm but they never seem to do so.
The pool at the Pier House Key West certainly doesn't give you that moment when you ponder if it is suicide to continue getting into the freezing water.
Slide in, and feel all your cares and stresses slip away.
You are on vacation !!
Talking about leaving the stresses of life behind you, the resort also has extra amenities like steam rooms and gym fitness facilities are available.
---
Pier House Rooms and Accommodations
Because of the way the resort is built in a kind of L-shape the rooms can offer you views of the garden, to the harbor and even the sought after world famous Key West sunsets.
The choice is yours, dependent of course on how much you are willing to pay.
The rooms available are traditional rooms, Caribbean spa room, Lanai rooms, Harbour Rooms, One and Two Bedroom Rooms and all of them come with the kind of things you would expect from a hotel, and then those little extras that give the rooms their own identity.
---
Pier House Key West Facilities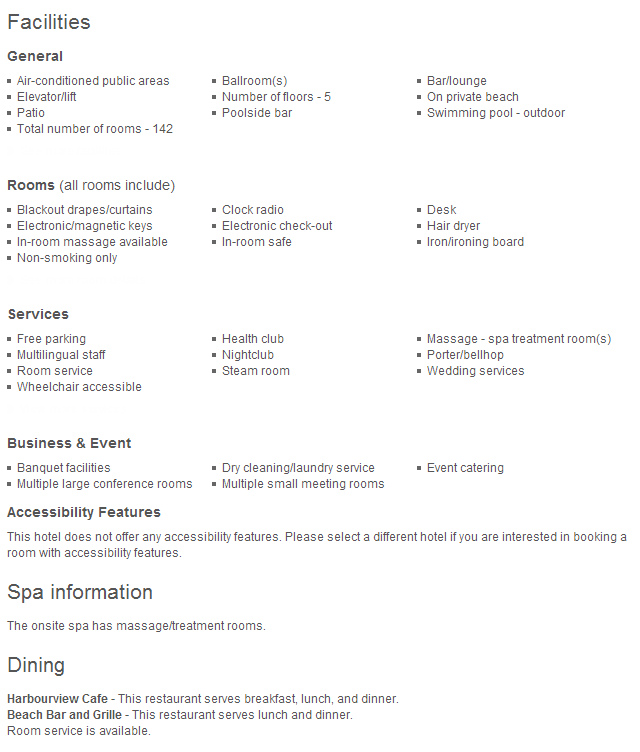 ---

Places To Go And See Near The Pier House Key West

The resort is perfectly placed for many of the most popular attractions and historic sites that you would want to see when you come to Key West.
From the Sunset Celebration down at Mallory Square each evening, to the bars and nightclubs down and around Duval Street, there are loads of great things to see.
Make sure you spend some time, visiting the oldest of all the Key West attractions at the quaint Key West Aquarium site, which is a great place to spend a few hours.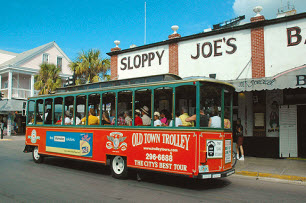 And then of course there are the Trolley Tours that you can see moving slowly around the streets near the Pier House Key West, which can take you around the island, and advise the best places to go.
This is a must to get the best out of your time on vacation.
Lastly, make sure you check out our ever expanding page on Key West attractions for the best that can be found across the southernmost island.
---
Things You Need To Know And Contact Details
If you do want to come down and stay at the Pier House Key West then there are a few things that you need to know.
Firstly, you can have a nice lay in, but must check out at midday, whilst your stay cannot start until 16:00pm check in.
If you do want to bring your pet then I'm afraid the answer will be a resounding NO
And the last thing is you will need to be over 21 years old to be able to book a room and stay at the Pier House Key West Resort.
Address: 1 Duval Street, Key West, Florida Keys
Phone: (305) 296-4600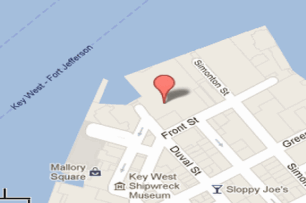 Click On Image Above To Go Straight To Google Maps

Check Now For Availability And Prices
---
---
Florida Keys > Florida Keys Hotels > Pier House Key West
Return To Top Of Pier House Key West
Home | Site Map | Contact Us | Privacy Policy
By David Ralph
Copyright © 2010-2017 whats-at-florida-keys.com