Key West Beaches Guide To The Best Beaches In Key West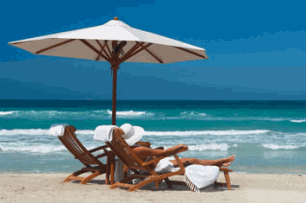 Key West beaches interesting you then?
Well if you are looking for the best beaches in Key West, then you have come to the right place.
Let's start by categorising what you want from your ideal Key West beach fantasy visit?
I imagine you want long strips of golden untouched sand.
Palm trees swaying in the wind
Beautiful girls and guys parading around you as you suck your stomach in and become the King of your own sandy castle.
If this is what you want from your beachy experience then you may be disappointed.
Key West Beaches are many things but they are not generally sandy, instead you will find that many of them are made of ground coral, or very small pebbles, and are surrounded by mangrove.
They even have small rocks that can you trip you up as you walk along.
Doesn't sound good?
Don't worry about it.
What they do have though is less crowds, and an increased feeling of intimacy than you would get from the beaches on the Floridian mainland.
In fact they are about our favourite beaches on earth, as they so eclectic and inspiring.
The majority of the best beaches in Key West are found on the south side of the island facing the Atlantic Ocean.
So the water is a bit chilly to be honest.
But if you don't fancy swimming, then I'm sure there are lots of things that can entice you to a visit to one of the Key West beaches listed below.
Check them all carefully to make sure you get the day at the beach that you and your family deserve.
---

For the most detailed information of the highest ranked Key West beaches, shown below then simply click on the images.
However, if you wish for a quick summary of the other best beaches in Key West, then read on further below for information on each.
---

Smathers Beach
Smathers Beach is definitely the largest of the Key West Beaches.
It runs over two miles along the southern shore, and best of all this is a sandy beach…..yaayyyyyy!!
But just to ruin the romance of it all, we can tell you that this isn't a case of nature providing what we want.
Instead similar to many of the beaches found in the Florida Keys , the sand is brought in by the authorities from the Bahamas for our enjoyment, and deposited in bulk for our sensitive feet to enjoy as we paddle, and play.
It's a shame that the authorities probably don't enjoy it as much as we do, as every two years they have to go and get another load of sand as the tropical storms blow it all away.
Although the beach is free to visit the parking and vendors aren't.
You will need lots of coins for all the beach venders that offer drinks, food, chairs and even rafts so you can enjoy the water without getting all cold and wet.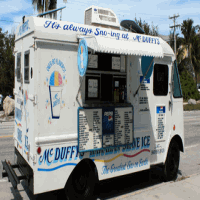 Anyone Fancy An Ice-Cream?
What sets this beach apart from the rest of the Key West beaches mentioned on this page, is the beach is great for kids since you can go out a long way into the water, wading comfortably without the worry of suddenly dropping into the depths.
Also there isn't a strong current causing an undertow to worry about either.
So if you are thinking of bringing your surfboard with you, then don't bother - You will find a bigger swell in your bath at night.
It's a tiny ripple upon the waters surface.
But when it comes to snorkelers then they have a nice little swimming area not a long way out, where they can get their heads under the water safely and have a good look around.
There are lots of parking spaces available, but if you want to park close-by you will need coins for the meters.
We recommend parking a short walk away where the parking is free.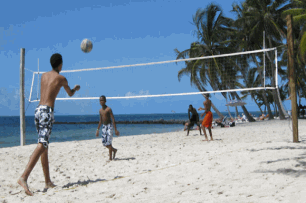 Key West Beaches Are Not Just About Relaxing You Know!
Smathers Beach has nicely kept restrooms, trails for cycling, benches to lay your picnic on, and if that isn't good enough you can rest whilst watching an energetic volleyball game, which is normally happening.
The beach is located off of south Roosevelt Blvd. and of course is just steps away from Key West international airport
Getting There: South Roosevelt Blvd,from the Key West airport to Bertha Street.
Activities: Parasailing, Kayaking, Swimming, tanning, volleyball, and water sport / beach sport rentals.
Description: A pretty public beach; several vendors rent water sports gear and beach chairs.
Useful information: Activities for young children and older children
Opening Hours: The beach is open sunrise to 11pm.

Read more detailed information on Smathers Beach here

Click Here For Google Maps Directions To Smathers Beach

---

Dog Beach
Dog Beach in Key West, Florida is an absolute favourite for dog lovers across the Florida Keys.
However it is apply named, so if you haven't got a four legged friend in tow, this small example of Key West beaches may not be one for you.
It is tiny really, about 20 feet across, and is rocky and slippery.
So although this won't bother Fido, who will have great time racing around in and out of the surf, you may struggle to match their speed and agility, as you find your way across the hazards.
Because of where this popular beach is located you will find quite a lot of seaweed washed ashore, which once again won't bother your dog in the slightest but may mean that you think twice about picking them up to put them back in the car.
But don't let this put you off, it is all about finding a fun and safe place for your dog to exercise, and this is the only one of all the Key West beaches that will allow that to happen.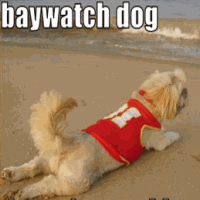 It's Not Just The Hoff That Can Do Baywatch!
Another great thing about this place, is once you have had the exercise you can pop over to Louie's backyard, which is right next door.
Louie's will have no issue with you bringing you dog to dine with you.
It's very laid back, but that is what Key West is all about.
Just one word of warning, make sure you know exactly where you are going, as there is no sign that says "Dog Beach"
There is however another one of the Florida Keys Beaches known as at Higgs Beach, which is known as the "Dog Beach Dog Park"
This is not the same thing at all.
Our recommendation is follow the map and look for Louie's, and you and your dog will have a great time here.
Description: The only dog allowing of the Key West Beaches.
Address: 700 Waddell Avenue, Key West, Florida Keys
Read more detailed information on Dog Beach In Key West
Click Here For Google Maps Directions To Dog Beach Key West
---

Did you know that like all beaches the Florida Keys have a code to tell you when you can swim or not?
Quite simply if you see a warning flag showing the following colours then take heed:
Double Red Lines = "No Swimming is allowed"
Yellow = Medium peril, moderate surf, and/or currents.
Green = Low peril, calm conditions, but still pay attention to danger.
Purple = Dangerous animals keep away from marine life
---

Higgs Beach
Higgs Beach is just up the road from the 2 miles stretch of sand that is Smathers Beach, the top rated one of the Key West Beaches.
So if this is just up the road from Mr "Numero Uno" aka Smathers, why would you want to visit here instead?
Well number one is the parking is free.
Actually....and keep this to yourself if you can, there a few places where you can park you car for free in key West too, which you can read about on our brilliant Park You Car For Free Page.
Just dont tell too many people..keep it between us ok?
It's really nice to know that you can just pull up in your car, hoist the family and gear into place and enjoy Key West beaches, without having to keep check of the meters (and have the necessary coins ready.)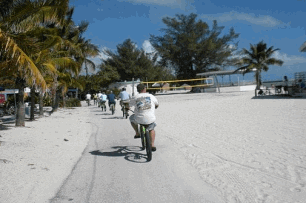 Don't Worry About Parking When
At Key West Beaches...Come On Your Bike
And I don't know about you, but the reason that I would make a visit to any of the Key West beaches is to have fun, and forget about all the hassles that normally follow you around.
Parking Meters = Annoyance!!
So that's the number one reason to visit Higgs Beach out of the way.
Number Two must be, that this is actually a really nice spot to spend the day, with the tropical feel that you want from a beach, with the coconut palms casting their long shadows across the sand.
It has all the necessary things that you would want from a beach such as restrooms, a restaurant, a pier, and picnic tables to spread out whatever feast you have brought with you or bought from the vendors along the beach.
Do beware though that at times it does seem to attract the homeless, who loiter around the place, watching the world go by or sleeping.
They never bothered us, but I know of some families that felt uncomfortable by their presence.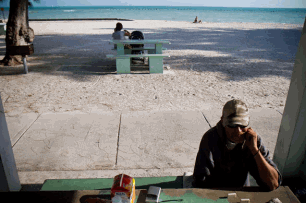 "Guess I Might As Well Sit Down For The Rest Of The Day"
If you do find that the heat becomes a bit of a problem even with the sea breezes blowing off the Atlantic, then a visit to West Martello Tower, can be a godsend.
Owned by the Key West Garden Club, West Martello Tower is a beautiful garden, full of incredible flowers and fauna, lovingly cared for by the members of the club just across the street from the beach.
Lastly, a children's playground is across the street, and there is even a park for the doggies to meet up with their doggy mates (not to be confused with Dog Beach mentioned above ).
Address: White Street & Atlantic Blvd, Key West, FL 33040


Read more detailed information on Higgs Beach here
Click Here For Google Maps Directions To Higgs Beach
---

South Beach
We better cut to the chase when it comes to South Beach.
If you are planning of spending a day on one of the Key West beaches, lounging on the sand, under a parasol or two then this is not the beach for you.
Try either Higgs Beach or Smathers that will be more in line to that kind of relaxing pastime.
If you do want to get away from the madness of Duval Street however, and get some great back to shore photos then this place is worth a visit.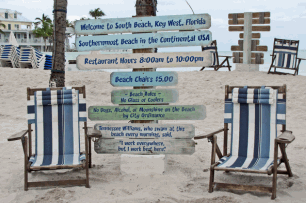 Ok,Ok, You Only Had To Tell Me Once!
It is is one of the designated Key West Beaches, but its really, really small, and quite often doesn't even appear on some of the tourist maps that you can get in Key West.
So the two main questions are:
How can you get there, and why would you go?
Let's deal with the first question.
Walk south down Duval Street, away from the busy end, and when you can't go any further then you are at South Beach.
You can't really go wrong, unless you have consumed a few Rum Runners in the Duval Street bars on the way.
Secondly, it's not what you would expect when visiting one of the Key West beaches as it is quite simply a very nice quiet area, surrounded by gorgeous Victorian inns such as the Southernmost House , that are classic and historic Key West through and through.
The only problem is they are classic, historic and expensive too.
I can't say that I have ever stayed within their confines as my budget is normally more Holiday Inn, than Victorian Inn, but I can but dream.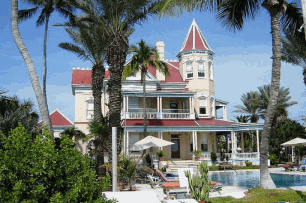 The Iconic Southernmost Inn
As you arrive you will see many of the inns have their own private Key West beaches, with people laying in secluded luxury as parasailers and windsurfers enjoy the waters in front of them.
I always like to wander out to the far end of the pier, that pokes itself into the Atlantic Ocean and then snap a few photos back to the shore.
The parking is free at the beach, but extremely limited, so I would srongly suggest taking a stroll down there instead.
It's a nice walk and there are always interesting things on Duval Street to stop and look at.
Once you feel you have had enough of it on the beach, there is a café right on the front that sells drinks and snacks, or you can spread a picnic out on the tables that are scattered across the area.
Lastly you can always spend a few minutes wandering around the Southernmost Point (dodging the tourists who seem to love to get a snap next to the large coloured buoy that promotes the point)

In summary South Beach is one of the Key West Beaches that is worth a look, to have something to do, more than making a big effort to visit.
I certainly wouldnt rank it up with the best Florida Keys beaches around.
Address: South end of Duval Street, Key West
Read more detailed information on South Beach Here
Click Here For Google Maps Directions To South Beach Key West
---

Rest Beach
Quite a bit of money has been spent over the last few years on this rather strange one of the Key West Beaches you can make your way to around the island.
If you are looking for it, then you might find that the locals either know it by Rest Beach or C.B Harveys.
So make sure you ask for both.
But really would I advise you to go down here with the family for the day?
Nah, not really, there are a lot better Key West beaches to spend sometime on.
Back in 1995, the local authorities spent some money on five picnic areas to spread out your snacks and enjoy the site.
But when I tell you that this small beach is only about 300 yards in length, then the picnic tables are a nice touch, but a bit overkill.
Certainly the beach appears to be a favorite with the dog lovers, as you will see more people walking along with an animal than anything else.
So I haven't really painted a hugely positive image of Rest beach for you, I know, I know.
But I was leading you into the main delight it can offer.
The sunrise.
It is in the morning when the place comes alive as it is a great place to watch the sunrise.
If you haven't been to bed yet (and in the island of Key West the crazy goings on that you can find happening within the bars of Duval Street quite often do not stop until around 4:00am) that's quite possible.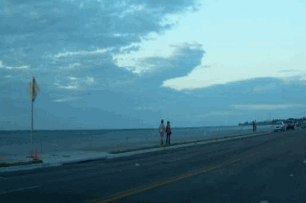 Getting Ready For The Greatest Free Show On Earth
Find yourself a space (which generally isn't too hard to do)lay down on a blanket and have yourself a little feast in front of one of nature's greatest spectacles.
Because of its view off the Atlantic Ocean, you will only see the sunrise here.
If you don't fancy getting up that early, then you can watch the sunset instead with the crowds that continue to form night after night at Mallory Square home of the Sunset Celebration.
Sound good?
You betcha, as it is something that you would never make the effort to do at home I imagine.
The last thing that I want to do is experience a sunrise at 4:00 in the morning when I am getting up for work in the next few hours, but really it is quite magical and you will be glad that you made the effort.
Also a nice touch is the yoga deck that has been built on the beach, with nightly classes being run by a local Key West group.
I have never joined in the slow stretching and relaxed looking groups, so I am not sure of the standard of the goings on.
But I imagine it must be pretty good as the company that run things have groups going all over America.
But I can supply the website address for yoga on the beach for you to contact and find out how to get involved.
And if you fancy just dropping in for a session then you can, but still best to check what time things are occurring.
---
Make Sure You Take A Look At This Nice Video
That Gives An Idea What To Expect At The Beach
---
The Road To Cuba
Rest beach is right next to the White Pier, which is known as the unfinished road to Cuba.
And believe me it's not hard to see why, as it is totally out of scale for probably one of the smallest of the Key West beaches .
Someone must have been on a Duval Crawl when they draw up the plans for this thing.
It's pure Key West madness!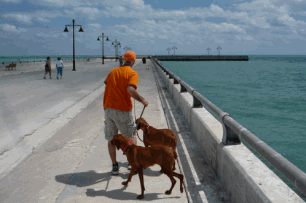 This Guy Ended Up In Cuba...Doggy Power!!
However, if you have time it's quite pleasant to walk along to the end and to take a few shots of the coastal view of Southern most areas of Key West, especially with a loved one, for a little bit of relaxed romance.
It gives you a kind of voyeurs perspective of what goes every day at our Key West Beaches.
But if you have kids or enjoy a little bit more to do then this beach is not for you.
Address: White Street, White Street Pier, Key West, FL
Phone: 305-292-8190


Click Here For Google Maps Directions To Rest Beach

---
Fort Zachary Taylor Beach
Many of the locals state Fort Zachary Taylor Beach as the only true beach out of all of the Key West beaches available.
It certainly ranks highly with visitors who come back time and time again for the easy to access snorkelling that the beach offers.
If truth be known it's not as easy to access as we just mentioned, unless of course you have armour plated feet. Robocop would love the place!
Fort Zachary Taylor Beach is one of the Florida Keys Beaches that is natural, as it is made up of ground coral, so if you want a vast expanse of white sand like the Bahamas this is not the place for you.
Look at our Key West Beaches information on Smathers beach instead.
However if you do want something 100% natural and are happy enough wearing water shoes or flip flops, then you can't do better.
Although we are not the best of divers or snorkelers (It had something do with watching Jaws for the first time) we have ventured out into the waters just of the shore of Fort Zachary Taylor Beach, and were pleasantly surprised.
It didn't take us long to see our first fish, and much to our delight two turtles straight out of Finding Nemo swam past us, and disappeared into the depths.
It has been known that you can see, dolphin, goliath grouper, barracuda, tarpon and other fish, but it does depend on what time of the year that you venture into the waters.
Fort Zach as it is known as locally, is actually a real life Fort and was in the past completely surrounded by water, as it stood proudly defending the United States from any one that fancied taking them on.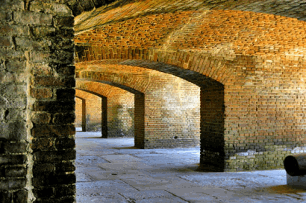 Enjoy The Cool Inside Fort Zachary Taylor
Guided tours occur at the fort daily at 12:00 noon.
As this is a state national park, you will have a ranger available to walk you around the structure as they explain its history from the year of starting its construction in 1845, through to its completion in 1866.
Its role in reducing the length of time that the Civil War was fought over is a fascinating highlight.
If you don't have the time, or just miss getting onto one of the tours run by the park rangers, then don't worry, you can can do a self-tour with a little book, and still get an insight into Fort Zachary Taylor's fascinating history.
And just the fact that there is a bit of history attached to the place, can be what separates Fort Zachary Taylor Beach from the rest of the Key West Beaches.
You can explore the fort, lay on the beach, have a picnic, venture out into the waters or even take a stroll around the two nature trails that wind through the area.
There are two trails, the Sand Hog Trail and the Fort View Trail.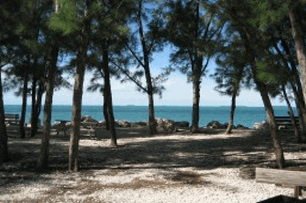 Escape The Beach With One Of Two Trails
That Wind Around Fort Zachary Taylor Beach
Both of them are not too arduous, and can possibly give you the chance to spot some extremely rare birds that are not normally seen in the United States.
All in all its not hard to see why this is the particular favourite of all Key West beaches by both visitors and locals combined.
Give it ago and have a great day.
Price: $1.50 for pedestrians and bikers; $3.50 for individual with car, $6 for two people with car, and $.50 each additional person in car.
Directions: Follow US 1 into Key West.
And then make a right turn whilst following the signs leading to the down town area of Key West.
You will do this by travelling the North Roosevelt Boulevard.
Be aware that at the point of Eisenhower Drive, the North Roosevelt Boulevard turns into Truman Avenue.
Keep going on Truman Avenue for one block, going past Duval Street until you arrive at Whitehead Street.
Make a right turn on Whitehead Street.
And now another four blocks to Southard Street.
Now you need to make a left turn Southard, and dive straight through the entrance which leads to the Truman Annex residential neighbourhood.
At the end of Southard turn left, following the signs to the park entrance.

Click Here For Google Maps To Fort Zachary Taylor Beach Key West
---
Geiger Key Beach
Ok not classed as a honest to god one of the Key West beaches that we should be writing about on this page, but it will be of interest to you if you are looking for a beach where you can let the wind blow around everything you've got. 
And you can do this over at Geiger Key Beach. 
Now this one is a little bit of a drive out of Key West, but it shouldn't take you too long to get there.
About 20 miles or so outside Key West, this little beach which took a hammering when Hurricane George blew into town, is clothing optional too.
At least the bit further on through the barricades is.
So with a Circle K just up the road to supply refreshments, and easy parking then this is a good place for a day away from both the crowds of Key West, and any items of clothing you fancy losing.
One warning though, other than the Circle K, there is nothing else here save the sand, a few trees and the isolation.
So make sure you bring anything that you would want for the day.
For driving instructions from any of the Key West beaches you have read about on this page to Geiger Beach then click here. 
---
---
Florida Keys > Keys Beaches > Beaches In Key West
Return To Top Of Key West Beaches
Home | Site Map | Contact Us | Privacy Policy
By David Ralph
Copyright © 2010-2017 whats-at-florida-keys.com