Dog Beach Key West The Only Dog Friendly Beach In Key West
Dog Beach is definitely not going to be one of the beaches that you seek out…well unless you have a dog that is.
The beach has many things going for it, or at least the area has, but the true delight will be to see the look on your furry friends face as they splash around happily in the surf.
They won't have done this anywhere else in Key West as this is the only beach in Key West where you can let them go unleashed and not get into trouble with the authorities.
And they will love the water, freedom and of course being around other dogs, which for any owner is good enough.
But away from the splashing, yapping, and general stick throwing type of beach trip there isn't much here to make you want to stay for hours
So what we will do is give you as much information about the area we can, and after focusing on the attraction of Dog Beach for you, we will let you know where you and Fido can go to explore, rest, or get something to drink or eat.
---
Where Is Dog Beach In Key West Then?
The quickest way to find the location of the beach is to look for Louie's Backyard, as there isn't any signage that states "Dog Beach This Way!"
This is really just a bit of sand close to the water at the end of the road.
If you ask anyone for the directions for the place, they might direct you to Higgs Beach Dog Park, but this is not that place.
So walk down Vernon Street or Waddell Avenue until you can't go any further, and you will find both Louie's and the beach.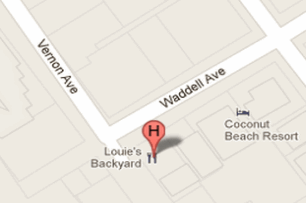 Click Image To Go Straight To Google Maps
---
What Is Dog Beach Really Like ?
Well the terrain is quite rocky, and very slippery, with both wet rocks and a huge amount of seaweed that gets washed up on the beach.
All around Key West they take a lot of time and effort cleaning up the beaches each morning, before the world starts to awake.
You will see tractors raking the Smathers beach sand and Higgs Beach if you are an early riser, or are coming back from a particularly late night.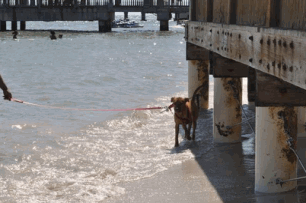 Come On Dad...Let Me Off The Lead!
Image courtesy of bringfido.com
But they don't seem to bother here, as it isn't that kind of beach.
But it won't bother your dog, if they are anything like the other animals running around the area.
The other thing that is worth mentioning is all animals should be cleaned up after by responsible owners, but some don't which means it can get a bit loaded up with "Dog Mess".
It isn't terrible, but is something to be aware off if you are fussy with your dog running around and stuff.
I would suggest taking a stroll down to the beach and checking it out, before letting the dog of the leash.
If you don't like the look of it, then stroll over to the dog park at Higgs Beach, which is maintained.
---
What Else Is There Around The Area To Do?
Well as we mentioned earlier you have Louie's backyard to stop and get something to eat and a drink, which is a nice place after the exertions of Dog Beach.
They do allow you to have your dog with you at lunch, but in the evening it's better to give them a quick call, (on the details at the bottom of the page) to check they aren't to busy.
Also you can wander further down the coast to Higgs Beach to explore their dog park.
This is about half a mile away, so will take you about ten minutes to walk down there.
Just go up Waddell Avenue, and turn right into Reynolds Street, until you see the Higgs Beach.
Easy walk and your dog will feel they are being really spoilt.
---
Address: Vernon St and Waddell Ave, Key West, FL 33040
Louies Backyard Address: 700 Waddell Avenue, Key West, Florida
Phone: (305) 294 1061
---
---
Florida Keys > Florida Keys Beaches > Dog Beach
Return To Top Of Dog Beach
Home | Site Map | Contact Us | Privacy Policy
By David Ralph
Copyright © 2010-2017 whats-at-florida-keys.com