Smathers Beach In Key West Florida Keys
Smathers Beach is without doubt the number one free, public beach in Key West.
This is the beach that is the most like the kind of beach that you hope for when visiting the Florida Keys.
It has sand for a start (which we will talk more about later on), it has activities, and it has a good range of companies and restaurants nearby,  just in case you get a little bit bored of your time at the beach.
But we will start I guess, by telling you exactly where you can locate Smathers Beach.
And if you are coming into Key West by plane, then you won't have too far to go either.
If you know anything about Key West you will know that on one side is the Gulf of Mexico, whilst on the other side is the Atlantic Ocean.
The beach is to be found on this side, by the Atlantic Ocean, and is just a short trip down South Roosevelt Boulevard from Key West International Airport.
Or I suppose more useful will be directions from Duval Street the most popular street in Key West.
So we will tell you how to get there from here, as to be honest who gets off a plane and goes straight to the beach anyway?
---
Directions
Head northeast on South Street towards Simons Street.
Then turn right onto Reynolds Street
Take the 3rd left onto Flagler Avenue
Turn right onto Bertha Street
Continue on South Roosevelt Boulevard
The whole journey will take you about 2 miles, so definitely the best thing will be to jump in a taxi, or on a bike if you are more energetic, although there is metered parking nearby if you have your own car whilst visiting Key West.
Map Showing The Location Of This Key West Beach
---
What is Smathers Beach Like Then?
Well as we said previously, unlike most beaches in the Florida Keys, this one is very nice and sandy.
At a length of over two miles long, and only forty yards at its widest point from shoreline and curb it is perfect for an early morning jog.
As the waves lap back and forth, and crowds of spring breakers, who parade up and down in the tiniest of costumes, enjoy themselves it certainly has a fun atmosphere.
Video Courtesy Of  fehquig's Youtube Channel
But don't think that the sand is a natural feature of Smathers Beach, as the local authorities spend a huge amount of money importing the sand in every two year
Just recently the beach received 11,600 tons of fresh sand, shipped in from the Caribbean at a cost of $880,000.
You might be wondering why they would do such a thing, but you see the beaches around the Florida Key are generally made up of tiny bits of crushed coral, and stones, which is not great on your feet.
Also the beach is prone to the tidal currents, so the majority of these improvements will be washed away within a couple of years.
Actually if you happen to be out and about at sunrise each morning, perhaps wandirng back from one of the late night drinking haunts, you will see the tractors raking the beach and getting it all nice for that day's activities.
But for now, you will be guaranteed a clean, sandy beach, which is great for the visitors and even better for your sensitive feet.
---
So There Is Sand At Smathers Beach, But What Else Is There?
Well if you like watersports then there is a great company offering loads of different activities that will thrill you, get you very wet, and make the hours fly past.
You can buy a pass for the day (which at the time of writing is $69 online) which will give you great savings to things like Hobie Cat Sail Boats, Windsurfers, Paddle Boards, kayaks, Sun Fish Sail Boats, Floats and one Parasail ride so you will fly high over the Key West Beach - Smathers Beach.
This is a great deal and will save you a fortune on hiring the devices individually.
But perhaps you do not fancy the idea of flying high above Smathers Beach or being plunged into the waters off shore, then read on, because I'm Sure we can find something that will appeal.
As the city make sure that there are three volleyball nets in position, so bring a ball and you will more often than not be able to get a quick five a side game going with other beach visitors.
But of you don't fancy the energetic stuff, then why not bring a picnic and make use of the picnic tables that you will find across Smathers Beach.
The last ting to say that the authorities also maintain bathrooms and showers on the beach, which last time I visited were surprisingly clean.
Not of course like you showers at home, but still ok for cleaning all the sand of yourself before making your way back to you hotel or apartment.
---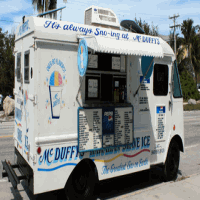 Is There Anywhere To Eat Other Than Bringing A Picnic?
Of course you can bring your own food which is the cheapest way of doing things.
Who doesn't love a warm and curly, sand filled sandwich after all?
But just for the moment, let's lose control of our senses, and pretend we fancy eating something else instead.
Well down at Smathers Beach, you have options ranging from the expensive, to the down right cheap.
From street side vendors, to restaurants that will have you chilled out before you get a chance to sip on your first fruit cocktail.
The list below are not ordered in any preference, but gives you a great overview of what you have on offer.
All of them will be on South Roosevelt Boulevard or at least close by, so you will have plenty of chance to have something to eat and then get back to Smathers Beach if you choose.   
Closeby Eating Places And Food Sellers
| | | | |
| --- | --- | --- | --- |
| Smathers Beach Food Cart | Palm Haven Key West | Benihana Key West | |
---
Are There Any Bad Things About Visiting Smathers Beach?
It has been known by many in the past to be somewhere to miss when visiting Key West.
And the reason for this?
Because of the way the tide flows, seaweed, and a lot of it can get washed up and deposited in huge green piles all over the beach.
Certainly this was a big problem, especially after the hurricanes hit the areas.  
And it wasn't just the sight, but the smell became a bit...... noticeable to say the least. 
But really the local authorities have done a lot of work to clear this up, and I certainly haven't noticed the smell to be anything other than what you would expect being down at the ocean the last few times I have been there. 
And as we said earlier, if you are up early enough then you will see the efforts being made to clean up the beaches before the day starts, and people start rolling up their towels and heading down to the beach.  
The other comments have been about hobos and down and outs frequenting the area. 
This does happen of course, but once again I haven't seen it as much as problem.
It certainly happens more often down at Higgs Beach.
---
So now you know what is at Smathers Beach, then you will be in the perfect position to decide if it is something that you fancy taking the family. 
I think it is fine as a beach.
Not amazing like Bahia Honda or some of the large beaches up on the mainland in Miami, but a good one after all is said and done.
For other information on the beach you can either click through to the official Key West City page on the beach or perhaps other peoples views on Trip advisor maybe your thing so simply click here
---
---
Florida Keys > Florida Keys Beaches > Smathers Beach
Return To Top Of Smathers Beach
Home | Site Map | Contact Us | Privacy Policy
By David Ralph
Copyright © 2010-2017 whats-at-florida-keys.com