Florida Keys Taxi Getting Shouldn't Be .......Well, Taxing!!
If you want a Florida Keys Taxi, then you have to be sure that it is the best option for you.
The thing is, a taxi in Key West to Key Largo are made for the short trip.
So if you plan to travel longer distances then you may find that Renting A Car might just be your cheaper option.
When you are in Key West the fares are governed by the city, so you will be charged what is reported in the image below.
However, once you leave the Key West area it is advisable to get a fixed price from your cabbie before undertaking the journey.
The last thing you want is a relaxing journey in the back of the taxi, and then being hit with a bill of hundreds of dollars.
And believe me this has happened before, to a few people, so always arrange the price before setting off and then you can easily enjoy the Florida Keys as they pass by your windows.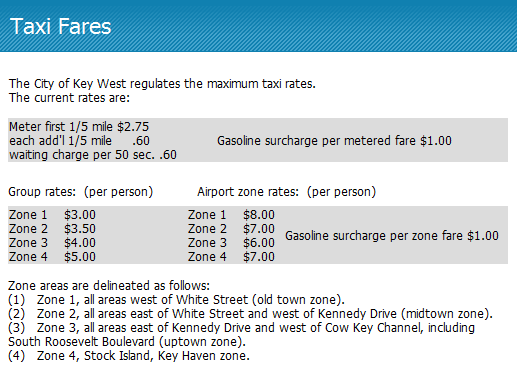 If you do want a taxi then the following list are what we would call the most reliable and cost effective.

Upper Keys
Key Largo Cabs
(305) 451-9700 or (305) 852-8888
Mom's Taxi
(305) 852-7999 or (305) 453-4049
---
Middle Keys (Marathon)
Action Taxi
(305) 743-0077
On Time Taxi
(305) 289-5656
Friendly Cab Company
(305) 289-5454
---
Lower Keys
Sugarloaf Key Taxi
(305) 745-2319
Sunset Taxi
(305) 872-4233
---
Other Key West Taxis
A Airport Cab Company
(305) 292-1111
Five 6's Cab Company
This company have gone "green" with hybrids
(305) 296-6666
Friendly Cab Company
(305) 295-5555
---
---
Florida Keys > Getting To The Florida Keys > Florida Keys Taxi
Return To Top Of Florida Keys Taxi
Home | Site Map | Contact Us | Privacy Policy
By David Ralph
Copyright © 2010-2017 whats-at-florida-keys.com