South Beach Key West
A Lovely Little
Key West Beach To Chill!
South Beach in Key West can be found, funnily enough down near the Southernmost marker of Key West.
This is the area of Key West, that due to its close to proximity to Cuba, and its greatest distance away from the mainland of America, will generally have more tourists wandering around than the locals.
But don't think that due to that reason, and that reason alone, you should leave this little beach alone.
Because it certainly has enough to appeal to many visitors.
Especially those that have small kids, due to the shallowness of the waters here.
So let's start with telling you where South Beach can be pinpointed, and then I will add bits and pieces that I think you could do with knowing, such as parking, restaurants, and hire charges for the day.
---
Where Can South Beach Be Found?
Well as we mentioned earlier the beach can be found down in the area where everything is called "South" this and "South" that.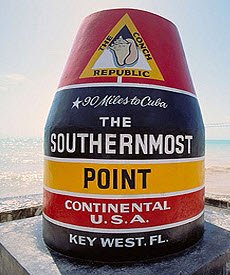 So the quickest way to get here is stroll all the way down Duval Street or one of the parallel roads such as Simonton Street.
You can't really go wrong, but if you get confused just ask someone for directions to the Southernmost Marker buoy.  
This is the multi coloured barrel that is the iconic image for Key West, and represents the furthest south you can go in America.
And then when you are in the area the beach is between the Southernmost House and The Southernmost hotel, so it's hard not to find it.
Click Here To Go Straight To Google Maps
---
What Is At South Beach To Make Me Visit?
Well if you want to do water sports, and beach games you would be better to pop along to either Higgs Beach or the two mile long Smathers beach that can cater for such activities better than this one can.
Down here it is more about relaxing, playing and swimming in the unbelievably clear water, and simply watching the world go by.
And at this part of town there is a lot of the world going by too.
You can just lay a towel down on the sand and your set to go, of if you don't fancy that then you can rent a deckchair for the day for around $5 each which is great value.
Little kids will particularly like the beach, as for a start the sand is nice and soft unlike the majority of beaches that you will visit in the whole of the Florida Keys which can ge very sharp and rough on your feet.
And the water is really shallow, so you can wade out a long way without getting out of your depth.
Which is great, as this allows parents to relax a little as their kids play in the waters, as safely as you could hope for.
---
What Is Parking Like At The Beach?
Like all areas of Key West, parking can be a bit of a pain. There are a few spaces close to the beach but you will be lucky if you can get them.
I would strongly suggest taking a stroll down here if you can, or if you have a hotel with a parking space provided (which not all of them do) then use that for parking.
If however you do want to get as close as you can then read more on our guide to parking and beating parking issues in Key West here.
---
What About Eating And Drinking At The Beach?
If you do want refreshments then you have a choice of the two water fountains on the beach to drink from, pop over to the café on the beach, or buy from the chaps that rent the deckchairs and provide things like frozen towels to cool you down.
They do a good range of frozen drinks, smoothies and frozen pineapple chunks which are very refreshing.
If you do decide to be really extravagant (and they are still quite reasonable) and hire a sun bed then you will get these frozen refreshments for free, which is a surprise in Key West, as free is not a word you see too often.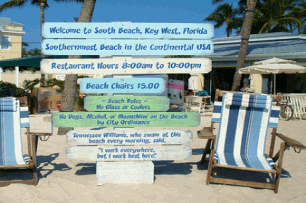 Other than that there isn't much going on here.
But that is the beauty of the place. You will most definitely chill out, which bear in mind you will probably be on vacation is exactly what we all need before going home to all our hassles again.
The last thing to say is the beach has no restrooms or facilities which might be a problem, although as long as you don't make a nuisance of yourself I wouldn't think that the bar would stop you using their's.
---
Is There Anything Else I Should Know About The Place?
I suppose it isn't really about a day out at the beach, but will certainly occur late at night or in the early hours of the morning.
South Beach is right at the end of Duval Street, and as you know if you have visited before…..or have read our excellent information on Key West, is THE place to go for bars and clubs.
So it might seem like a nice place to stop early in the morning with a cold beer still in your hand, after doing the world famous Duval Crawl of the bars and clubs, but they do keep a close eye out for drinking on the beach, and they could fine you for breaking the laws if they find you there.
It shouldn't be a problem, and to be honest after drinking all night, the last thing you will remember is reading this webpage, but still we told you!
I suppose the best thing about the beach is if you come for the day or just for a quick paddle in the water then you can tell all your friends that you have been on the most southerly beach in the whole of America.
Which if nothing else makes it worth a visit I suppose. 
Address: Southerly end of Duval Street, Key West
---

For other views on this little beach down in Key West then simply click here for Tripadvisors reviews.
Florida Keys > Florida Keys Beaches > South Beach
Return To Top Of South Beach
Home | Site Map | Contact Us | Privacy Policy
By David Ralph
Copyright © 2010-2017 whats-at-florida-keys.com