Crowne Plaza Key West
La Concha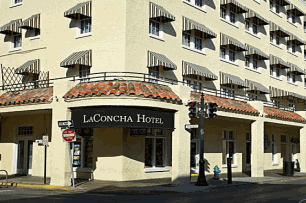 La Concha in Duval Street means fun, nightlife and people watching, and you can't really do better than staying at one of the most popular hotels in Key West Florida.
This is not only the tallest building in Key West, but it is also pretty much bang in the centre of Duval Street.

Since 1926, the hotel has been one of those places that have attracted luminaries of note with the force of a light bulb to a moth.
Many of those people who seem to burn more brightly in their creativity or just desire for a little excitement have laid their head down in the La Concha.
Royalty, Presidents, through to authors and movie stars have stayed, with Ernest Hemingway actually mentioning the hotel in one of his novels.
Not to be outdone by this, it is often mentioned (although we are not sure that it is true) that Tennessee Williams finished A Streetcar Named Desire whilst a resident.
Over the years, in the same way that a natural change has occurred to Key West, the hotel has undergone many changes, renovations and touch ups, leaving the 150 rooms and 10 suites with a casual, but elegant feel.
The rooms are mainly decorated in a 1920's style, which really gives it a "coolness" which is memorable, against the standard Holiday Inn type franchise's that are common place across America.
Each have wicker chairs, poster beds, floral bedspreads, and of course antique furniture art deco style.
A lot of hotels you have to request a view, but at La Conch many of the rooms look out across Duval Street or the pool terrace.
The large pool set amid lush island foliage, features a multilevel sundeck and tiki bar serving snacks and of course drinks….. rum runner anyone?
Probably the best thing, at least the bit that you must try out is the observation deck on the seventh floor, which gives the best views of Key West without a doubt.
You can stand up there and just savour the sunsets night after night, without getting trampled as can happen down Mallory Square.
And of course as this is Key West, a bar will be right by your side to supply you with refreshing drinks as you think to yourself "Why did we take so long to visit the Florida Keys?"
After you get your bearings looking down upon Key West, then at the bottom the Old Town Trolley Tours use the hotel as one of their stops, which is very convenient.
Also the Ghost Tours of Key West do the same, and leave on their spooky walks from the lobby each evening.
Address: 430 Duval Street, Key West
---

Check Now For Availability And Prices
Florida Keys > Florida Keys Hotels > La Concha
Return To Top Of La Concha
Home | Site Map | Contact Us | Privacy Policy
By David Ralph
Copyright © 2010-2017 whats-at-florida-keys.com