Boat Rental In The Florida Keys Can Make Your
Fishy Dreams Come True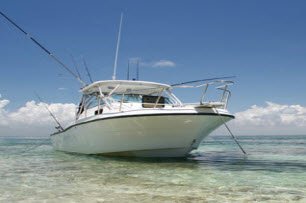 Boat Rental in the Florida Keys can save you hours of frustration.
Unless you have experience of the Florida Keys water you should really think of booking a private charter who can take the stress and disappointment out of your day on the water, and leave you celebrating the success of catching possibly the biggest fish you have ever seen.
All around the waters of the Keys and particularly at Bud N Marys in Islamorada you will find Captains and guides with generations of experience.
These charters usually accommodate six anglers and though they might seem expensive, they will provide you with everything you need to be put right on top of where the fish are.
Think about it.
Take the cost of the daily charge and either split it with mates or perhaps join forces with another group of eager anglers and it really is quite cost effective.
But if you don't want to pay limousine prices, the other thing you can do is forget having the Boat Rental all to yourself and hire a party boat (or aka Head Boat).
These are large vessels which can cater for as many as 50 or more anglers, and usually will take the anglers to the reef for bottom fishing.
These are obviously not as laser targeted to where the fish are, but will still you give a chance to throw your line overboard and fish for Snapper, Grouper and their mates.
Whilst the captain is steering the boat, their mates will mill around answering questions, helping out and generally being at your beck and call.
Think of the party Boat as a commuter bus to first stop "FishVille."
It may not be exactly what you want but for around $40 per day (everything included), it remains the most effective and economical way of fishing offshore.
---
Guide And Charters
If it is the idea of a boat rental that excites you, then the Florida Keys has guides that are the most knowledgeable in the world, and will navigate a course around the flat, bluewater or back country on your behalf.
The Captains are all licensed and maintain safe government regulated vessels.
The beauty of hiring a guide is that a novice angler doesn't have to learn about what is happening under the water ie the fishes habits.
This is what you pay the guide to know...and man, do they know it.
You won't waste a minute of your day just dangling your rod into empty water.
We do recommend booking a guide or arranging your boat rental as you know that you are travelling down to the Florida Keys, as these guys are busy.
Especially at the times of the year when the Tarpon are in full flow, around May and June.
Of course holidays are popular too, so Christmas and New Year get full quite quickly.
---
Bluewater or Offshore Fishing Charters
Generally these can cater for up to six anglers.
The Captain of the boat and his mate will take you out to their secret spot.
The place that they have had most success at catching fish over the years.
This can be up to 26 miles offshore, which of course takes a little while to get there, so every now and again the mate will throw live bait into the water to lure the fish to you.
Big Game fish and dolphin are found by "Trolling".
These is when the anglers leave the search up to the Captain and his mate, who will move the boat around looking for clues to where the fish are, then then move in and shout the words that you will have been waiting for
"Fish On!!!"
Drop your beers, grab you rods and start fishing.
---
Flat Fishing or Backcountry angling
These guides will normally keep to two anglers per flatboat.
The flatboats measure 16 to 18 feet and the guides will pole the boat across the shallow water looking for clues as to where the fish are, from atop the poling platform.
This takes skill and attention, and is a totally different fishing experience to the offshore fishing.
If you are planning this type of fishing for your boat rentals, make sure you take plenty of sunscreen, or at least a hat and sunglasses, as they have no shade at all.
And they also have no toilets, in fact they are very basic.
If you have a weak bladder check with the guides before leaving as some of them are happy for you to make a quick detour and others are not.
It is customary to tip the guides between 10 and 15 percent in cash once your trip has finished.
---
Booking
Establishments acting as booking services for the boat rental will ask you many questions to find out your exact requirements.
They then go off and find the guide and charter that is the perfect one for you.
So whether you are going to go fishing in the backcountry or bluewater, make sure that you have a think before calling.
Cancellation policies vary from year to year, so be sure to inquire about procedures and penalties before you arrange your boat rental.
The following lists are what we would recommend as being about the best in the Florida Keys, and all will be able to advise of an experienced guide or charter to take you out on the water.
---
Upper Keys
Bud N' Mary's Fishing Marina

MM 79.8 Oceanside, Islamorada
(305) 664-2461 or (800) 742-7945


Robbie's Marina Islamorada

77522 B. Overseas Highway, Islamorada, FL 33036-3813
(305) 664-9814


Bay And Reef Company
MM 82 Oceanside, Islamorada
(305) 393 1779
www.bayandreef.com


Whale Harbor Dock And Marina
MM 81.9 Oceanside, Islamorada
(305) 664-9888
www.whaleharborcharters.com


World Wide Sportsman Inc
MM 81.5 Bayside, Islamorada
(305) 664-4615 or (800) 227-7776
www.basspro.com


Sandy Moret's FLorida Keys Outfitters
MM 81.2 Oceanside, Islamorada
(305) 664-5423
www.floridakeysoutfitters.com
Middle Keys

Captain Hook's Marina
MM 53 Oceanside, Marathon
(305) 743-2444 or (800) 278-4665
www.captainhooks.com


World Class Angler
MM 49 Bayside, Marathon
(305) 743-6139
www.worldclassangler.com
Lower Keys

Strike Zone Charters
MM 29.5 Bayside, Big Pine Key
(305) 872-9863 or (800) 654-9560
www.strikezonecharters.com
---
---
Florida Keys > Getting To The Florida Keys > Boat Rentals
Return To Top Of Boat Rentals
Home | Site Map | Contact Us | Privacy Policy
By David Ralph
Copyright © 2010-2017 whats-at-florida-keys.com