Oasis Guesthouse On
Fleming Street Key West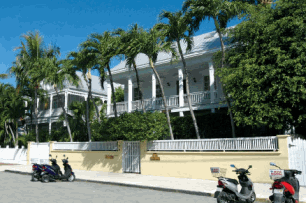 The Oasis in Key West is definitely all-male.
Spread over three houses (Main, Lopez and Margaret Houses), the properties have sat in their current location since 1884, when it was first built in its Bahamian style as a family home.
However it wasn't until 1978 when it was converted into its current status as a guesthouse and one of the premier gay hotels in Key West.
And it's not a surprise that it has been billed as all-male only, when you only have to spend a few minutes sitting on the lovely front porch veranda, to see that its location on Fleming Street, is one of Key West's most famous gay thoroughfares.
Since 1997 when it undertook a complete renovation the Oasis now has 20 rooms ranging from the basic to the WOW!!
Yes the suites in the Oasis Key West have private sundecks, for the opportunity to get the all over tan that many people return from Key West with.
The resort has a wonderfully constructed pool, a hot tub, and just imagine a jacuzzi that is so large that 24 male adults can comfortably be seated.
This is the largest jacuzzi in South Florida.
It useful to note, so you don't get delayed when visiting that all guests to this Key West hotel check in at the Main House on Fleming Street.
I'm sure if you went to either Lopez or Margaret House they will point you in the right direction, but knowing this will save you sometime.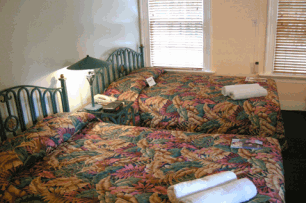 The standard rooms generally have one queen-size bed or two double beds, whilst the rooms that step out on to the poolside or more expensive so have larger facilities.
The poolside rooms have queen-sized beds and living rooms too, which sounds great until you see what the penthouse have.
As you would expect from anything with the word "Penthouse" attached you are getting the best that is on offer.
So I won't let you dream if you can't afford it, and if you can afford it it won't be too much of shock what you will get...if you get my logic.
If you do want to get the all over tan, you can rest assured that although you may not get your private deck, the pool and sundecks are clothing optional.
Amenities Include:
You can rent a bike
Get your washing done...you are on vacation after all.
Suntan Product and gifts for Sale
Honors Bars selling good range of beers
Plentiful supply of Soda and Water served in bars
Jacuzzi for up to twenty four men
Swimming pool that is heated
Each room has a safe built into the rooms
Telephones in each of the rooms with Data Ports
A huge and generous Continental Breakfast
Cocktails such as Rum Runners Served By The Poolside Daily 3-4PM
Early Evening Wine & Hors D' served 6 -7:30PM
FREE Wireless Internet Access
Address: 822 and 823 Flemin Street, Key West, Florida Keys
Phone: (305) 296-2131 or (800) 362-7477 


View Larger Map
Florida Keys > Florida Keys Hotels > Oasis




Return To Top Of Oasis




Home | Site Map | Contact Us | Privacy Policy




By David Ralph
Copyright © 2010-2017 whats-at-florida-keys.com