Gay Friendly Hotels In Key West And The Florida Keys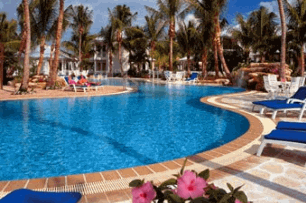 The Florida Keys can definitely call themselves gay friendly.
For over 50 years Key West and the Florida Keys have prided themselves as being a safe haven for people to be who they want to be.
A place where you can walk hand in hand with the person that you love and care for no matter what sex they maybe.
In fact you will struggle to find a "closet" anywhere, with the streets and clubs openly accepting and embracing the gay way of life.
So what is it about Key West that has made it so gay friendly?
Why has it become a gay mecca in America?
Well, of course when you can walk around literally all year round in shorts and t-shirts it will naturally make you feel relaxed and at peace.
Add to that a Rum Runner cocktail or two, intoxicating music and nightlife and you then have all the ingredients to allow yourself to feel free.
Many gay actors, writers, showmen, politicians have been drawn to Key West over the years and many have stayed.
Putting down their roots and becoming "Conch" through and through.
So could you be the next person to be drawn to the islands that call themselves the Florida Keys?
Well lets start by giving you a taster and showing you the best and most popular gay friendly hotels in Key West and the Florida Keys.
Some on the list are female or male only, whilst others invite all and sundry whatever your sexuality.
We will be adding more so make sure you check back often.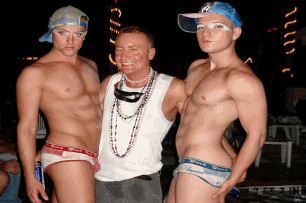 ---
Where are the hotels to be found?
Well the gay friendly hotels in Key West are many located on Fleming Street and Duval Street, which makes it perfect for crazy nights hitting theDuval Street night-life that Key West is known for.
But dont worry, about having some noisy club banging away until the small hours two inches away from your pillow.
You will be surprised how intimate and secluded the accommodation can be, even though you are on the doorstep of where you would want to be.
It's perfect.
You really have a huge amount of choices with guesthouses, inns, bed and breakfasts and even villas and apartments that can be rented out.
Renting can be quite cost effective if there are a few of you enjoying the Florida Keys at the same time, so don't think that your budget wont stretch to something that may seem out of reach to many people.
We have grouped the listing by area, with of course Key West kicking it all off.
---

Alexanders Guesthouse, 118 Fleming Street, Key West
Alexanders in Key West is a truly lovely turn of the century property.
Built in the style that can only be described as pure "Conch" it has gone through several changes and refurbishments over the years, with an additional two stories added.
Alexander is both gay owned and also 100% gay friendly, which makes it a regular on the top rated gay hotels and bed and breakfasts in Key West

Big Rubys Guesthouse,409 Applerouth Lane, Key West
Big Rubys started its life not as a premier gay hotel, but instead the home of a former sea captain.
It is designed in a New England style of architecture, and sitting in the middle of a lush exotic garden it can only be described as one thing - Welcoming
So read more on this gay friendly hotel on Applerouth Lane in Key West and I'm sure that you will visit a place that will become one of your firm favourites for years to come.

Pearls Rainbow, 525 United Street, Key West
Many of the hotels and guest-houses in the Duval Street area of Key West have the "Gay Friendly" title, but this is just one of a handful of lesbian only places.
Pearls Rainbow has been run by lesbians for lesbians for many years, and it is a delightful place where women from across the globe can come and relax and enjoy the best that Key West can offer.
The hotel features 38 rooms, two hot tubs, and two clothing optional swimming pools. Read More..... 

Tropical Inn 812 Duval Street, Key West
The Tropical Inn in Key West could not be based in a better position.
If you want the best that Duval Street can offer, and like nothing better than being in the hub of all the activities then the Tropical Inn is a place worth a better look.
Just where you would want to be, so you can stroll to whatever attractions have grabbed your fancy.
And more importantly stroll back to your bed with minimum fuss.

Oasis 822 and 823 Fleming Street, Key West
The Oasis in Key West has sat in its prime location in Key West since 1884.
It started as a family home, which is actually made up of three individual houses, and remained that way for nearly a hundred years until in 1978 it was converted to its current state.
The Oasis is certainly one of the premier Gay Hotels in Key West and therefore early booking is certainly advised. Read More..... 
---
---
Florida Keys > Gay > Gay Friendly Hotels
Return To Top Of Gay Friendly
Home | Site Map | Contact Us | Privacy Policy
By David Ralph
Copyright © 2010-2017 whats-at-florida-keys.com