Naturist Hotels In Key West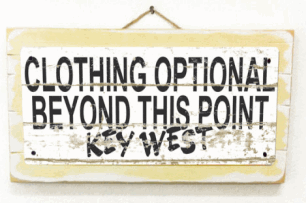 Naturist Hotels are getting more and more popular in the Florida Keys, which might surprise many of you reading this page.

The thought of going nude whilst on holiday might fill many people with dread, but there is an ever growing army of naturist loving vacationers that are actively seeking out clothing optional locations.
And Naturist Hotels are like the holy grail to the nudists who are looking to vacation at America's Southernmost point, but they are quite hard to find.

So the following list is the definitive (at least as far as we can find out) list of Naturist Hotels in Key West, but if you know any that aren't listed then please let us know and we will add them on for you.

But let's start with a little bit about the southernmost point which will help you to decide if a naturist hotel down here will give you the greatest vacation that you can possibly have.
---
What Does Key West Have That Means You Should Book One Of Their Naturist Hotels?

When you visit Key West, the first thing that will strike you is the crazy, uninhibited and liberating atmosphere, that flows from the beaches, through the bars and nightclubs, down to the hotels and then streets.

It is not uncommon especially around the time of FantasyFest which occurs in October, when you will literally be up to your eyes in bare, (although painted to hide the fact that they are out and about) ladies breasts.

The festival has body painting experts plying their trade in many of the bars and nightclubs, to allow the "exhibitionists" to walk the street of Key West freely.

However that doesn't mean that you can go anywhere without any clothes, but you can certainly spend most of your day naked by visiting the few beaches that allow you to remove your clothing, and then in the evening head over to the premier clothing optional bar Garden of Eden In Key West.

Do your investigation with the best day and night activities in Key West that you will see on this page, but take the greatest bit of advice I can give you into account too........
The hub of activities occur around Duval Street with all the bars and nightclubs going on until the early hours.
It is possible to drink pretty much 24 hours a day if you know where to look, which means there are a lot of drunk revelers milling around this area throughout the night.
So look at the list of Naturist Hotels and start with the ones furthest away from Duval Street if you fancy a good nights kip each night.
---
The Best Day & Night Activities In Key West
---
Naturist Hotels And Clothing Optional Inns
Well the list below is the best that we can find of the naturist hotels that have sunning decks, pools and hidden courtyards and balconies whereby you can whip off everything to get your all over tan.
If you know of any others that we are not aware of them please drop us a line and we will be happy to add them to our information.

---

Island House
Address: 1129 Fleming Street, Key West
Phone: (305) 294 6284
Island House is an all-male clothing optional resort in Key West, which is fun for all who decide to stay here. Certainly many visitors decide to never go anywhere at all, and leave Key West as a tantalizing life outside of the Island House bubble.
The staff are extremely attentive, as to hygiene issues that you might expect from Naturist Hotels such as this. Good location, very high standard of amenities inc gym, pool, mist-cooled sun deck, good food, friendly staff who are super helpful, free drinks 5.30-7 every day, sauna, steam and video rooms.
Check Availability And Room Rates
---

Marrero's Guest Mansion
Address: 410 Fleming Street, Key West
Phone: (305) 294-6977
When you make a reservation at Marrero's in Key West don't be surprised if you spend the evening with an unexpected and ghostly guest.
The place is rumoured to be haunted by the wife of the original owner, who fancied hanging around for longer than expected. And who can blame her doing that at this lovely old Victorian mansion.
Check Availability And Room Rates 
---

New Orleans Key West
Address: 724 Duval Street 2nd Floor Key West
Phone: (305) 293-9800
The New Orleans in Key West, is a prime location for lovers of crazy and loud fun. Situated on the world famous Duval Street, the hotel is just minutes walk from the Key West lighthouse, and the home of Ernest Hemingway.
With full kitchen facilities in each room as well as an onsite restaurant  onsite bar, and many of Key Wests finest restaurants nearby, you cannot do much better whilst you vacation at the Southernmost point 
Check Availability And Room Rates
---

Knowles House Inn Bed & Breakfast
Address: 1004 Eaton Street Key West
Phone: (305) 296-8132
This Key West bed and breakfast is just outside the city centre and will take about a 20 minute walk, so a taxi might be best. 
The rooms are very comfortable however, and with free WI-FI, jacuzzi, outdoor pool, and the tropic cinema of Key West right on your doorstep (well a big door step......its a ten minute stroll) you will have plenty of things to allow you to simply relax. Which is what a vacation is all about after all. 
Check Availability And Room Rates
---

Pearls Rainbow
Address: 525 United St Key West
Phone: (305) 292-1450
Pearls in Key West has been a staple of the clothing optional naturist hotels for years.
With a service that includes gym, swimming pool, jacuzzi  spa bath, massage, and outdoor pool, you will have many opportunities to strip down to nothing.
Nicely located in the quieter area of Key West, this hotel is well worth taking a look at.
Check Availability And Room Rates  
---

La-Te-Da
Address: La-Te-Da 1125 Duval St Key West
Phone: (305) 296-6706
This hotel has been one of the most famous and vibrant for over 30 years. Part bar, part, restaurant  part hotel, you will certainly know that you have stayed at one of the most iconic hotels in the southernmost point of America.
With the choice of luxury, deluxe or standard rooms it is well worth spending a few more dollars to really savour the opulence that the La Te Da do so well.
Check Availability And Room Rates  
---

Pilot House
Address: 414 Simonton St, Key West

Phone: (305) 293-6600
This is a lovely and quite charming 19th century bed and breakfast smack bang in the middle of Key West's old town.
With 14 suites, with fully equipped kitchens, air conditioning, colour tv, and a lush and tropical styled garden providing increased levels of privacy, you can be clothing optional in an outstanding property that fully deserves to be one of the best naturist hotels in Key West.
Check Availability And Room Rates
---

Big Rubys
Address: 409 Applerouth Lane, Key West
Phone: (305) 296-2323
The tropical foliage that has been lovingly planted around this, one of the Naturist Hotels in Key West, gives the place a lovely laid back feel.
Laying on an inflatable matters whilst gently floating across the lagoon pool, you could be anywhere on earth. Its a great place to relax ready to hit the bars and clubs that evening.
Read More On This Clothing Optional Hotel
---

Oasis
Address: 823 Fleming St, Key West

Phone: (305) 296-2131
The Oasis has recently changed its name to Fleming Bed and Breakfast, but don't let that put you off. The service, and quality hasn't changed over the years. With a complete refurbishment planned for late 2012, the place is actively looking for new customers, and with a location such as Fleming Street it will get quite a few I imagine.
So walk over to Duval Street enjoy yourself, and then six minutes later you can back in bed, in a nice quiet room. Perfect.
Check Availability And Room Rates
---

Equator Resort
Address: 818 Fleming Street, Key West
Phone: (305) 294 7775
This hotel has a lot to offer from free parking (which is always nice) to WIFI, sun decks, Continental breakfast each morning and a really relaxed attitude to being clothing optional.
All the rooms have TV's, CD, VCR's and other mod cons that will make your stay in Key West as enjoyable as it can be. One of the top rated Naturist Hotels in the southernmost point of Key West.
Check Availability And Room Rates 
---

Chelsea House Pool And Gardens
Address: 709 Truman Avenue, Key West
Phone: (800) 845-8859
Naturist Hotels such as Chelsea House Pool and Gardens can sometimes leave people thinking that they should have paid more, as it is a little bit away from the main attractions.
Duval Street is about a block away, and if you fancy sinking a few in the iconic Sloppy Joes, then you will be looking at about $20 for a pedicab.
But all said and done, it is cheaper than many of the hotels in the area, but the standard isn't any less. Well worth a look.
Check Availability And Room Rates
---

Island City House Resort
Address: 411 William Street, Key West
Phone: (305) 294 5702
If you are looking to be located in the Old Town Section of Key West then this is one of the Naturist Hotels that have been getting very good reviews indeed.
Only three or four blocks from Duval Street, it is easy walking to many of the most popular Key West attractions in the area.
Check Availability And Room Rates
Florida Keys > Florida Keys Hotels > Naturist Hotels
Return To Top Of Naturist Hotels
Home | Site Map | Contact Us | Privacy Policy
By David Ralph
Copyright © 2010-2017 whats-at-florida-keys.com