Cinema Listing For The Best Movies Throughout
The Florida Keys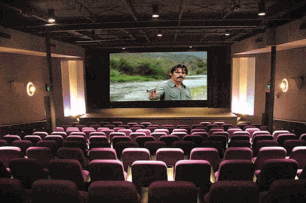 You maybe thinking why would I want to sit in a cinema and watch a movie in the Florida Keys?
And really, you would have a point.
When you come to the Florida Keys you come for the sunshine, the nightlife, the natural wonders, the animals, the list goes on and on.
You don't however come to the Keys to sit in the dark in a florida keys movie theater and watch a film.
But fortunately for the film industry, the Florida Keys have their hurricane season.

Then the thought of sitting in the dark, in a nice comfy seat, munching though a bucket of warm popcorn takes on a new appeal.
Also many of the movie theatres throughout the Keys (and there isn't really that many to be honest) will try their best to provide an attractive programme for all types of lover of the silver screen.
So if you want to sit in a modern multiplex and watch the new Hollywood Blockbuster, or you fancy a classic black and white film lovingly restored to its former glories then the following list of movie houses will no doubt provide just what you want.
Although the list is current at the time of writing, make sure that you click through to their relevant websites for up to date details of films and their showing times.
Have a great time !
---
The Regal in Key West show six films concurrently.
This is a modern multiplex (actually the first multiplex in the Florida Keys.)
All tickets for shows before 6pm are discounted.
A nice touch is the availability of listening devices for the hearing impaired as well as good disabled access.
Address: 3338 N. Roosevelt Blvd, Key West FL 33040
Phone: (305) 296-27211
Information: Accessible to Disabled Audiences

www.regal.com
The Tropic Cinema is a home for movies and movie lovers built with love and attention that is a credit to all involved.
In 1998 a small band of enthusiasts got together and began to give Key West a real alternative to the Hollywood Blockbusters that were being shown at the local multiplex.
They wanted to see the best of independent, foreign and alternative movies, and so with great attention to detail the Tropic was lovingly restored.
And really the movie theater is now a show unto itself.
Its a magical setting for any movie to be shown.
In the lobby beer, wine, soda and confectionery can be purchased to take into anyone of the four screens.
Address: 416 Eaton Street, Key West
Phone:(305) 295-9493

www.tropic.com


The new owners of the Tavernier Cinema have done a really good job, turning a run down old movie theatre into a great place for all the family.
With five individual screens the theatre now shows 3D films, and has all the amenities that you would expect from a movie theatre, such as confectionery, popcorn, and you can even get a beer!!
Address: 91264 Overseas Highway, Tavernier, FL 33037
Phone:(305) 853-7003

www.tavernier.com

The Marathon Cinema at 5101 Overseas Highway is a nicely run place which generally will show one film only for a week or so.
Hotline: 305-743-0288
Tickets:
Adults: $7.00
Children: (12 & under) $5.00
Matinees: (2:00pm Sat. & Sun) $5.00 All Ages
Address: 5101 Overseas Highway, Marathon, FL 33050

www.marathonmovies.com

The Marathon Community theatre is not your average theatre.
Owned and operated by the community it's small and intimate, although the screen is large.
Seating is unusually around cocktail tables, in very nice and comfy chairs.
Please note though that there is not a lot of choice of movies on offer here, and the same one is shown twice nightly.
Matinees are shown on both Saturday and Sunday.
Address 5101 Overseas Hwy, Marathon, FL 33050
Phone: (305)743-0288

www.marathontheater.org
---
Films About The Florida Keys That Might Interest
Whilst you are in the neighbourhood, or even better starting to take an interest in the Florida Keys, there are some quite good films film in and about the area.
Not all of them are factually correct, but they will give you some fun and insight as to what the movie going general public get to see from Hollywood films focusing on the wonderful Florida Keys.
And the first one is probably the most famous of all although it first came out in the cinema way back in 1948 -
Key Largo
Read about the goings on down in Key largo when Humphrey Bogart decided to make a visit in this classic black and white masterpiece. Read more.....
---
---
Florida Keys > Cinema
Return To Top Of Cinema
Home | Site Map | Contact Us | Privacy Policy
By David Ralph
Copyright © 2010-2017 whats-at-florida-keys.com