Nude Boat Charters & Clothing Optional Vessels Guide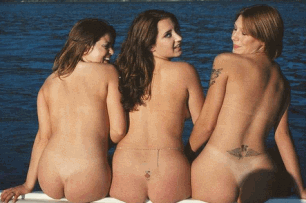 Nude boat charters are getting more and more popular throughout the Florida Keys and it really isn't a surprise.
If you are an active naturist, or simply fancying getting an all over tan, then with amazing weather, the chance to see dolphins in their natural habitat, and of course just the delight of being free and uninhibited then a boat is the perfect place to spend a day.
Although you would think that with the perfect weather, and people liberally clambering over themselves to get out on the water, then you would think that there are masses of people offering this service.
But actually there isn't.
So where is the best place to go to find your nude boating experience?
Where do you go to find the best nude boat charters, and captains that are willing to turn a blind eye to your nakedness (or at least pretend they are keeping a blind eye)
Well the list below all fall within this category and are hugely experienced in everything that occurs on the Florida Keys waters, or below it.
So if you fancy fishing naked, skinny dipping, having a flesh fuelled party, or simply having the greatest clothing optional experience you can possibly get you now have the best range of choices found on the web. 
---
Dream Catcher Charters
Dream Catch Charters have been in operation since 1992, and have been patrolling the waters of the Florida Keys ever since.
Although not advertising themselves as Nude Boat operators, they will be more than happy to discuss your requirements for the day.
So if you want to fill the boat with like minded friends or fancy the charter all for yourself, the Captain will take you to deserted Islands, for a bit of fishing, or simply to just bob around in the sun three miles of the coast of Key West. 
As they say on their website, "You are paying us for a day of fishing therefore you are the boss. Tell us what you want to make this a memorable trip and we will help you "Live The Dream"."
This goes for nude boat chartering too.
Address: 5555 College Rd, Key West
---
Wild Dolphin Adventures

The company operate ecology tours to see wild dolphins, whilst encouraging you to get a bit of snorkeling  diving, and suntan all on the superfast Coral Reefer.
Capt Dave Lewis will use all his experience to make your nude boating experience marvelous, by taking you to the best of what Key Wests waters has to offer...and that will definitely include a few dolphins I expect.
Address: Historic Seaport at Key West Bight, Key West
---
Clothing Optional Charters Key Largo

Lay back on the 50' sailing yacht and be taken out to the world famous Florida Keys reefs, on a half day charters.
These nude boat operators will allow you to have up to six people on the boat.
And unlike a few of the charters offering this type of service they will allow you to bring your own food and drinks, which is nice as it will keep the cost down.
Address: Key Largo
---
Keys Adventures 
According to Key Adventures website, they are very liberal to what happens on their boats and i quote:
"Keys Adventures welcomes all naturists, gay/alternative lifestyle, and others for our boat rentals.  As long as your activities are legal, do not interfere with nature or other boaters, and do not result in arrests you are welcome."
So that covers most things I guess, with nudity, and clothing optional excursions being within those categories I guess. 
Address: Gilberts Resort, Key Largo
---
If you are interested in this activity and have found a company that we are not listing then please drop us a line on our "Contact Us" page, and will add them on.
Also if you are company that offer Clothing optional excursions then once again please drop us a line, and we can make arrangements to have your company listed too.
But whatever your day out on the Florida Keys waters, make sure that you have a little more extra suntan lotion to protect yourself, than you would normally bring.
There are pieces of you that probably wouldn't be as free in the office or back home that can get rather burnt!
---
---
Florida Keys > Nude Florida Keys > Nude Boat
Return To Top Of Nude Boat
Home | Site Map | Contact Us | Privacy Policy
By David Ralph
Copyright © 2010-2017 whats-at-florida-keys.com