Wild Dolphin Adventures Will Leave You As Happy As The Dolphins Are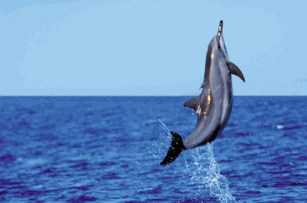 Wild Dolphin Adventures are the perfect charters, to escape all the madness and crowds that flock around Key West each day and disappear out onto the Key West waters.
By taking an adventure out into the Gulf of Mexico, you can not only spend time relaxing on the companies own boat, the Coral Reefer, but you can also spend time with the out of this world Atlantic bottle-nose dolphins in the wild.
Yep, no Sea World type shows here.
This is how it should be.
You will be taken out on the fast 21 foot boat by the experienced Captain Dave Lewis, who knows just where the dolphins will be, so you are rarely if ever disappointed.
This is an ecology based tour to find and observe a pod of Key West resident dolphins out in their natural habitat, playing and existing together.
The Wild dolphin playground is actually a large sandy area about 10 to 15 feet deep, where the dolphins spend their time searching for fish to eat and doing the things that dolphin do.
Dolphins will show many of the natural tendencies that they have become known for at Water parks and aquariums the world over.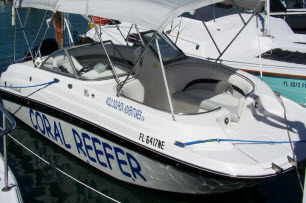 The only difference with these dolphins is they are doing the jumps and flicks because they are happy and want to show off.
It is a true sight to be seen.
On your trip you will get close and personal with local marine life, coral reefs, birds, rays, sponges and many other examples of local wildlife.
If you can't resist getting even closer to the water then snorkelling is also available on the trips.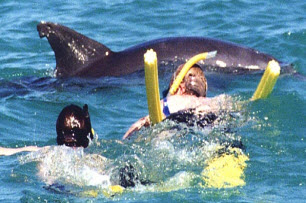 When we went out with the company the waters were too rough to snorkel, but that didn't dampen our excitement as the dolphins came and played under and around our boat for over an hour.
Please note though that seating is limited so it would be best to make a reservation to prevent disappointment.
---
Nude Charters For Wild Dolphin Adventures
It is quite a common sight if you know where to look, to see naked folk hanging around on boats and stuff.
In the Florida Keys the nude market is starting to really take off, and therefore many of the charters that you can hire like these guys, will allow you to take your clothes off and be free and relaxed.
Make sure you ask the Captain before setting off, because it is best if they are aware of what you are thinking.
If you liked this information on Wild Dolphin Adventures then check out more information on Nude Boat Charters.
---
Prices: All trips will get a discount of 3% for cash purchases, plus7.5% sales tax.
Maximum of 6 passengers
Dolphin Watching / Snorkeling Trips Twice Daily: $85 per person
Address:
William Street, Old Historic Key West Bight
(305) 304-8000


Florida Keys > Eco Tours > Wild Dolphin Adventures
Return To Top Of Wild Dolphin Adventures
Home | Site Map | Contact Us | Privacy Policy
By David Ralph
Copyright © 2010-2017 whats-at-florida-keys.com