You Will Be In "Blue Heaven"
At This Key West Classic
Blue Heaven in Key West has had a bit of a past.
Now it is one of the most famous restaurants in Key West, but that hasn't always been the case.
In fact even when Ernest Hemingway was patrolling the streets of the southernmost city, you would have been able to having a boxing match (which our boy Ernest did quite often.)
It's also been a brothel, a pool hall and even a cockfighting arena.
So you can see it's not the normal kind of place you would think of going out for dinner, but if you don't you will miss out on a treat of a place.
The restaurant can be located right on the corner of Petronia and Thomas Streets, in the historic Bahama Village in Key West.
It is truly charming, as whilst you sit outside waiting for your food to be delivered expect to see a menagerie of roosters, cats, hens and cute little chicks, scratching around in the dirt.
Yep, I know what you are thinking.
Well it's what I thought anyway.
"Why the hell do you want to eat dinner, whilst being bothered by Foghorn Leghorn and his mates?"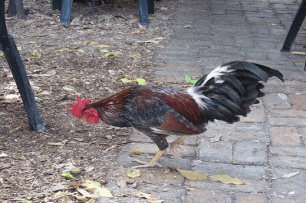 But actually, if these are your concerns then you are worrying for no reason.
It actually gives the place a wonderful rustic charm and is extremely relaxing, watching them come and go.
You might know the song by our very own Jimmy Buffett, who sang "Blue Heaven Rendezvous" back in 1995.

Yep, if it's good enough for Jimmy then its good enough for me.
So get yourself a table and sit back and enjoy Jamaican jerk chicken, Caribbean barbecue chicken, with a nice cool beer.
Oh and did we tell you about the Key Lime Pie?
You must try that if you can, so leave a little space in your tummy for that.
It tastes like it was just prepared a few minutes ago and has the crisp taste of limes and just a nice addition of whipped cream.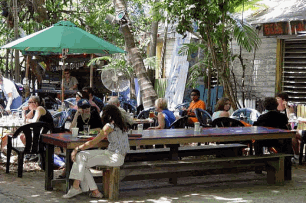 Sunday brunch is particular popular and quite often you will see a queue winding around the corner, so unless you get there at opening time you may have to wait a while.
Certainly in high season a wait of about an hour is not uncommon.
It has a full bar, so whether you want to have breakfast, lunch or a romantic dinner with you, your special person and a load of chickens, then this is the place to go.
Reservations are accepted for parties of 10 or more.
Address:729 Thomas Street, Key West, Florida 33040
Phone:(305) 296-8666
Opening Hours: Open for Breakfast, Lunch and Dinner,7 days a week*
*Sundays, Brunch is Lunch
---
---
Florida Keys > Florida Keys Restaurants > Blue Heaven
Return To Top Of Blue Heaven
Home | Site Map | Contact Us | Privacy Policy
By David Ralph
Copyright © 2010-2017 whats-at-florida-keys.com