Holiday Isle Dive Shop Will
Help Your Vacation
Go Down Well!!
Holiday Isle Dive Shop is one the highest rated diving establishments in the Florida Keys and certainly one of the best on Islamorada.
The last time we checked Trip Advisor they were up in the Top Ten of things to do whilst on the island.
And it's not hard to see why.
They focus in on you and your needs from the moment that you arrive, heck actually they get going before you arrive, by ensuring that everything is ready for you before you even set foot on Islamorada.
You really don't want to waste too much time, filling in forms and answering questions when all you have come here for is to get into that water and dive, dive, dive !
Also, what we liked with dealing with the Holiday Isle Dive Shop was that the fact that their customer service is such a high level.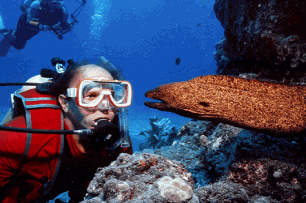 They will tell you exactly what your diving will cost before hand for a start, which means that you aren't hit by those annoying add-ons that you weren't expecting.
"Oh….we didn't tell you that you have to hire your wetsuit??"
Or
"Did we tell you that if you have blonde hair parted on the left then you will have to pay an extra $15 to dive?"
We hate those kind of companies.
Just tell us the price that we are paying, or our diving trip could go downwards quickly (Just a little joke!)
There are of course a lots of safety checks that need to be made, so unless you are an regular experience diver you will need a quick refresher training course.
---

Did you know that the Florida Keys National Marine Sanctuary have created a self guided tour of nine shipwrecks scattered around the Florida Keys Waters.
The guides provide shipwreck and mooring positions, history of the wrecked ships a site map and other information.
The underwater guides for each of the shipwrecks are available from the local shop.
---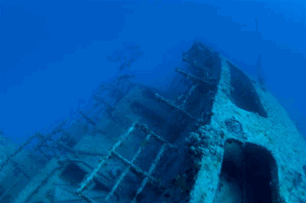 When we went to the Holiday Isle Dive Shop, we went with four of us.
Two adults and two children, and the dive master really went overboard to make the refresher fun.
Certainly they knew how to talk to the kids (16 and 17), which is half the battle when you do anything with kids.
They really took to the guy, and hung on his every word.
But really the whole team were there to supply a service of course, but they went out of there way to be friendly and approachable.
When we had decided that another dive under the water was what we wanted, the Captain gave me a call after the shop had already shut for the night to give us every bit of information on what was available.
Will definitely use this company again.
Address: 84001 Overseas Highway Islamorada Florida Keys
Phone: (305) 664-9425
---
---
Florida Keys > Diving > Dive Shop
Return To Top Of Dive Shop
Home | Site Map | Contact Us | Privacy Policy
By David Ralph
Copyright © 2010-2017 whats-at-florida-keys.com