The Fish House Key Largo
Seafood At Its Best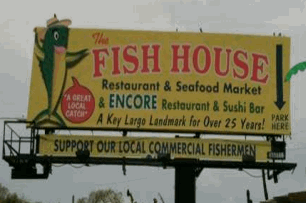 As soon you step into the Fish House Key Largo, you are left in no doubt that this is a place that specialises in cooking the best and freshest fish around.
The smell of freshly prepared seafood literally drags you by you nostrils into this sea food restaurant which is decked out fishnets, mounted fish, buoys and twinkling fish lights.
But don't think that all the extra effort that has been put in to the décor is just to mask the food.
As this is all secondary to the plates of lovingly cooked seafood that are delivered quickly and efficiently to the eager patrons.
And it's the food that any restaurant lives and thrives on, and since opening in 1982 at the same time as the Conch Republic first burst into life, the Fish House has been delivering daily the best that the Florida keys waters can offer.
The staff of the fish house select the fish straight from the boats moored at the dock, and the fish are brought straight into the restaurant where they are filleted and prepared for that days lunch crowd or evening revellers.
The extensive menu features smoke fish done on the premises and the local favourite salad, Jeans Greens – raomaine lettuce, fired onion rings, and crumbled bleu served with homemade Catalina dressing.
The fish house food is memorable, but in its own way "The Fish House Gang" who serves it probably come a close first.
Most of the gang have been with this Key Largo restaurant since it was first opened by Owners CJ Berwick and Doug Prew, and that comes across in the attentive (and relaxed) way that they serve you.
You can see that they care, and it is more than a job for them.
If you like you food fresh, well presented and don't like Red Lobster then we are sure that you will like your visit to the Fish House in Key Largo.
We certainly did!
Contact Information
Address: MM 102.4 Oceanside, Key Largo
Phone:(305) 451-4685
View Larger Map

---
---
Florida Keys > Forida Keys Restaurants  > Fish House Key Largo
Return To Top Of Fish House Key Largo
Home | Site Map | Contact Us | Privacy Policy
By David Ralph
Copyright © 2010-2017 whats-at-florida-keys.com