History Of Diving Museum Islamorada Dive Into
Florida Keys History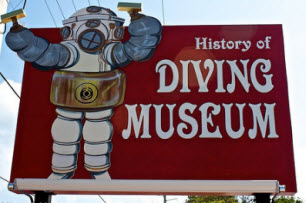 The Florida Keys History of Diving Museum opened up in 2006, and within its confines covers over 3,000 years of diving history and equipment used to explore below the surface not just in the Florida Keys, but around the world too.
But is this place worth visiting if you aren't into diving you might be thinking?
Well you would think not, but I was pleasantly surprised at just what the History Of Diving Museum actually contained within its four walls.
So take a look, and perhaps you will get the urge to submerge yourself in a bit of Florida Keys history, and plan your visit to the attraction.
Well for a start if the idea of a museum has you thinking back to your days as a child, looking at dusty exhibits behind signs that said "Don't Touch" then you will be a bit surprised at the amount of hands on elements to the place.
You can try lifting a silver bar for start….and I ask you when was the last time you ever did this?
Nope, I hadn't either, but I found out how difficult these things can be getting them back off the bottom of the sea.
It's not hard to see why so many people are interested in diving around the waters of the Florida Keys with so many wrecks, and potential sunken treasure still around either.
---
A Look Around The History Of Diving Museum
Video Courtesy of KeysTV Youtube
---
You can try on helmets, breathing apparatus, and a myriad of other things that will have the kids rushing around shouting "Come on slowcoach….you got try this thing!"
Particularly amusing (although for an additional cost of about $4) is the Helium Bar, where you can try to do your favourite Whitney Houston impression, but come out sounding like Alvin and the Chipmunks.
My kids could have stayed on this for the whole day.
The History Of Diving Museum starts with "Breath Holding Diving"…you know the kind you see in films when some kid just takes a deep breath and swims to the bottom to get pearls and stuff, through scuba right up to the present day.
So I hope you can see that the History of Diving Museum is 13 rooms of well thought out, things to pick up, play with, or read stuff, all of course that takes your through the history of Diving, whilst entertaining you greatly.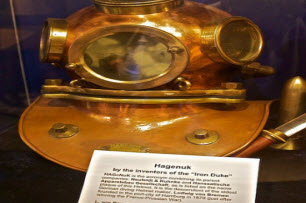 How Long Should I Give Myself To Enjoy The History Of Diving Museum?
This is a very good question, as although there are masses of things in the museum to see, read and touch I have heard of people who have whizzed though it in 20 minutes, and moaned that it wasn't enough to be worth the money.
I think that this is totally wrong, and if you plan to go at your own pace, and follow the self-guided tours then a closer estimate to the time that is needed would be nearer 1 and a half to 2 hours in total.
Submerge yourself in the facts and exhibits throughout the attraction and you will obviously get so much more enjoyment and of course value for money.
---
What Other Things Are Worth Knowing About The Museum?
Well I suppose we should start with saying that the museum is based on one floor only, and is very well laid out which makes it perfect for wheelchair access.
All the staff will go out of their way to make sure that if you have any disability, then you will still be able to enjoy a comfortable and convenient visit to the place.
Whilst we are talking about comfort, it is also well ventilated and air-conditioned, which means it's a great place to escape for the heat for a couple of hours.
All the other things that you would expect to find in a diving museum or present such a gift shop and stuff.
Oh yeah...upon leaving make sure you take a look at the mural, illustrating endangered marine life found on Keys reefs.
Painted by local schoolchildren and artists, I think this is a lovely touch to the museum.
---
Have We Convinced You To Visit Yet?
In short as their website states "We tell the international story of man's attempts to explore, understand and venture under the sea.
We also celebrate the special role that South Florida and the Florida Keys played in this untold story."
It may seem like a place that is only for divers but most people will find it informative and entertaining, and surprised by their desire to visit again. 
---
So How Do I Find The History Of Diving Museum?
Like many of the attractions that you will visit in the Florida Keys you will find the museum right by the side of the Overseas Highway (US1), that runs the entire length of the Florida Keys.
If you are driving from Key West you can expect a journey of 1 hour 42 minutes.
Whilst if you are traveling from Homestead in Florida it is closer to the hour. 
The sign is pretty hard to miss, and if you are like me you have probably driven past the place many times, before you actually thought. 
"Man, I should go in their one day"
---
ADMISSION:
Adults: $12
Children 5-12: $6
Children under 5: Free
Members: Free
HOURS: Open 7 days a week, 10am-5pm
Address:
Florida Keys History of Diving Museum MM83 Bayside, Islamorada
(305) 664-9737
View Larger Map
---
---
Florida Keys > Diving > History Of Diving Museum
Return To Top Of History Of Diving Museum
Home | Site Map | Contact Us | Privacy Policy
By David Ralph
Copyright © 2010-2017 whats-at-florida-keys.com