Hogs Breath Saloon
400 Front Street, Key West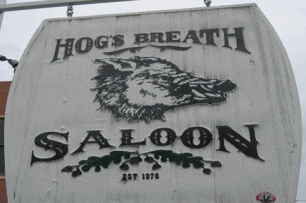 Don't get me wrong, but Hogs Breath isn't an image that normally conjures up a pleasant evening.
I'm sure that pigs take great care in their oral hygiene, but I still don't fancy getting close to be honest.
So why call it that?
Well the reason this saloon is named as such goes all the way back to the Grandmother of the original owner Jerry Dorminy.
Originally from Birmingham, Alabama, Jerry left the mountains for the glorious weather and beaches of Florida.
Who can blame him really
The Original Hog's saloon was built in Fort Walton Beach, Florida and opened up to the public in 1976.
Jerry didn't really consider it to be a business, but more a little place that him and his buddies could relax in after a hard days fishing.
They would sit, open a few beers and tell the stories of what got away from them.
And little by little it become more and more popular with the other fisherman in the area.
Now it was a proper business, to such an extent that he opened the second saloon in Key West in 1988.
But how did it get its name, I hear you cry??
The saying, "Hog's breath is better than no breath at all" is a a slightly altered version of a saying Jerry's grandmother used to say, "Bad breath is better than no breath at all."
She has a point.
Built to look a lot like a authentic surfers bar, the place is covered in wood.
The bar for example is made from African Mahogany, with a row of seats lined up in-front.
I think this is the place to hang out as I have never seen an empty seatm and never managed to sit there myself.
In fact the whole place is generally packed, which makes it a relief that the actually bar is bar is actually outdoors, closer to the street.
Stumble two inches and land up with a beer in your hand.
Sound Good?
One word of warning, you may have to wait for a table, so what I would suggest is simply put your name on the list grab a drink and watch the world pass-by.
You are on vacation after all.
So when you get there try one of the fish sandwiches, either blackened or grilled.
These are spectacular.
As is the smoked fish dolphin dip and raw bar with oysters, shrimp and stone crabs.
One thing for certain, I wouldn't visit Key West and at least pop into the Hogs Breath to try their own medium-bodied beer, even if you don't fancy eating.
It is a bit of a classic!
Address:400 Front Street, Key West
Phone: (305) 296-4222

www.hogsbreath.com
---
---
Florida Keys > Florida Keys Restaurants > Hogs Breath
Return To Top Of Hogs Breath
Home | Site Map | Contact Us | Privacy Policy
By David Ralph
Copyright © 2010-2017 whats-at-florida-keys.com