Key West Golf Course A "Hole" Lot Of Fun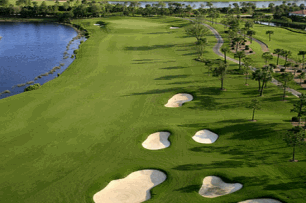 If you are looking for a Key West Golf course, then you are in for a treat.
To be honest, I was a bit surprised when I started looking for a bit of a golf experience, as it's not the kind of thing that you would think of when you think of the Southernmost point.
Pubs, Clubs……no not those type of clubs you eager golfers.
The flashing lights, and half undressed ladies type of clubs I was thinking of.
But if you go over to the Key West Golf club at 6450 College Road, Key West you will find a great 18 hole course, spread over 200 acres of prime Key West.
It has a good range of holes, and of course you have the perfect weather too, which means it should be a place for all golfer aficionados.
Of course now we have wetted your appetite and you realise that you don't have to spend your time, marching up and down Key West's old town with the wife, then you will need to know everything you can about the Key West Golf Club.
Lets start with how to get there.
---
How Do I Get To The Key West Golf Club?
I imagine that most of you know where Duval Street in Key West is, so we will start our directions from there.
Head north-east on South Street towards Simon Street
Then take a right turn onto Reynolds Street, and a quick left turn (third left) onto Flagler Avenue.
Now drive nearly three miles on South Roosevelt Boulevard, turn right onto A1A N/FL-5 N/U.S 1N
And then turn onto College Road and you will see the signs.
So that's a nice drive even before you get there!!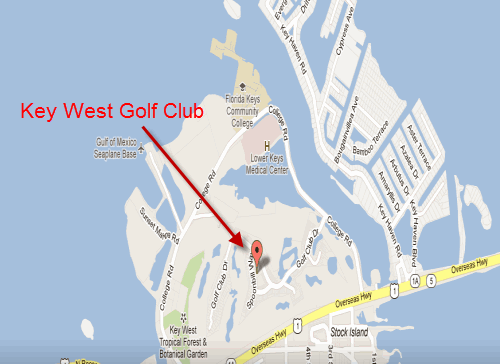 ---
What Is The Course Like ?
The Key West Golf Course has been created and designed brilliantly by the golf legend Rees Jones, who really knew what tourists and locals desire from a golf course.
Test yourself against the famous "Mangrove Hole" which is just 143 of the 6,500 yards that you will be playing during your round.
This course has many challenges, which makes it an exciting prospect for golfers of all standard and experience.,
So don't worry about it if you are a beginner, you will be afforded a warm welcome at this Key West Golf course and club.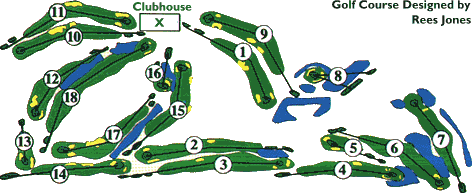 ---
What Are The Opening Hours?
The golf club is open 365 days a year, so even on Christmas day you can creep away and hit a few balls around.
And for all you early rises who like to play a course before the crowds start building, up then you will be pleased to know that it opens up around 6:30am and operates until dark.
---
How Much Does It Cost To Play?
It isn't cheap to play here, but I guess as the Key West Golf Course is the only one around they can charge what they want.
The rates are (as I write this) for the 2012 - 2013 season and are different dependant on what season you are playing.
The Off Season (5/1/13 - 10/31/13)  
Up to 1:30pm 18 Holes of Golf will cost you $70.00 
If you tee off after 1:30pm this is classed as Twilight Golf and will cost $50.00
Under 18 Junior Golf £40.00 dollars
Winter Season (11/1/12 - 04/30/13)
Up to 1:30pm 18 Holes of Golf will cost you $95.00 
If you tee off after 1:30pm this is classed as Twilight Golf and will cost $70.00 
There is then Super Twilight after 4:00pm for the cost of £50.00
Under 18 Junior Golf £50.00 dollars
Do note that if anyone comes along just to sit on the golf buggy and follow you around you will be charged $30.00 too.
So as I say it isn't cheap to play at the Key West Golf Course, but it is a super convenient location for anyone traveling around the Lower Keys. 
If however you want cheaper options then check out our information on courses to be found in Southern Florida.
For all other things such as hire of clubs, and clothes if  you fancy a game whilst on vacation and want to play a game, the club will be able to hire them to you for the day.
---
What Other Things Do I Need To Know?
Well, I guess the main one is that unlike the relaxed atmosphere that prevails around Key West, you wont be able to stroll up in sandals and shorts. 
Instead the club operate normal golfing attire rules.
So it will be spikes on your shoes as you stroll around in the sunshine.
But all that aside the course is well run, and do their best to make it a pleasant experience for you.
So if you need to enquire about anything at all before you visit feel free to use the contact details below.
Address: Key West Golf Club, 6450 E College Road, Key West
Phone: (305) 294 4232
Florida Keys > Key West > Key West Golf
Return To Top Of Key West Golf
Home | Site Map | Contact Us | Privacy Policy
By David Ralph
Copyright © 2010-2017 whats-at-florida-keys.com