Marquesas Rock Dive Site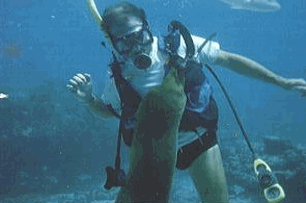 Marquesas Rock is the kind of diving site, that if you are an experienced diver should be right up your street.
Many of the sites that are found around the Florida Keys, can cater for a wide range of diving skills and experience, but not this one.
It is indicated as a dive suitable for the best divers only, due to the moderate to strong currents that are found in the area and the depth of 120 feet.
But why would you come here against other locations you may have heard of.
Read on my friends.
Crystal Clear Waters Allow The Sea Life To Show Off Its Colours!
---
Where Is The Marquesas Rock Dive Site?
The Rock is over 30 miles off shore, which is another indication of why this dive should only be undertaken by the experienced.
You will struggle to get any assistance if you do get into trouble, with the National Park of Dry Tortugas being roughly another 20 miles or so further on.
So how do you find the rock, you maybe thinking?
Set out from Key West until you see a can-buoy marking the area.
Co Ordinates: 
Latitude:  24.460831 Longitude:  -82.214722
Antipode: -24.460831 , 97.785278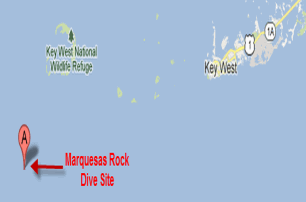 ---
What Type Of Animals Will I See There?
The sea-life you will see at Marquesas Rock is stunning to say the least, due to the rocky plateau which makes the perfect habitat for the underwater creatures who thrive in the cracks and crevices.
Groupers, barracudas, dolphin, Jacks, Squirrelfish are all common place, and there has even been sightings by delighted divers of sperm whales, white sharks and sailfish.
Imagine being under the water when Jaws swims past you.
To be honest, I don't mean to be harsh, but rather you than me.
I think I would be truly terrified!!
But the truth is this place is a favourite for anglers who are literally pulling the fish out of the water faster than they can get their rods back into the sea.
So there will be more than enough activity underneath the waves to keep you entertained.
---
Charters Who Specialise In This Area Of The Keys
Many people who come down to the Florida Keys for a spot of diving, obviously don't come down with a boat in tow, so hiring a charter for the day is a great idea.
Not only do you get someone hugely experienced who knows the waters like their back of their hand, but you also get all the safety equipment to make sure that your diving trip is the great fun that you want it to be.
The following charters are all recognised as good value for money and can cater for diving and fishing trips from a couple of hours, through to several days.
Please note, we have not used them ourselves, but have heard good things about them.
www.adventurewatersportcharters.com
View Larger Map
---
---
Florida Keys > Diving > Marquesas Rock
Return To Top Of Marquesas Rock
Home | Site Map | Contact Us | Privacy Policy
By David Ralph
Copyright © 2010-2017 whats-at-florida-keys.com