Key West Seaport Is One Trendy Place To Visit, But
Don't Forget The History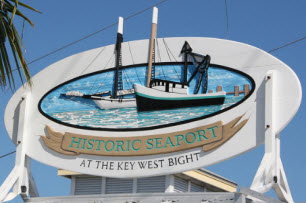 The Key West Seaport and Historic Harborwalk was in a past life named Key West Bight.
And it had a reputation for being a dirty, down in the mouth and somewhat seedy area.
Even though it was top priced waterfront real estate.
But fortunately that has all changed now, (unless you like your waterfronts to be seedy!!)and since the downturn in fortune of those hunting turtles and sponges the area has had one massive makeover.
Gone are the spongers, turtle traders and shrimpers, who came to the area to drop off their catch of the day, to wax lyrically and tell long unbelievable tales and just generally just relax around with their mates.
And now it's a nice place, and was further recognised in January, 1999 when it was re-opened officially, but this time it had the better sounding name of the Key West Historic Seaport and Harborwalk.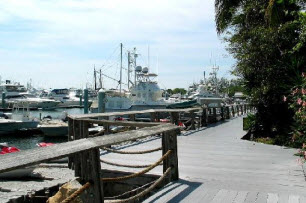 You will still see tall ships' mooring, but most of the time it is where the millionaires like to tye up their yachts.
Millionaires always have to put them where everyone can see them !!!
I guess I would do the same though I suppose.
At least I would know that my yacht was nice and safe.
Now the waterfront is full of trendy shops, restaurants, and bars that sit proudly on this lovely bending waterfront that flows the coastline from Foot Street to the bottom of Margaret Street.
You do have to realise though that it may be a "cool " place to hang out, it is still a working marina, so throughout the day you will see vessels coming and going.
The boats over to Dry Tortugas leave from here, as well as snorkelling, sunset cruises and the many fishing charters that work the Florida Keys Waters.
You can even catch an occasional glimpse of the old Key West in places like Turtle Kraals, a turtle-cannery-turned-restaurant and schooner wharf bar.
To gain the most from your visit, make sure you pick up a copy of the Historic Seaport Log.
This is free and will give you all the low down on the special events that occur throughout the year.
If you have trouble finding a copy then just pop into any of the places scattered along the Harborwalk, or instead the Key West Chamber of Commerce, which is to be found on Mallory Square.
But simplest of all just look for it wherever you see stacks of free weekly newspapers.
Address
201 William Street at the Key West Bight
(305) 294-1100
Admission: Free
View Larger Map
Florida Keys > Key West > Seaport
Return To Top Of Seaport
Home | Site Map | Contact Us | Privacy Policy
By David Ralph
Copyright © 2010-2017 whats-at-florida-keys.com