The Song Key Largo By Bertie Higgins Is A Florida Keys Slushy Favourite...Find Out Why!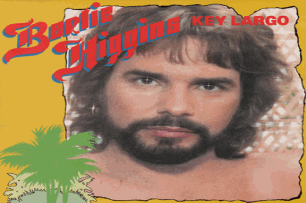 The Song Key Largo by Bertie Higgins is a popular choice of people who are sitting in the homes, wallowing in some Florida Keys nostalgia.
It also seems the perfect choice to put onto your Florida Keys driving CD, with Kokomo by the Beach Boys and of course Key West's favourite singing son Jimmy Buffett as you head off down the Overseas Highway into the mix of blue sky and water.
But is there a story behind the Key Largo song, that you don't know about?
Is there a dark secret that can take the song Key Largo from a brazenly, romantic ditty to somewhere quiet different?
Well read on, and we will paint a picture about Bertie Higgins and this 1982 hit.
But let's examine the Key Largo lyrics first, to discover if the song Key Largo, is a nice piece of poetic whimsy or in fact a factual summary of Bertie Higgins trip to Key Largo. 
---
The Key Largo Lyrics
As you can see from the lyrics shown over on the right side of this page, the name of Bogie and Bacall are mentioned quite often.
For those of you that haven't heard of these names, they were hugely famous Hollywood actors of their time.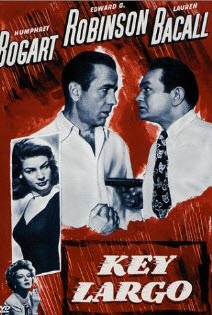 A kind of Bruce Willis and Julie Roberts of their day (see I cater for all ages on my pages!)
And back in 1948 they stared in a film called…..come on you can guess "Key Largo"
So the Key Largo lyrics are a direct reference to the two of them where it says "We had it all / Just like Bogie and Bacall / Starring in our own late late show / Sailing away to Key Largo."
But like many songs, if we drill down to the accuracies or in this case inaccuracy we will find that neither of the actors actually sailed away to Key largo, as Humphrey Bogart (bogie in the Key Largo song) travelled down to Key largo on the bus.
And Lauren Bacall actually lived there already.
But it paints a lovely romantic picture which is the main theme of the song Key Largo, so we can let the writer off the tune off on this one.
However, if we are being really pedantic then the line "Here's Looking At you Kid" was taken from another Humphrey Bogart film "Casablanca" and wasn't even spoken to Lauren Bacall at all.
So there we go the Key Largo lyrics have been well and truly torn apart………but I still like it anyway.
---
When Did the Song Key Largo Get Released And How Successful Was It?
The song was first released in September 1981, and did really well on the American Billboard Hot 100.
It spent seventeen whole weeks riding up and down the charts, and gained its highest chart position when it hit number eight.
The American market has more than one chart running, and in the Adult Contemporary chart the song Key Largo did even better.
Actually it couldn't have done any better and gave Bertie Higgins a number one single, if only staying at the top spot for two weeks.
But still it has to be classed as hit single and was certified Gold by the RIAA.
In the United Kingdom the Key Largo song, failed to deliver much interest in the record buying public and only managed to get to number 60.
But that doesn't matter at all.
Just the fact that you have looked up this information today, shows us that the song will be around and interesting us for a lot more time yet.
---
So Here It Is The Classic Itself.....Drum Roll Please........enjoy!
Key Largo By Bertie Higgins
---
So Did Bertie Higgins Do Anything Else After The Song Key Largo Left The Charts?
Well of course this was his zenith career wise, but he did release another Humphrey Bogart inspired song "Casablanca" but it did nowhere near as well as his Key Largo song, although the Japanese and Chinese people did seem to like it a lot.
But really we would be telling you stuff that you don't really need to know just to pad the page on the great Bertie Higgins out a bit.
Let's leave it with one glorious three minute and seventeen seconds slice of Florida Keys light rock, and to the great man himself
"Here's looking at you kid!"
Florida Keys > Key Largo > Song Key Largo
Return To Top Of Song Key Largo
Home | Site Map | Contact Us | Privacy Policy
By David Ralph
Copyright © 2010-2017 whats-at-florida-keys.com