The Artifical Dive Site
USS Vandenberg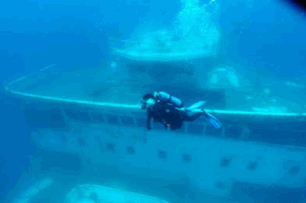 You may not have heard of the USS Vandenberg down near Key West unless you are interested in the United States of Americas Navy, or interested in diving.
You see the vessel is a visitor in the waters around Key West and has been there since May 2008.
You have to go looking for her however, as she now sits in 140 feet of water, 6 miles off the coast and is proudly names as one of the world best dive sites.
It's not just nature that can make the best dive sites.
Man can do a pretty good job at it too.
The Florida Keys Marine Sanctuary spent nearly $6,000,000 on getting the decommissioned vessel transported from the shipyard in Norfolk, Virginia for the express the purpose of taking the strain of the nation's only natural coral reef. You can imagine, it was a huge job, to manoeuvre such a big ship into position and the scuttle it, but it has certainly been worth doing.
The diving apparently is second to none, even though many divers say that they have trouble finding the ship and it can rear up on you dramatically.
If you are a trained diver and have all the necessary certification you are able to dive into the superstructure using the multi-horizontal and vertical swim- through flooding and venting holes that have been carefully cut into the sunken ship.
The place is wonderful for seeing fishes, turtles and even the odd shark and dolphin swim past you, on there where to who knows where
GPS numbers for proposed sink location - 24° 27' N 81° 44' W 
Florida Keys > Diving > Vandenberg
Return To Top Of Vandenberg
Home | Site Map | Contact Us | Privacy Policy
By David Ralph
Copyright © 2010-2017 whats-at-florida-keys.com